Beautiful, bold tannins with bright fruit notes, excellent structure with hints of leather and vanilla.
This is what you will say and hear when tasting at Handwritten Wines. This small lot, boutique production winery creates stunning wines that are hand-crafted, and welcoming to the palate.
Winemaker Rob Lloyd, focusing on composing 100% mountain fruit Cabernet Sauvignon, applies a unique style, just as each of us has our unique handwriting style. Creating a program that is one of a kind to the Napa Valley, these wines are scarce in the sense that each vintage is 200 cases or less. These are truly small lot vintages, and each showcases the growing season and the unique terroir associated with the 9 different districts from which the fruit is sourced.
Located in the town of Yountville, Handwritten is welcoming guests to their brand-new tasting facility and currently hosting curated, private experiences in their outdoor courtyard.
Looking through the front doors, you are immediately transported to another era, with showcases of antiques, small seating vignettes with over-stuffed wing-back chairs in cozy conversation areas. It instantly puts you at ease, as it feels like walking into someone's foyer or living room.
After being warmly welcomed, the host will lead you to your private table with a beautiful layout of glassware and a personalized leather-wrapped welcome message.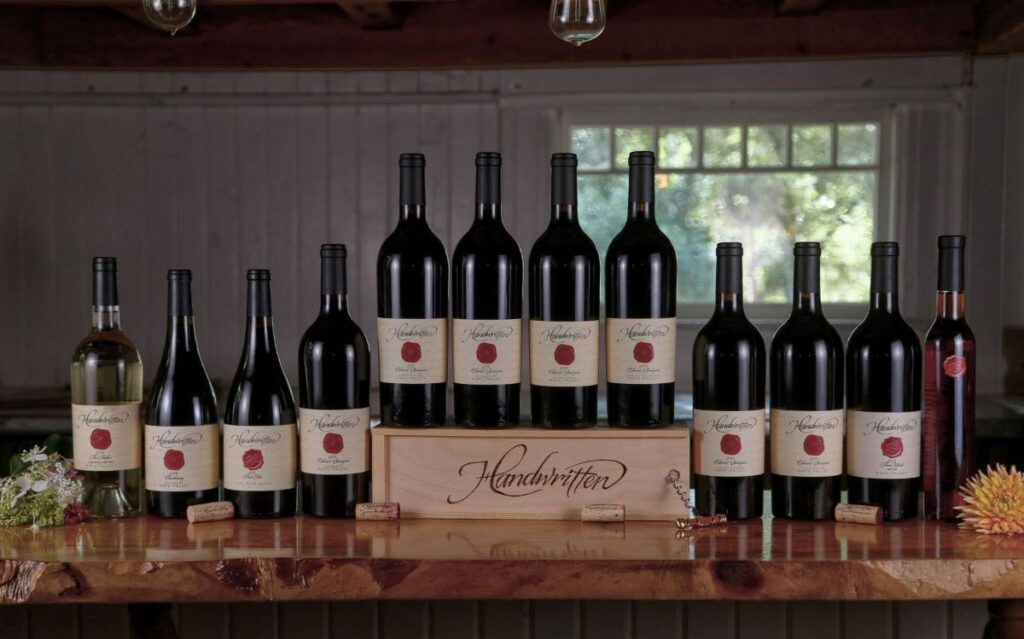 Throughout the tasting experience, the wines continue to intrigue as we learn about the different areas of the Napa Valley and why mountain fruit is different from valley floor fruit. As you taste wines, side-by-side in a comparative format, you get the sense that this is more than just a wine producer. Handwritten is a winery that is passionate about crafting a lifestyle, a way of enjoying wine and food together, and truly leading you through a tactile progression of understanding the Napa Valley through wine.
The Handwritten experience is also available virtually. Deemed "The Rolls-Royce of Virtual Tastings" by Chowhound Magazine, this is a great option for any group size and can be enjoyed from the comfort of your own home. A Handwritten wine educator will customize the experience for you from special wine selections to style of experience.
Visit HandwrittenWines.com to learn more about the Handwritten story, wines and experiences.