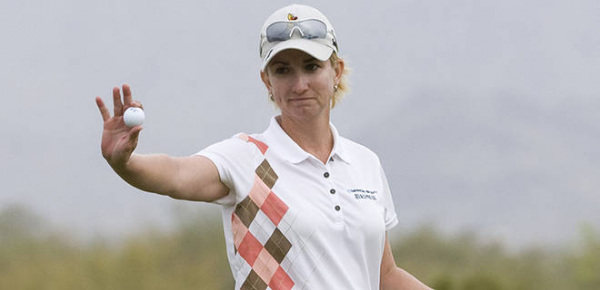 Karrie Webb of Australia came from six strokes behind to win the JTBC Founders Cup by one shot over five players by firing a 9-under-par 63 in the final round at Wildfire Country Club in Phoenix.
The 39-year-old Webb claimed her 41st LPGA Tour victory and second of the season, as she came from came five strokes behind in the final round to win the ISPS Handa Women's Australian Open in February.
"It's a way more comfortable situation, because you really have nothing to lose," said Webb, who also won the Founders Cup in 2011, when she came from six shots down in the final round. "You just try to post as low a number as you can and see if it is good enough.
"I didn't expect to be sitting here at the start of the day, even actually when I finished the day. I feel a little bit lucky, I guess, but it doesn't make it feel any less special. I can't really say I thought about winning. I thought I could shoot a 63 or a 62, but I didn't know if it would be good enough."
Defending champion Stacy Lewis birdied four of the last five holes to shoot 66 and tie for second with overnight leader Lydia Ko, the 16-year-old from New Zealand who finished with a 70, Amy Yang of South Korea, who totaled 67, Azahara Munoz of Spain, who also had a 67, and Mirim Lee of South Korea, the leader after each of the first two rounds who closed with a 69.
Ko, seeking her third LPGA Tour victory and first in the United States after winning the CN Canadian Women's Open the last two years, built a three-stroke lead with birdies on four of the first five holes.
Then she lost the lead by carding bogeys on three of the next seven holes, before making a birdie at No. 15 and coming up barely short on a 25-foot birdie putt on the final hole that would have forced a playoff.