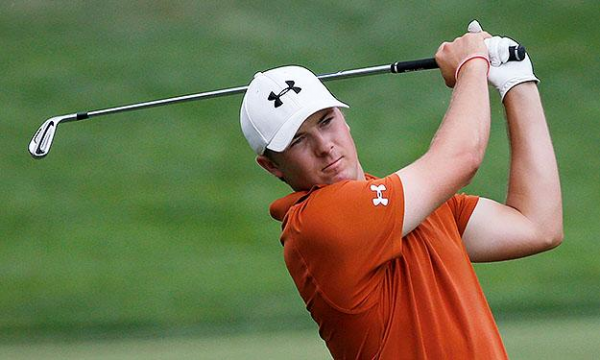 Jordan Spieth is gearing up for his first Masters in two weeks, but before he goes to Augusta National, he is headed back home to Texas.
The 20-year-old, who was born and raised in Dallas, will tee it up this week in the Valero Texas Open at TPC San Antonio and next week in the Shell Houston Open at the Golf Club of Houston.
When asked about it a while back, he made sure everyone knew he would be there.
"I'm going to do both," said Spieth, who also is expected to play in two more Texas events next month, the HP Byron Nelson Championship and the Crowne Plaza Invitational at Colonial, since they are right down the road from his home in Dallas.
"I love playing in my home state, but it's a fine line of not playing every event and owing back to those who helped me get here. If I end up playing a lot of golf, I'll be OK. I'm young."
In 2013, when Spieth left the University of Texas in the middle of his sophomore year, he played so often and so well — 25 times on the PGA and Web.com Tours — that he wound up being Rookie of the Year and receiving a spot on the United States team in the Presidents Cup.
By claiming his first PGA Tour victory in a playoff at the John Deere Classic, he earned his first trip to the Masters.
As with everything else, he doesn't seem to be overwhelmed teeing it up at Augusta. He played 27 holes on the course in a trip there in October, and he plans to play a practice round early in the tournament week with Ben Crenshaw, a two-time Masters champion and Texas icon.
"I think that the right way to approach it is like any other tournament," said Spieth, who handled the major pressure well enough when he tied for 21st and was low amateur in the 2012 U.S. Open at the Olympic Club in San Francisco.
"I'm going to see the same guys I saw last week, a lot of the same guys here this week and the weeks to come. So, ultimately, if I walk in with the same mindset I have at any tournament that I've had success in (in) the past, I think that is the right way to do it.
"You have to think of (Tiger Woods, Phil Mickelson and the other big names) as your peers. When you're on the course and looking up to anybody, you're saying, 'Wow, that's so-and-so,' that's when you get into trouble."
It helps that Spieth showed he belongs by finishing in the top 10 on 12 occasions in his first season-plus on the PGA Tour. Even when he is not right with the leaders, he is still hanging around, with 20 results in the top 25 over 32 tournaments.
There is no question that he is well ahead of the normal learning curve.
"He's a much better player than probably many of us were, except for Tiger, when they were 19 and 20 years old," said Fred Couples, who made him a captain's pick over several veterans for the Presidents Cup team. "To be on the team in six months (on the PGA Tour, with the qualifying period spread over two seasons), I mean, he almost made it on points."
Not only did he soar up the World Golf Rankings from No. 810 to No. 22 as a rookie, but Spieth put his name alongside some of the biggest names in his home state when he was selected Texas Sports Personality of the Year by SportsDay.
Among the winners of the award that dates to 1996 are Nolan Ryan, Dirk Nowitzki, Lance Armstrong, Emmitt Smith, Bill Parcells, Michael Johnson, Jerry Jones, Ricky Williams, Johnny Manziel and Mark Cuban.
Again, he is not fazed by any of it.
"It's an honor to be compared I think at my age to other guys at their age, but as far as being compared to somebody such as Tiger who has had so much success and broken so many records, I mean, that didn't happen when he was my age, that happened throughout his career," said Spieth, who won the U.S. Junior Amateur in 2009 and 2011, joining Woods as its only multiple winners of the event.
"So all in all, when I hear that, all I hear is that I've got a long way to go to obviously try to be the best player in the world and to break the records that are out there.
"I haven't accomplished any of the tangible goals I've set for myself, but I feel like I'm off to a good start."
Spieth does admit he is ahead of the schedule he set for himself when he left the Texas campus in Austin.
"I had a plan," he said. "I guess the plan got exceeded."
By a country mile.
–Story courtesy of The Sports Xchange, TSX Golf Editor Tom LaMarre