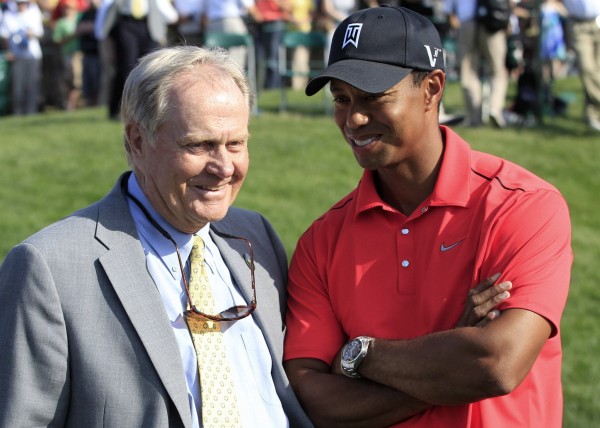 One week of practice was not enough to get Tiger Woods ready to play next week in the Honda Classic at PGA National, near his home in Jupiter Island, Fla.
Woods has not played since he withdrew from the Farmers Insurance Open at Torrey Pines after 12 holes in round one earlier this month because of back spasms and said recently that he would not be back until he believes his game is competitive.
Jack Nicklaus, for one, expects that to happen.
"I got a call this afternoon from (agent) Mark Steinberg on behalf of Tiger," Ken Kennerly, tournament director of the Honda Classic, said in a statement. "He wanted to let us know that Tiger is not going to play in the Honda Classic. He has been working on his game this week and feels as though he is not tournament ready to play next week."
Woods is not eligible to play in two weeks in the WGC-Cadillac Championship at Doral because he has fallen out of the top 50 in the World Golf Rankings, currently at No. 66.
That leaves two events on the Florida Swing, the Valspar Championship at Innisbrook, which he has never played, and the Arnold Palmer Invitational at Bay Hill, where he has won eight times.
"Tiger is struggling, I don't think there's any question about that," Jack Nicklaus said on the Golf Channel. "… I think he's struggling more between his ears than he is anyplace else. He's struggled with the driver most of his life, really, but he's always been able to find the golf ball and get it somewhere back around the green. … And now he's having trouble with the short game. That is not a good combination, to drive it poorly and have a bad short game.
"I think Tiger will turn it around. He's too dedicated, he works too hard at it, he's got too much talent. He'll figure it out. And personally, I think he needs to figure it out himself. Because a teacher can't teach what's inside your head. You've got to be able to put that positive thought into your head yourself."
Nicklaus added that he believes Woods, who has 14 major titles, still will break the Golden Bear's record of 18.