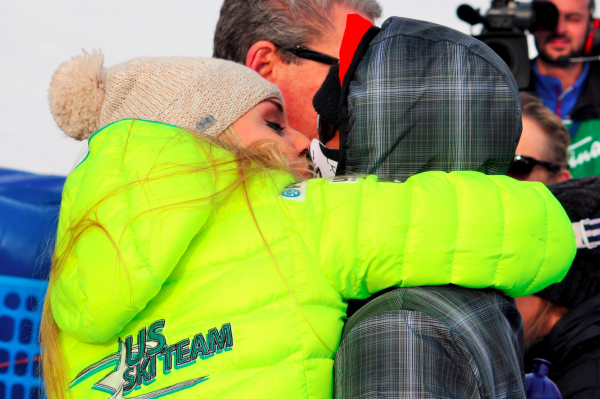 Tiger Woods surprised his girlfriend, Linsdey Vonn, when he showed up in Cortina d'Ampezzo, Italy, to watch her break the record for career victories in Women's World Cup skiing on Monday.
The 30-year-old Vonn, who missed most of the last two seasons because of knee injuries, captured the Super G in 1 minute 27.03 seconds, 0.85 seconds ahead of Anna Fenninge of Austria for her 63rd victory, besting the record set by Annemarie Moser-Proell of Austria between 1970 and 1980.
"No way," said Vonn, who claimed her fourth victory of the season, when she saw Woods at the finish line
" … I didn't think this could get any better than (Sunday, when she won a downhill race to tie the record) with my entire family here, but now with Tiger here this is unbelievable. I said, 'I can't believe you came.' And he said, 'I told you.'"
Woods told Vonn earlier that he would be watching online at home in Florida, where it was 5 a.m. at the time of the race. Instead, he disguised himself with a skeleton mask and showed up in the finish area, where the couple shared an emotional moment.
Vonn, who claimed the Olympic gold medal in the downhill at the 2010 Vancouver Olympics and gold in the downhill and the super-G at the 2009 World Championships, has totaled 32 downhill victories, 21 in the super-Gs, three giant slaloms, two slaloms and five combined races.
Tiger will make his 2015 debut on the PGA Tour next week in the Waste Management Phoenix Open after a year in which he played only seven times on the circuit because of back injuries.
Woods has said he and Vonn pushed each other, providing motivation during rehab.