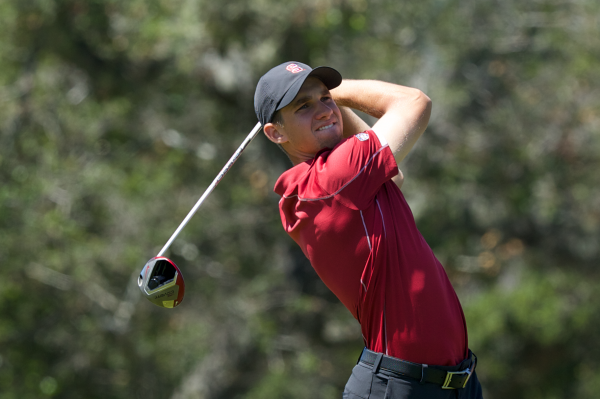 Patrick Rodgers of Stanford tied Tiger Woods' school record with the 11th victory of his career and the Cardinal held on for a one-stroke victory over Oregon to win its second NCAA Regional title since 2010 at Eugene Country Club in Eugene, Ore.
Stanford posted a score of 276-282-295–853, 13-over-par, to claim its sixth victory of the season and lead the top five teams into the NCAA Championships at Prairie Dunes Country Club in Hutchinson, Kan., on May 23-28.
"What a great job by our guys with tough hole locations and very fast greens," said Conrad Ray, Stanford's director of men's golf. "It was not our best day, but a solid week overall and it was exciting to pick up the win. Rodgers was a horse and we had some good contributions from our entire team.
" … Regionals, if you ask any coach in the room, it's probably the toughest week of the year."
Oregon, coach by former Stanford star Casey Martin, finished at 276-282-295–853, followed by Oklahoma at 289-287-293–860, Houston at 290-293-292–875 and South Carolina at 286-293-301–880.
Rodgers, a junior who will turn pro after the NCAA Championships, finished at 66-67-71–204, six-under-par, with Thomas Lynn of Oregon second at 74-70-66–210, despite battling strep throat in the final round.
"It's a quite an honor anytime you're mentioned with Tiger Woods," said Rodgers, who won for the sixth time this season, a Stanford record. "For me, it's just a product of playing consistently well over the last three years.
"Obviously, I've had a nice little run this spring. … This is another introduction into championship golf. It had everything you wanted."
Niklas Lindstrom of Liberty shot 70-72-70–212 and tied for third with Chris Robb of Chattanooga, who finished at 67-72-73–212.
Cameron Wilson of Stanford totaled 71-68-74–213 and tied for fifth with Byron Meth of Pacific, who came in at 69-74-79–213.
Rounding out the Cardinal's scoring were Viraat Badhwar in a tie for 14th at 70-73-73–216, David Boote in a tie for 22nd at 69-74-77–220, and Maverick McNealy in a tie for 64th at 73-82-79–234.
Competing as individuals, Cody Blick of San Jose State totaled 76-74-74–224 to finish in a tie for 39th that included Pete Fernandez of UC Irvine, who finished at 73-76-75–224.
Tyler Torano of Loyola Marymount was 47th at 76-75-74–225, Owen Taylor of Sacramento State tied for 50th at 73-79-75–227 and Frederick Wedel of Pepperdine was 66th at 79-77-79–235.
Cal and USC advanced to the NCAA Championships by tying for fourth in the Regional at Rich Harvest Farms in Sugar Grove, Ill., where Anthony Paolucci of the Trojans finished second and Brandon Hagy of the Golden Bears was fifth.
UCLA moved on to Tulsa by finishing fifth in the Regional at Briggs Ranch Golf Course in San Antonio, Texas, where the Bruins' Jonathan Garrick tied for 12th.