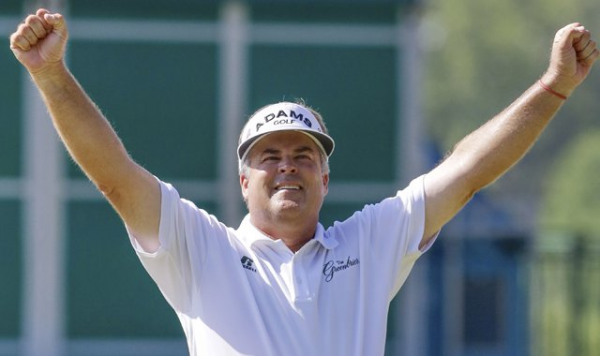 Kenny Perry captured his third title in his last three starts in Champions Tour majors, posting an even-par 72 that gave him a one-stroke victory over Mark Calcavecchia in the Regions Tradition at Shoal Creek Golf Club in Birmingham, Ala.
The 53-year-old Perry, who captured the Constellation Energy Senior Players Championship and the U.S. Senior Open last year before skipping the Senior Open Championship, took the lead for good with a 10-foot birdie putt on the 16th hole.
Perry became the second player to win in three consecutive Champions Tour major starts, joining Gary Player, who did it in 1987-88.
"I'm ecstatic, to tell you the truth," said the 53-year-old Perry, who claimed his sixth victory on the senior circuit after claiming 14 victories on the PGA Tour. "It's a great feeling.
"I really didn't have it today, but this is a tough golf course. It doesn't give you anything and it's a great championship test. I was just able to hang on."
Calcavecchia, who held the lead after opening with 69-69, closed with a 70 that included four birdies in the first eight holes, but he had none left in him as he battled rib and back injuries.
Calc, who has won 30 times in his career including the 1989 Open Championship at Royal Troon in a playoff over Aussies Greg Norman and Wayne Grady, finished with eight pars and two bogeys on the last 10 holes.
"I had a three-putt at No. 9, missed about a four-footer, and another three-putt at No. 13, but I had my chances," Calcavecchia said.
Tom Lehman, whose seven Champions Tour victories and three majors include Regions Tradition titles in 2011 and 2012, closed with a 67 to finish two shots back in a tie for third with first-round leader Jay Haas and Olin Browne of Occidental College in Los Angeles, who both had 71s.
Tom Watson, who won eight majors on the PGA Tour and has six more on the senior circuit, finished with a 67 and was three shots back in a tie for sixth with Rocco Mediate, who totaled 70, and John Cook of Rancho Palos Verdes, who came in at 72.
Cook's total included a one-stroke penalty for a double hit on a bunker shot that led to double-bogey 6 on the 14th hole, one hole after he took the lead with a birdie.