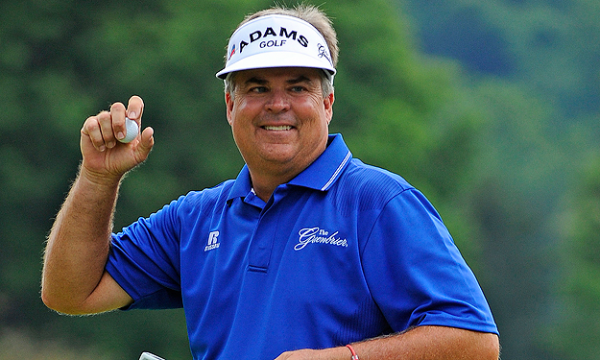 Kenny Perry, bidding for his third Champions Tour major title in two seasons, posted a 3-under-par 69 to take a one-stroke lead over John Inman into the final round of the Regions Tradition at Shoal Creek Golf Club in Birmingham, Ala.
Perry, who won the Constellation Senior Players Championship and the U.S. Senior Open last year, made his only bogey at the 16th hole and credited his good play to switching to a new driver after opening with a 72.
The driver he used last season was damaged after he checked his golf bag for a flight from New York to Seattle late in the year.
"I've struggled ever since," said the 53-year-old Perry, who has won five times on the senior circuit after claiming 14 victories on the PGA Tour. "I did win the AT&T at the end of last year to hang on and win the Charles Schwab Cup, but I didn't really play great and I haven't played very well this year either.
"I've been fighting driver woes, so hopefully this is a turn in the right direction and this driver's going to solve my problems."
Inman, 51, who captured the 1993 Buick Southern Open and the 1987 Provident Classic on the PGA Tour but has yet to win on the Champions Tour, carded seven birdies in a round of 66.
Tom Pernice Jr. of UCLA shot 70 and was three strokes back in a tie for third with Olin Browne of Occidental College in Los Angeles, who recorded a 72, John Cook of Ranchos Palos Verdes, who had a 71, Jeff Maggert, who totaled 69, and Steve Elkington of Australia, who came in at 71.
Also tied for third were the leaders in the first two rounds, Mark Calcavecchia, who struggled to a 74, and Jay Haas, who managed only a 73.