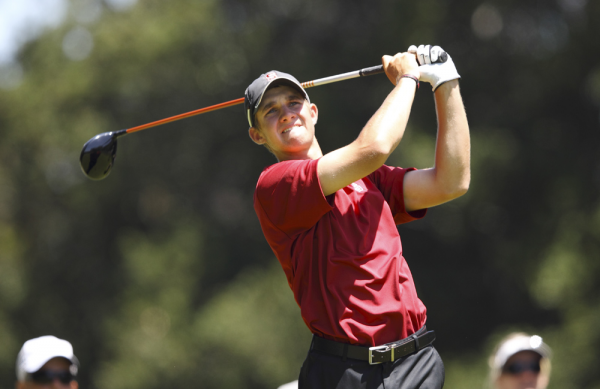 Patrick Rodgers of Stanford, top-ranked amateur in the world, shot 2-over-par 74 in the final round to win the Southern Highlands Collegiate Masters for the second straight year by two strokes over six golfers at Southern Highlands Golf Club in Las Vegas.
Rodgers, a junior who announced last week that he will turn pro after the NCAA Championships at the end of May, claimed his eighth victory to break a tie for second with Joel Kribel on the all-time Cardinal victory list and trails only Tiger Woods, who won 11 times.
"It's truly an honor to be a champion back-to-back," said Rodgers, who posted a score of 74-69-74–217, 1-over-par. "I take a lot of pride in winning this golf tournament. This is the biggest regular-season golf tournament of the year. The best field, the best teams on a championship golf course.
"I really felt like I had a lot to prove and we (Stanford) had a lot to prove this week. I hope this makes us better down the road. I came here trying to prove that I was one of the best players in the country."
Jonathan Garrick of UCLA, who had the lead until carding a triple-bogey 6 on the 17th hole, recorded a score of 71-74-74–219 and tied for second with Kurt Kitiyama of UNLV, who shot 74-74-71–219, Wyndham Clark of Oklahoma State, who wound up at 70-79-70–219, Gavin Green of New Mexico, who finished at 72-77-70–219, Tony Hakula of Texas, who totaled 72-76-71–219, and Michael Schoolcraft of Oklahoma, who came in at 74-73-72–219.
Host UNLV carded a score of 289-303-294–886, 22-over-par, to win the team title by two strokes over 10th-ranked Stanford, which finished at 297-297-294–888, and second-ranked Oklahoma State, which wound up at 293-308-287–888.
UCLA totaled 299-299-299–897 and tied for fourth with top-ranked Alabama, which had an identical score of 299-299-299–887, and while fourth-ranked Cal finished eighth at 314-302-287–903.