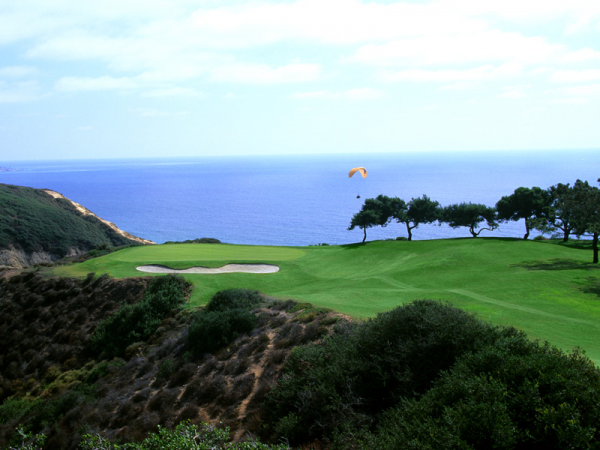 The United States Open is headed back to the South Course at Torrey Pines Golf Course in La Jolla, Calif. in 2021, according to a U-T San Diego story.
Our national championship was last played at Torrey in 2008, when Tiger Woods won an epic 19-hole playoff over Rocco Mediate while limping on a broken left leg and torn knee ligaments.
"It's a great win for San Diego," said Mayor Faulconer of San Diego, adding that Torrey Pines is the choice of the United States Golf Association and all that is needed to complete the deal this is a vote of the City Council this week, which is considered a formality.
"The fact that we've been selected again speaks volumes as to how this city came together and put on a world-class tournament in '08. It just shows, from the USGA's standpoint, that we know how to get it done."
The 2008 U.S. Open, considered one of the greatest major championships ever, recorded the second-largest attendance in the national championship's 113-year history, in addition to setting merchandise sales and TV ratings records.
The economic impact of the 2008 Open for San Diego was estimated at $142 million, according to a study done by San Diego State University's School of Hospitality and Tourism Management.
The report found that nearly 59,000 out-of-town visitors came specifically for the U.S. Open and spent $14.7 million on lodging, $17.6 million on food and beverage, and $23.5 million on shopping.
"There are a lot of chess pieces," USGA President Tom O'Toole Jr. said. "It's a process that takes some time. We wouldn't have gone back to Torrey Pines any sooner than 10 years, and we're slightly outside that range now.
"We had a fabulous Open there. The city was great and the community was incredibly supportive."
Woods, who claimed his 14th major title in a Monday finish at Torrey Pines but remains stuck on that number has he chases Jack Nicklaus' record of 18, will be 45 years old in 2021.
Local favorite Phil Mickelson, who has five major victories but none in the U.S. Open, in which he has finished second six times, will be 51.