Poppy Hills reinvents itself in spectacular fashion
Poppy Hills Golf Course co-hosted the PGA Tour's AT&T Pebble Beach National Pro-Am from 1991 through 2009, as well as the Spalding Pebble Beach Invitational (1989-1991) and 1991 NCAA Men's Championships.
But when the Northern California Golf Association realized it needed to overhaul the irrigation and drainage at its flagship course in Pebble Beach, it took a step back and studied what else it could improve at its headquarters.
Five years of planning set in motion a $13 million renovation project that closed the course down for 13 months. The NCGA brought back original architect Robert Trent Jones Jr. to reinvigorate his popular layout, and the result is a firm, fast and fun course that unfolds seamlessly through the stunning Del Monte Forest in Pebble Beach.
Poppy Hills shut down in March of 2013 and will reopen April 4, 2014.
"The fundamental tipping point for this renovation was water conservation," said Jones about the course he built in 1986. "The NCGA is a leader for all golf courses because it oversees, protects and enhances the Northern California Golf Community. If you're going to rip up the course to put in irrigation and install this new way of thinking, it was time to rethink the entire course. This was a remarkable opportunity to rejuvenate this world-class venue."
Jones reinvented the tournament home of the NCGA architecturally, restoring each hole to its natural elevation along the forest floor, softening doglegs and contours, redesigning all 18 greens with bentgrass, eliminating rough and introducing native waste areas that help reduce irrigated turf by nearly 25%.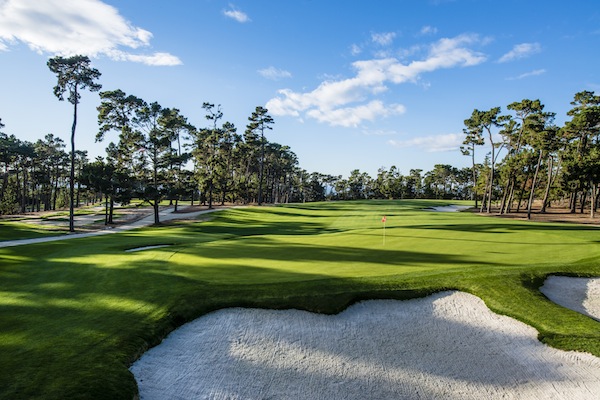 "We originally built this course on top of the land – we imposed our will on the land," said Bruce Charlton, president of Jones' golf architecture firm RTJ II. "The new Poppy says, 'Let's take it back to what the land has given us and let the course flow with the land much more.'
"The way the holes are tied in, you don't see the big mounds as much. The tee complexes are not lifted in the air. That gives the course the impression of much more width. It just feels so much bigger. You squish the mounds and take out the contours."
Poppy Hills is able to achieve the unthinkable – firm and fast conditions year-round in notoriously wet Pebble Beach – through sand capping. Every yard of irrigated turf sits on top of a 5-inch layer of sand, changing the soil profile and promoting a dry setup.
"It's going to be a completely different experience," said Mike Gorman, project architect for RTJ II. "It's definitely a cornerstone for the entire project.
"With our shaping philosophy, we want to bring our fairway up to the green, and we want to treat the fairway as a form of hazard and a form of defense. We utilize the sand cap to achieve those fairway and tight-lie conditions."
Jones and his team eliminated rough, which promotes a fun and imaginative style where shots can be played both through the air and on the ground on nearly every hole. It is the same style of play they embraced at Chambers Bay in Washington, site of the 2015 U.S. Open.
"The firm and fast conditions are going to be huge, Charlton said. "You don't have to hit the ball in the air to get it close to the hole.
"I'd say about eight or nine years ago, we went away from every green complex being so well guarded that you had to attack it by air. In the past five or six years, we've taken the open entry concept – take away some of those bunkers and use short grass as defense.
"I'm really excited about the fun factor. A player with a lot of imagination is going to have a lot of fun out here."
As the home course of the NCGA, its members are privy to one of the best deals in golf. The unique Pebble Beach golf experience is $215 for the public, but NCGA members receive a discount up to 70% off.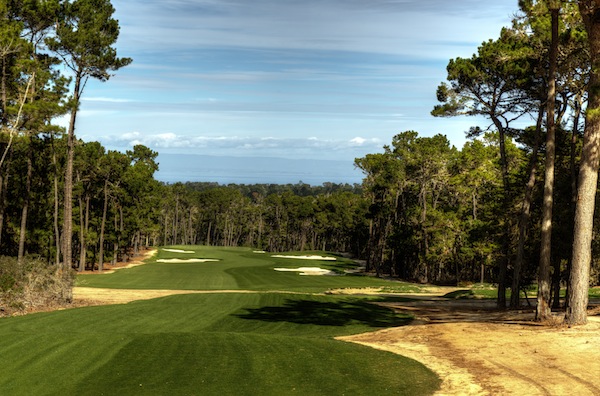 When NCGA members return to play their golf course, a few design changes will stand out:
A lake fronting the fifth green was transformed into a fescue-filled natural sandy area
A seasonal creek that cuts in front of the ninth green was revitalized, creating exciting risk-reward choices and shots
A brand-new 11th hole was built, creating the shortest and most precise hole at Poppy Hills
The sharp dog-leg left par 5 12th hole (above) was converted into a spectacular straightaway par 4 with a stunning vista of the Monterey Bay and Santa Cruz Mountains
Poppy Hills now plays as a par 71 (it was formerly a par 72), but it managed to gain yardage, even though it lost more than 15 acres of irrigated turf. Its five sets of tees range from 5,215 to 7,002 yards. Poppy Hills previously played between 5,421 and 6,861 yards.
The renovation also includes a remodeled driving range, clubhouse and restaurant, which will be run by executive chef Johnny De Vivo, formerly of Casanova and La Bicyclette in Carmel.