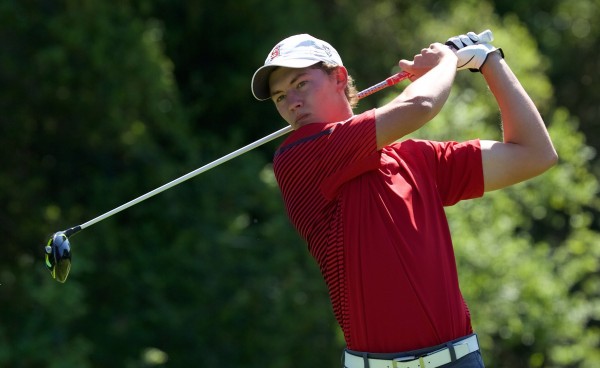 Maverick McNealy tied a Stanford record by shooting a bogey-free 9-under-par 61 to run away with the individual title and the Cardinal captured the Pacific 12 Conference Championship for the second straight year at Palouse Ridge Golf Club in Pullman, Wash.
McNealy, a sophomore from Portola Valley, tied the school record set by Tiger Woods and equaled by Cameron Wilson while winning by 10 strokes.
"The game plan for the start of the day was to be patient and to press my advantage when I got it," said McNealy, whose 72-hole score of 262 broke by three strokes the Pac-12 Championship record set by Paul Casey of Arizona State in 1999 and tied by Casey in 2000.
"It felt great from the get-go. I was thinking pedal to the metal, because obviously our team was in it and I didn't really matter how the individual thing was shaking out anymore, but I wanted to get more birdies to help the team.
" … I'm going to celebrate this win with a midterm tonight and another one tomorrow. Go Cards!"
Stanford came from nine strokes behind in the final round to win with a score of 362-348-346-340–1396, 10-under, followed by Oregon at 357-360-349-344–1410, Arizona State at 354-351-342-364–1411, USC at 355-344-361-357–1147, Washington at 363-353-357-362–1435 and Oregon State 361-357-357-363–1438.
"It was a team effort today," said Conrad Ray, Stanford's director of men's golf. "It took six guys today and all of our guys contributed throughout the week, so really proud of the results and happy for them.
"I knew we had our hands full with Arizona State. They've got a really good team, they've won a lot this year and they've got some really good players. And to be able to track them down and be able to actually have a little bit of a lead coming down the stretch at 18 was a relief.
"Our guys got off to a really good start today. That's something we talked about last night. … We talked a lot about our strategy and where we wanted to leave our misses, and it paid off."
Cal was seventh at 359-361-356-364–1440, followed by UCLA at 364-358-358-362–1442, Arizona at 372-364-359-351–1446, Washington State at 363-347-366-377–1453, Colorado at 374-365-361-359–1459 and Utah at 382-376-382-375–1515.
McNealy, who posted his fifth victory of the season, finished at 65-68-68-61–262, 18-under-par, with Aaron Wise of Oregon a distant second at 65-70-70-67–272.
Jonathan Garrick of UCLA shot 69-72-70-65–276 to tie for third with George Cunningham of Arizona, who finished at 71-70-68-67–276, and Broc Johnson of Arizona State was fifth at 69-72-65-73–279.
K.K. Limbhasut of Cal posted a score of 70-69-66-75–280 to tie for sixth with Sean Crocker of USC, who totaled 72-68-72-68–280, Cheng-Tsung Pan of Washington, who wound up at 70-70-70-70–280, Zach Foushee of Oregon, who finished at 70-74-68-68–280, and Jon Rahm of Arizona State, who came in at 70-68-74–68–280.
Rounding out the Stanford scoring were Franklin Huang in a tie for 11th at 73-70-67-71–281, David Boote in a tie for 15th at 75-69-69-70–283, Viraat Badhwar in a tie for 26th at 75-70-74-68–287 and Patrick Grimes in a tie for 40th at 74-71-74-72–291.