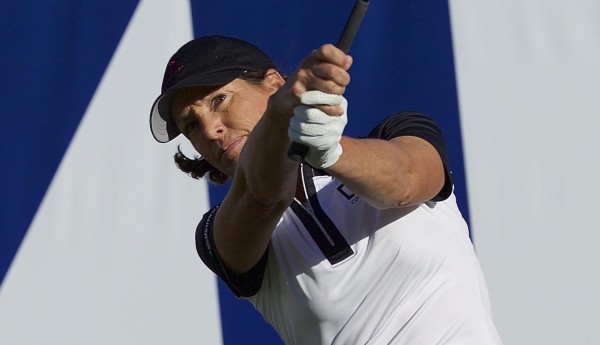 Juli Inkster continued to turn back the clock, shooting 5-under-par 66 to tie Cristie Kerr and Sydnee Michaels for the first-round lead in the Volunteers of America North Texas Shootout at  Las Colinas Country Club in Irving, Texas.
Inkster, the 54-year-old captain of the United States team for the Solheim Cup who is from Los Gatos and San Jose State, collected three birdies in a span of four holes through No. 7 and had six in all, with her only bogey coming on the 13th hole.
"I'm playing good, just trying to get my confidence back," said Inkster, who saw 10 other Americans who might be on her team in Germany come September within two strokes of the lead. "I'm hitting it good and putting good, so it was a pretty easy 5-under out there, which was nice. I hope I can keep it going.
"It's great to see (the strong American showing). My team is playing well and I think they are getting  fired up. It's only four or five months away. Hopefully we can carry this across the pond and play some good golf in Germany."
Inkster was in the hunt much of the way last week before tying for 15th in the Swinging Skirts LPGA Classic at Lake Merced Golf Club in San Francisco.
Kerr, a 17-time winner on the PGA Tour, posted four of her seven birdies while also finishing on the front nine, while Michaels, of Temecula and UCLA, birdied three of the first five holes in her 66.
Lexi Thompson birdied the last two holes to shoot 67 and was tied for fourth with nine others, including Americans Natalie Gulbis of Citrus Heights near Sacramento, Ryan O'Toole of Carlsbad and UCLA, Angela Stanford and Gerina Piller.
Also in the tie for fourth were Karine Icher of France, Alena Sharp of Canada, Sandra Gal of Germany, Wei-Ling Hsu of Taiwan and Maria Hernandez of Spain.
Michelle Wie, who played at Stanford, posted an eagle on the second hole en route to a 68 and was in a tie for 14th that included Jane Park of Rancho Cucamonga and UCLA, and Christina Kim of San Jose.
Defending champion Stacy Lewis was in a tie for 23rd at 69 and top-ranked Lydia Ko of New Zealand, who won the Swinging Skirts for the second straight year last week, struggled to an opening 75 and was tied for 117th.