By Matthew Palaferri
There are many characters in the wine industry, and Joseph Carr is certainly one of them. The first time I met him was on the tee box at a golf course in Orange County. I won't say where his that tee shot ended up, but his reaction was worth its weight in gold*. I knew right away that this was the kind of guy I wanted to get to know. Passionate, competitive and a Red Sox fan (hopefully I didn't alienate too many of you with that last fact).
Joseph Carr served 10 years as a world-class sommelier and an executive in the international industry. He followed his passion, and in 2005 he formed a family-owned winery. In his own words, he had the chance to "follow a dream" – and he's been making outstanding wines ever since.
Being influenced by the wines of Bordeaux and Burgundy, Carr's wine making philosophy is how it should be, simple and not over complicated. He aims to make balanced, sophisticated wines that are approachable and in an old world style, but with that California distinction. That's easier said than done, but he's found a way to do it very well without breaking the consumers bank account.
I don't know if Joseph remembers playing with me that day, but I'll never forget it. Anyone who has passion for something, a sense of humor and knows what they want is my kind of fellow. I mean, who wouldn't want to get to know someone with those qualities? Here are a few wines that I KNOW you will enjoy. Find them at your nearest wine merchant or ask for them at your favorite place to enjoy wine.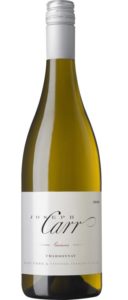 Joseph Carr Chardonnay  – This Chardonnay is sourced from the cool climate region of Carneros. The juice ferments in barrels and shows great acidity, as well as some stone fruit and lemon meringue on the finish. This wine will please the folks that love both French and California Chardonnay.
Retail $17.00

Paso Cabernet  – This is a Paso cab that shows tons of red fruit as well as some soft tannins and rich fruit. Aged in French oak for 18 months, this Paso cab blows away the competition in this category. Enjoy with anything grilled, especially a nice Santa Maria Tri-Tip!
Retail 19.00

Napa Cabernet – This cab is sophisticated and has a ton of layers of spices, big fruit and finishing with a little cassis. It's soft on the palate but still has that Napa cab backbone you are looking for. This wine has a ton of personality that will please any dinner guests.
Retail 22.00
I couldn't let you wonder where his ball went could I? It went so far right that I think the house it hit is still wondering what hole it could have possibly come from. I will say, that he played fairly well the rest of the round and beat me pretty handily. And, being a gentleman, he even bought lunch for all of us. Until next time, drink what you like and like what you drink.* <i/>