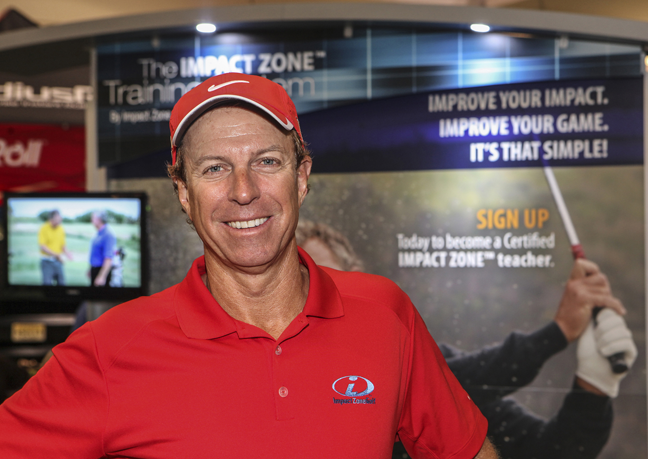 A PGA Tour life member and popular television golf broadcaster, Bobby Clampett is just as well known within golf's inner circles as both an avid student of the game and an exceptional teacher.
Somewhat of a Renaissance Man, Clampett's varied interests have led him from playing golf courses to helping design them, as well as from the TV booth to the bookstores, as the author of "The Impact Zone." An avid snow skier and life-long pilot (his father was a two-time National Air Race Champion), Clampett has discovered deep-sea fishing, as well as another new passion a bit more down to earth – as a winemaker, whose Clampett Cellars announced its first two wines varietals, both red blends, in 2010.
Clampett, who turns 53 this month, established his golf resume as a competitor – winning at the amateur, collegiate and professional levels – and continues to thrive as he dives into his fourth season on the Champions Tour, where he is about to surpass $1 million in earnings.
Forever a player at heart, Clampett nonetheless believes his enduring contribution to the game will be through instruction. His insights from personal experience, as well as from studying and competing against the world's best players for four decades, has resulted in a philosophy that changes the way golfers and instructors perceive and interpret the swing.
With his "The Impact Zone Training System," Clampett challenges the widely accepted theory of golf instruction that is too concerned with a golfer's swing style, while overlooking its results and effectiveness. Impact-basedinstruction puts the emphasis where it should be, Clampett professes: on consistently good shots and lower scores.
As he focuses on competing at the highest level, Clampett is committed fully to Impact Zone Golf, which he founded as a way to meet the demands of students and teachers to be involved with his impact-based teaching system. The new project has had a huge effect on his life. Even his first wine offerings with Clampett Cellars reflect that: The 2010 Impact Zone Red is named after his golf teaching system.
Your career as a golf broadcaster has been almost as long as your career as a golf competitor, which leads to two questions: What do you enjoy most about being a commentator and what do you enjoy most about being a competitor? The thing I like about competing is you are not depending on anybody but yourself. I am playing the game I love to play and enjoy the personal challenges golf teaches me on day-to-day basis – very rewarding lessons that can be carried on in life. While golf is so individual, broadcasting is a team concept. I like having a role as a broadcaster on the team. You need to play your position, know your role and work with the other broadcasters to make the team better.
How did you get ready to compete on the Champions Tour this season, and how does your preparation differ now than it did when you were in your fourth season on the regular tour? I do a lot more physical conditioning now, and I do a lot more drilling and swinging the club without the ball. I have learned more about the value of proper impact, so I can create that in drills, without having to put my body at risk and wearing down by hitting golf balls all the time. My practice has more purpose than it used to … and I like to make up games, to make it fun.
You have won at every level, what do you think needs to happen for you to win again? I am still in that process of getting competitive again. When you are away from the game for 16 years as I was, you lose an edge and need to get it back. I am continually getting that back. The depth of talent on the tour is remarkable. It's harder than I expected. The two things in my game that need improvement are driving – and I'm making progress there – and my putting. Mechanically I am putting better, but now it's more about green reading.
You have a lot of things going on in your life these days, particularly with competing on the Champions Tour and the evolution of The Impact Zone Golf Training System. What is the secret to juggling everything? It's a balancing act, that's for sure. I am passionate about revolutionizing the way the game is taught and learned. What drives me the most is that I know that Impact-based teaching works. Generally my schedule during an off week from the tour is: I do physical training and business work in the mornings; practice and play in the afternoons; and then get back to business in evenings. Then go to bed. Dinner is in there somewhere … It doesn't leave much time for anything else these days. But I am not complaining. I appreciate having so much happening in my life.
Growing up on the Monterey Peninsula, what are your memories of working with Ben Doyle, the legendary instructor at Quail Lodge, not far from where you lived in Carmel? I had the blessing to work with two of the greatest teachers – Lee Martin for the first three years, and then Ben Doyle at Quail Lodge. I have so many wonderful memories of Quail Lodge and how they all embraced me at the club. Ed Haber (who built Quail Lodge) took a liking to me at a young age and gave me the opportunity to be part of the club. I had everything I needed to become a player right there and everybody there saying, "We are here for you. We are behind you." That was pretty special. I couldn't wait to get there every day to play and practice.
Is that what motivated you to become so good so quickly at an early age? It was that, and a passion for the game. I didn't know how to go about learning the game, but knew what I wanted to learn to do. And I had unbelievable resources in people – Ed Haber and teachers like Lee Martin and Ben Doyle. Lee was passionate about working with me, turning me into a player. My mother bought me my first set of junior lessons with Lee. While I was taking the lessons, Lee wrote a letter back to my mother, with her check enclosed, telling her, "Don't pay me for lessons. I think I can make a real golfer out of your son." That was a real turning point for me.
You matured into one of the best players in the game while working with Ben Doyle. Then when you were on tour, you changed teachers and things did not work out well. What happened and why did you leave Ben? I wanted to get better. I felt I reached a plateau. Tiger has gone through that and we've seen Phil go through that, too, so you see that a lot with tour players – you reach a certain level and want to get to the next one. One teacher would say I needed this swing style, and that didn't work, so I would go to the next one and that swing style wouldn't work, and on and on. It basically destroyed me. It drove me out of the game. In trying to change my swing style, I lost everything that was good about my swing to begin with. I thought the answer was in my swing style, but the lesson I learned is that swing style has nothing to do with it. It's all about improving impact and the consistency of your impact. Working as a broadcaster for CBS all these years, I have studied the best players in the game and saw that they have a variety of swings, but what they create at impact is virtually the same. It was a real breakthrough for me. That is how I found my game again and what led me to write the book. I had to share my story with other people like me, who suffered through trying to process all the minutia that is taught. I feel I can have a positive impact on how to better teach the game.
You once said you never felt like you accomplished what you wanted to in golf. What do you want to accomplish now, both in competition and instruction? I feel in a way that I was born to play golf and to teach people how to play golf. That's why I am so excited about "The Impact Zone Training System." I remember when I was 10 years old, riding my bicycle to the Thunderbird Book Store in Carmel. With a few dollars, which I got probably from selling golf balls, I bought a golf book by Sam Snead. It was nothing but pictures, and I would spend hours comparing the pictures in the book to what I could do. That was the beginning of my studying to learn to play golf. It always has been a passion of mine.
What are you looking forward to now on the Champions Tour? My goal as a player has always been to be the best I could be. It's not that different now than when I was competing before. When I turned 50, I had no status for the tour, no knowledge where my game was. I was a question mark. Now I am in position to compete and look forward to creating personal bests. That is what life is all about, challenging yourself and achieving those personal bests. I haven't won on the Champions Tour; that would be a personal best. But whatever success or failures I have, they are all part of the process. And I still enjoy the process.
– By Ed VYEDA