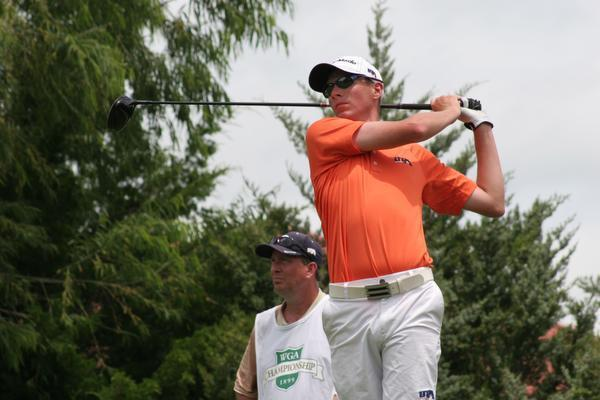 Zack Fischer birdied the last two holes and captured the Web.com Tour Qualifying Tournament by shooting a second consecutive bogey-free 8-under-par 64 in the final round to beat Scott Pinckney by two strokes on the Nicklaus Tournament Course at PGA West in La Quinta.
Fischer, who played college golf at Texas-Arlington, bounced back from an opening 75 in the 108-hole event and earned a full exemption on the Web.com Tour for 2014, while the top 10 receive full exemptions through the first 12 tournaments, and the top 45 and ties will have a full exemption through the first eight events on the circuit next year.
"Negative, very negative," Fischer, who didn't make a bogey over his last 37 holes, said of his thoughts after the first round. "I was just saying a prayer and thanking the Lord for giving me the chance to be here. It's still really surreal."
All 152 players who reach the finals earned some status on the PGA Tour's triple-A circuit for 2014.
Pinckney, a 2011 graduate of Arizona State who led after the fourth and fifth rounds of the tournament, closed with a 68 that included costly bogeys on the 12th and 14th holes before he finished with four consecutive pars.
Tony Finau of Lehl, Utah, recorded a 68 and tied for third with Sung Jung Park of South Korea, who finished with a 67, and Steve Saunders, a former All-American at New Mexico, who also had a 67.
Max Homa of Valencia, the 2013 NCAA champion for Cal, shot 66 and tied for sixth with Jimmy Gunn of Scotland, who had a 71, and Bronson Burgoon, out of Texas A&M, who came in at 66.
Sam Saunders, grandson of Arnold Palmer, closed with a 65 to tie for 11th before catching a plane home to Colorado to be on hand for the birth of his first child, a son, on Wednesday.
Amateur Michael Kim of Del Mar, the 2013 NCAA Player of the Year at Cal who said he would decide after the tournament whether to turn pro or return to Berkeley to finish his junior season, faded to a tie for 56th by closing with 75-74.