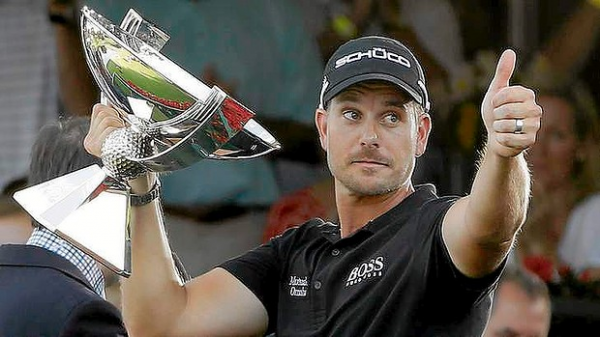 Henrik Stenson of Sweden was selected unanimously as 2013 Race to Dubai European Tour Golfer of the Year, it was announced in London.
Stenson, who claimed three victories around the globe last season, became the first player to win the FedEx Cup on the PGA Tour and the Race to Dubai on the European Tour, achieving both titles in 2013.
"It's a big honor to be voted the European Tour Golfer of the Year," the 37-year-old Stenson said. "It just reflects the stellar year I have had. You can call it a dream season, year of my life, whatever you want. It has been an unbelievable year and I am delighted to win this award, especially as I am the first Swede to do so.
"You look at the past winners of this award and most of the greats of European golf are on there, which just adds to the prestige of winning it. To win the FedEx Cup and the American Tour Championship in some style and then follow that by taking the Race to Dubai was very special."
Before Stenson began his late-season surge, the favorite to claim the award was Justin Rose of England, who in June became the first Englishman in 43 years to capture the U.S. Open with a brilliant performance at Merion.
Stenson heated up by finishing second behind Phil Mickelson in the Open Championship at Muirfield in July and in August he tied for second behind Tiger Woods in the WGC-Bridgestone Invitational before finishing third in the PGA Championship at Oak Hill.
Then in September he captured the Deutsche Bank Championship in the second round of the PGA Tour playoffs before finishing things off with a three-stroke victory in the Tour Championship to wrap up the FedEx Cup.
Stenson finished the same way on the Euro Tour in November, tying for seventh in the Turkish Airlines Open before winning the DP World Championship-Dubai by six strokes to claim the Race to Dubai title.
Despite battling a right wrist injury, he finished in the top 10 in seven of his last 11 official events of the season.