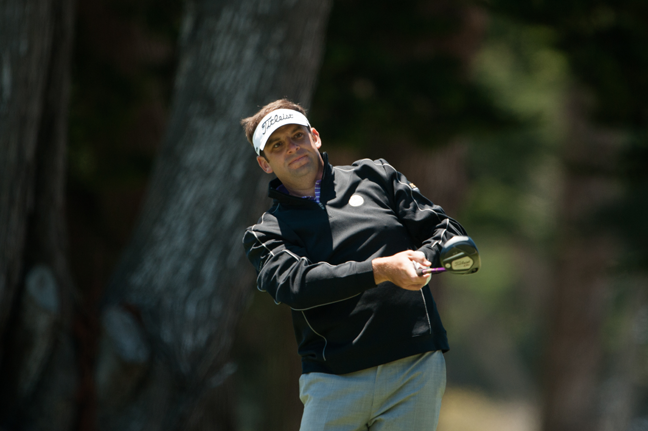 SEASIDE, Calif. – The secret is out about Matt Dobyns, a PGA professional who was once under the radar in the national spotlight, but whose debut in the 45th PGA Professional National Championship turned into a historic visit to Bayonet and Black Horse Golf Courses on the Monterey Peninsula.
The 34-year-old PGA head professional at Fresh Meadow Country Club in Lake Success, N.Y., completed a stunning four-day run by making a four-foot birdie on the 18th green for a 2-under-par 70 and a record-breaking eight-stroke victory in the showcase event for PGA Professionals. His 13-under-par 275 total made him the seventh member of the Metropolitan PGA Section to capture the National Championship and the eighth player in history to win in his first attempt.
Dobyns capped his week by shattering Sam Snead's 41-year margin-of-victory record of five strokes, which he set in 1971.
"I don't know how that happened," said Dobyns. "To be mentioned in the same breath with Sam Snead in any comparison is both humbling and exciting."
Dobyns' storybook trip would never have happened had he not accepted the fact that his staff could handle the operations while he was out of town. The members at Fresh Meadow Country Club can now plan for a Champion's reception upon his return.
"It's the biggest tournament I have ever won, and will probably be the biggest tournament I'll ever win," said Dobyns. "I'm trying to cherish each second, because it's going too quickly."
Rod Perry of Port Orange, Fla., who matched the day's low round of 69, shared runner-up honors at 283 with Kelly Mitchum of Southern Pines, N.C., who closed with a 71.
Perry, the PGA head professional at Crane Lakes Golf Course in Port Orange, had never finished better than a share of 34th in four previous Championship visits, while Mitchum, the PGA teaching professional at Pinehurst (N.C.) Resort, recorded his fourth top-10 finish in seven appearances.
Mitchum, 41, said that he had more than a few opportunities to see Dobyns' talent up close.
"Matt played so solid. We were all playing for second," said Mitchum. "Matt and I played nine holes in a practice round Friday, and then to get paired with the Champion in the final round is pretty ironic."
Three-time PGA Professional National Champion Mike Small of Champaign, Ill., whose 73 left him alone in fourth at 284. "I fought hard and made it in," said Small. "He (Dobyns) was sensational."
Dobyns arrived last Thursday evening on site, played a round at the nearby Black Horse layout, and got in just nine holes at rugged Bayonet, walking the back nine, before the opening round. Perhaps not your optimum practice time for a demanding course ranked No. 21 toughest in the U.S. by Golf Digest.
"This golf course just fit my eye," said Dobyns. "I had control of my golf swing, and I can't tell you why. When I got here, I felt in control. The hard shots didn't feel that difficult. I'm going to look back at the tape, because something has to be different."
Despite owning a six-stroke lead entering the final round, Dobyns admitted that he had a restless night of sleep.
"I was thinking what it would have taken for me to feel comfortable, and I figured that the margin would have been about 15," said Dobyns.
Restless or not, Dobyns displayed the same cool that he had the previous 54 holes, and made birdies at the fifth, 10th and 18th holes the last sealed what was a magical run.
The road to national prominence for Dobyns, according to 1996 National Champion Darrell Kestner of Glen Cove, N.Y., his longtime mentor and coach at Deepdale Golf Club in Manhasset, N.Y., was "just a matter of time."
Kestner finished nearly a half hour ahead of Dobyns, turning in a 74 and finishing in 13th place. Kestner earned his 10th trip to the PGA Championship and accomplished a rare feat himself by qualifying for a major championship in five separate decades. Kestner competed in the first of his eight U.S. Opens in 1979, and has made nine PGA Championship appearances prior to this year.
"I'm glad the rest of the golfing community could see what this kid can do," said Kestner, who hired Dobyns as an apprentice 2009, and continues to coach him today. "For three years at Deepdale, I saw some amazing stuff. I knew that he was one of the best playing club professionals in the country three years ago. For him to finally get his due, I feel very prideful for him."
The whirlwind Monterey Peninsula visit ended for Dobyns by his cradling the crystal Walter Hagen Cup. He punctuated his performance in the third round with a hole-in-one on the 14th hole at Bayonet and an 18th-hole eagle.
"That's how the margin got to where it was," said Dobyns. "Without those two things happening, the margin becomes about two or three strokes. Those things – an ace and an eagle – are really about fate and luck. You do have to put yourself in a position to do it, and it was good to do it while you are on top of the leaderboard."
The low 20 scorers earned a berth in the 94th PGA Championship, Aug. 9-12, at The Ocean Course in Kiawah Island, S.C. The Metropolitan PGA Section led with five players of that group.
"I could think of a dozen players who would be able to do as well in this Championship," said Dobyns. "It is really a remarkable week for me, and I will have to sit back and try to put it into perspective."
45th PGA Professional National Championship
Bayonet and Black Horse Golf Courses, Seaside, Calif.
Bayonet Course – Par-72 – 6,891 yards
Final-Round Scores
Matt Dobyns, Lake Success, N.Y.    68-68-69-70—275
Rod Perry, Port Orange, Fla.    72-71-71-69—283
Kelly Mitchum, Southern Pines, N.C.    69-71-72-71—283
Mike Small, Champaign, Ill.    66-73-72-73—284
Paul Scaletta, Jupiter, Fla.    67-72-75-71—285
Jeff Coston, Blaine, Wash.    71-72-74-69—286
Marty Jertson, Phoenix, Ariz.    78-68-72-69—287
Mitch Lowe, San Francisco, Calif.    72-72-73-70—287
Bill Murchison, Canton, Ga.    73-74-70-70—287
Corey Prugh, Spokane, Wash.    70-72-73-72—287
Frank Bensel, Jupiter, Fla.    68-75-72-72—287
Bob Sowards, Dublin, Ohio    70-71-76-71—288
Alan Morin, Royal Palm Beach, Fla.    69-73-76-71—289
Darrell Kestner, Glen Cove, N.Y.    69-73-73-74—289
Brian Cairns, Walled Lake, Mich.    71-69-78-72—290
Danny Balin, Rockville, Md.    72-72-74-72—290
Brian Gaffney, Rumson, N.J.    68-75-74-73—290
Doug Wade, Dayton, Ohio    73-75-68-74—290
Mark Brown, Glen Head, N.Y.    71-73-72-74—290
Brett Melton, Washington, Ind.    75-73-74-69—291
Michael Frye, Sedona, Ariz.    75-73-71-72—291
Michael Hopper, Phoenix, Ariz.    75-71-72-73—291
Scott Hebert, Traverse City, Mich.    73-74-71-73—291
Stuart Smith, Reno, Nev.    71-69-77-74—291
Stuart Deane, Arlington, Texas    72-74-71-74—291
Kevin Shields, Pittsburgh, Pa.    74-70-71-76—291
Chad Proehl, Urbandale, Iowa    72-72-71-76—291
Ron Philo, Stowe, Vt.    73-72-74-73—292
Luke Bennett, Bellingham, Wash.    76-72-76-69—293
Scott Berliner, Delmar, N.Y.    72-73-77-71—293
Steven Gotsche, Great Bend, Kan.    71-73-77-72—293
Rick Witt, Madison, Wis.    72-76-72-73—293
Jim Estes, Germantown, Md.    68-72-79-74—293
Dean Larsson, Frisco, Texas    73-74-72-74—293
Craig Stevens, Dallas, Ga.    73-72-74-74—293
JC Anderson, O'Fallon, Mo.    75-71-77-71—294
Sean Dougherty, Overland Park, Kan.    72-76-73-73—294
Frank Esposito, Florham Park, N.J.    72-74-73-75—294
Robert McClellan, Butler, Pa.    73-72-72-77—294
Steve Hummel, Reno, Nev.    74-74-77-70—295
Audie Johnson, Lebanon, Tenn.    75-72-75-73—295
Casey Fowles, St. George, Utah    73-75-74-73—295
Lonny Alexander, New Braunfels, Texas    78-69-74-74—295
Greg Bisconti, South Salem, N.Y.    75-73-73-74—295
Greg Lee, Athens, Ga.    76-70-74-75—295
Mark Mielke, East Norwich, N.Y.    72-74-74-75—295
Jeffrey Cranford, La Quinta, Calif.    78-69-73-75—295
David Hutsell, Lutherville, Md.    72-74-74-75—295
Chris Moody, Provo, Utah    69-76-74-76—295
Jeff Olson, Powell, Ohio    70-73-78-75—296
Frank Dully, Salem, Mass.    73-74-74-75—296
Trent Rommann, Wichita, Kan.    73-75-73-75—296
David Quinn, Marlton, N.J.    74-71-75-76—296
Jason Schmuhl, Windsor, Calif.    72-72-76-76—296
Burke Cromer, Columbia, S.C.    73-73-74-76—296
John Seltzer, Ann Arbor, Mich.    73-75-75-74—297
Tim Feenstra, Issaquah, Wash.    73-74-75-75—297
Kevin Hayashi, Hilo, Hawaii    77-71-74-75—297
Charles Frost, Pineville, N.C.    75-72-75-75—297
Eric Dugas, Waikoloa, Hawaii    75-72-76-75—298
Tom Harding, South Lyon, Mich.    74-74-73-77—298
David Paeglow, DeKalb, Ill.    78-69-73-78—298
Chip Sullivan, Troutville, Va.    73-73-72-80—298
Jason Alexander, The Woodlands, Texas    72-75-78-74—299
Darin Fisher, Albia, Iowa    74-73-77-75—299
Todd Camplin, Pinehurst, N.C.    73-74-76-76—299
Rick Lewallen, Kannapolis, N.C.    73-75-75-76—299
Kyle Owen, Marietta, Ga.    73-72-73-81—299
Ryan Kalista, Moodus, Conn.    76-72-77-75—300
Dave Bahr, Cincinnati, Ohio    73-75-75-77—300
Brendon Post, Lincoln University, Pa.    71-75-77-78—301
Rob Horak, Fairport, N.Y.    71-74-78-78—301
Troy Pare, Seekonk, Mass.    72-74-77-78—301
Ricky Arnett, Austin, Texas    75-73-75-78—301
Tim Straub, Huntersville, N.C.    77-71-76-80—304
Chris Black, Independence, Iowa    77-71-79-80—307
Charles Pasco, Beverly Hills, Mich.    70-77-84-76—307