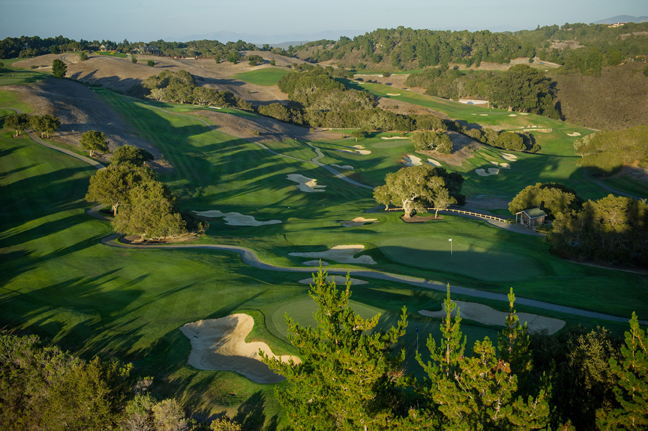 Words never do justice to Tehama Golf Club, which might be a reason little has been written over the past decade about this secluded sanctuary atop the coastal ridges of the Santa Lucia Mountains, just a few miles north of Pebble Beach.
And while photographs can illustrate the hypnotic views of Monterey Bay and miles of rugged ridge tops, neither words nor pictures capture the spiritual serenity that Tehama exudes.
With all due respect to the legendary golf architect Jay Morrish, who designed a thoroughly engaging and enjoyable par-72 layout through the canyons and hillsides, that natural tranquility is the most compelling quality of the majestic 2,000-acre coastal preserve that is Tehama.
Indeed, there is a mystique about Tehama, which is understandable given that its patriarch and visionary is Clint Eastwood, who understood the magical quality of the property the first time he envisioned it in the mid-1990s. (This was just before Eastwood became a partner in owning Pebble Beach Company.)
The golf course has matured gracefully since its debut in 1999, yet it is rarely seen by anyone other than Tehama members – which, like Eastwood, includes many avid, active golfers – and their guests, which adds to its allure.
When Tehama does host guests, it does so in style. For instance, "The Clint," an annual Memorial Day weekend golf tournament, is among the premier club invitationals and awards the most unique golf prize west of Augusta: a replica six-shooter similar to what Eastwood used in "The Outlaw Josie Wales."
Tehama (Native American for "abundance of nature") is a private gated community, where residents and members of the invitation-only private golf club are as devoted to preserving the peaceful well-being of the landscape as they are deciphering Morrish's intriguing collection of greens.
Inspired by its natural surroundings, everything about Tehama is comfortable and relaxed, yet elegant, seamlessly reflecting the palette of the landscape. The clubhouse is an impeccably appointed authentic California Spanish hacienda-style structure, the work of Hollywood art director Henry Bumstead, a longtime friend of Eastwood who was handpicked to oversee the design. Additionally, the club is completely self-contained for water use, relying on its own well sources while recycled effluent water is used on the golf course.
While the layout has been tweaked occasionally, the original character Morrish intended remains intact. And he approved of the ninth hole changing from a punishing uphill par 4 to a more manageable par 5, as well as the change for the rolling, downhill 18th from a relatively easy par 5 to a solid finishing par 4. With five sets of tees, Tehama now stretches to 6,576 yards, with a rating of 72.2 and slope of 137.
But those are just numbers, which like words never really do justice to Tehama Golf Club.
– By ED VYEDA
FYI
The Evolution of Tehama Golf Club
October 1998: Opening of the first nine holes.
December 1998: Two holes added for play.
April 1999: Final seven holes open for play.
September 2000: Clubhouse completed.
August 2006: Fitness Center opens, complete with two swimming pools and tennis courts, as does Callahan's Grill located between 9th green and 10th tee.
More information: Visit tehamagolfclub.com or call (831) 622-2200.