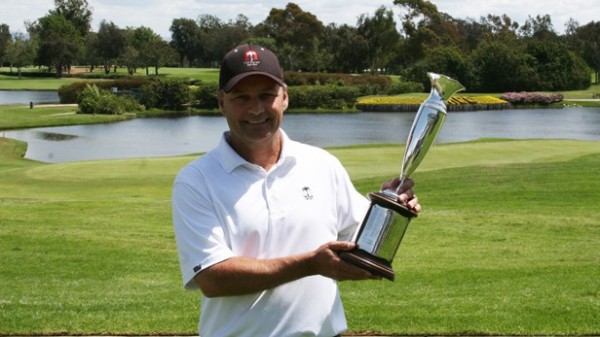 Jeff Wilson of Fairfield sank a 12-foot birdie putt on the 18th hole to win the Southern California Golf Association's Mid-Amateur Championship for the second time by one stroke over Joe Doody of Huntington Beach at Santa Ana Country Club.
The 51-year-old Wilson, who also won the title in 2008 at Toscana Country Club in Indian Wells, finished with a score of 73-71-71–215, 1-under-par, while Doody wound up at 70-77-69–216.
"I figured I had a small lead, but then I found out I had to make a four on 18 to win," said Wilson, a graduate of the University of the Pacific. "I didn't hit great shots, but I sank about a 12-foot putt and it worked out for me.
"I made a lot of mistakes but I hung in there. It feels really great to win. You make a lot of birdies and then all of a sudden you make a bogey from 90 yards out or something. It's an odd thing. Just glad to have done enough."
Jeff Coburn of Rancho Santa Margarita finished third at 73-76-68–217, while Dan Sullivan of Pasadena shot 74-75-70–219 to tie for fourth with Michael Feuerstein of San Diego, who came in at 72-69-78–219.
The top five earned exemptions into the 2015 SCGA Amateur Championship on July 10-12 at Oakmont Country Club in Glendale.
Defending champion Ramie Sprinkling of Camarillo tied for ninth at 76-72-74–222.