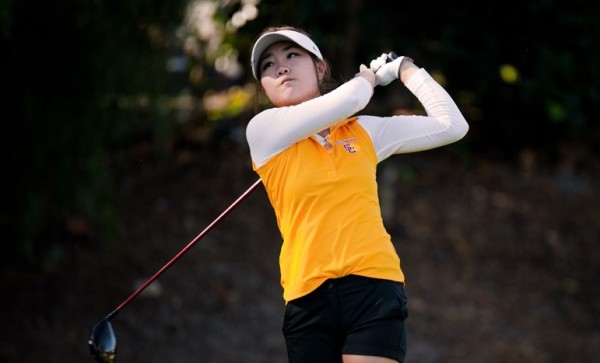 Karen Chung and Robynn Ree finished 1-2, leading second-ranked USC to a school-record 23-stroke victory over Arizona in the Annika Intercollegiate on the Watson Course at Reunion Golf Resort in Orlando, Fla.
Chung, a junior from Livingston, N.J., claimed the third title of her college career with a score of 68-68-68–204, 4-under-par while Ree, a freshman from Redondo Beach, finished at 68-66-72–206 as the Trojans placed four players in the top seven.
"What an incredible record-breaking performance by our team," said Andrea Gaston, who is in her 20th year as coach at USC. "It's exciting to kick off our season this way.
"I have never seen so many darts thrown at pins and a lot of red numbers. As a coach, you dream of having a day like this. The Trojans were blessed with three incredible days and I'm really proud of them."
Chung was tied for the lead with Ree before holing her second shot from 180 yards with a 5-wood for a winning eagle on the 18th hole.
She added four birdies.
"This victory means so much to me," Chung told Golfweek. "It was such a struggle for me last year because I just couldn't accept myself but this is awesome.
" … Starting off the season winning by 23 strokes is pretty spectacular. I can't wait to go play in our next event."
Katelyn Dambaugh of South Carolina was third at 65-71-71–207, while Tiffany Chan of USC shot 71-65-72–208 and tied for fourth with Gabby Lopez of Arkansas, who wound up at 67-70-71–208.
Anna Newell of Arkansas was sixth at 69-70-70–209, while Gabriella Then of USC totaled 69-72-69–210 to tie for seventh with Sara Schmelzel of South Carolina, who came in at 70-69-71–210.
Bethany Wu led UCLA in a solo 12th at 69-74-69–212, while Mariah Stackhouse of Stanford carded a score of 69-72-74–215 to finish in a tie for 19th that included teammate Lauren Kim, who wound up at 69-71-75–215, and Lilia Vu of UCLA, who had a score of 70-72-73–215.
USC, which was missing senior Kyung Kim because of a wrist injury, won for the 18th time in its last 30 tournaments by posting a score of 276-271-281–282, 36-under-par.
Arizona finished at 286-281-284–851, followed by Arkansas at 284-286-284–854, Duke at 277-291-288–856, Texas A&M at 278-286-295–859 and UCLA at 286-292-284–862.
Reigning NCAA champion Stanford was 10th at 289-287-297–873.
Victoria Morgan replaced Kim for USC and tied for 53rd at 74-77-79–239.