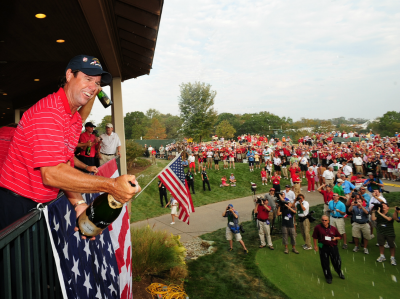 The Ryder Cup means tradition, pageantry, fanfare and intense golf, and all will be on glorious display this week in Chicago.
But what do these matches mean to the players and captains that partake? Let's start with America's two most recent captains, Paul Azinger and Corey Pavin, who led their charges against Europe in 2008 and 2010.
"To be named captain," Azinger said, "is the greatest honor you can bestow on a player because you are placing such trust, belief, and high expectations on that person."
Pavin led a U.S. team that came up just short in Wales.
"If you cut my arm, it would bleed Ryder Cup," Pavin has said in the past about the matches.
RELATED: For the past 25 years, the Ryder Cup has been a hotly contested event
Azinger faced a stern test in 2008. It was he who captained a Tiger Woods-less team that included a record six rookies in Kentucky. His challenge that year was made more daunting because the European team included numerous Ryder Cup veterans who were playing some of the best golf of their careers. Padraig Harrington was coming off back-to-back major championship triumphs and Sergio Garcia was coming off a second-place finish to Harrington at the PGA Championship and a third-place finish in the FedEx Cup standings. The Americans won, however, by a surprising five-point margin.
Among the rookies that have qualified for this month's U.S. team under captain Davis Love III are two of golf's hottest players in Keegan Bradley and Jason Dufner.
Bradley, coming off a victory at the WGC Bridgestone Invitational and a third-place finish at the PGA Championship, has a strong affinity for the event.
"The Ryder Cup means everything," he said. "It's going to be a real challenge that week to stay calm and not get too excited."
For Bradley, his initial memory of the event was the year he first attended the matches in 1999.
"The greatest sporting event I've ever been to," he said. "I've never looked forward to something more in my life than the Ryder Cup."
Dufner's rise to the third spot in the rankings didn't happen overnight and his solid play throughout the year on the PGA Tour includes two victories and seven top-10 finishes.
"To be part of a team representing the United States, a group of guys kind of battling it out against another team, it will be a lot of fun," said Dufner, whose first memories of watching the Ryder Cup on television were from the 1993 matches in England.
"I remember watching those guys compete really early in the morning and then going and practicing after watching them," he said.
Ryder Cup veteran Jim Furyk admittedly didn't watch much golf growing up and he certainly didn't get up early for the Ryder Cup.
"I didn't get up early when I was 19," Furyk said with a laugh. "My first Ryder Cup memory is probably '87. That would have been when the Europeans won at Muirfield. I can remember (Ben) Crenshaw putting with his 2-iron because his putter broke."
Furyk has been an instrumental part of the American team over the years because he's one of the few players who've meshed well with Woods in the team formats.
"It's my favorite event," Furyk said. "Having the feeling of 30 million people watching the event, pulling for your every shot, the camaraderie amongst the players."
That camaraderie often starts with patriotism and a chance to represent your country.
"It means a great deal," said Zach Johnson, a member of this year's team who was a rookie in 2010. "It's one of the biggest honors in sports, certainly in golf. Anytime you wear your country's flag on your sleeve it's something special."
Although the pressure is a big part of the event, Johnson embraces it.
"It's a battle," he said. "It's like nothing in golf. It's one of those weeks where every shot you just feel it. You feel the pressure, you feel the tension and I love that."
Bubba Watson has an appreciation for the military because his father, Gerry Watson Sr., served in the Army's Special Forces. For Watson, this is his chance to show his pride in the U.S.
"Any time you can put the stars and stripes on your sleeve and play some golf" it's special, Watson said. "This is the closest I'll get to the military, so for me it's about representing our country and playing some golf."
With Europe winning four of the past five Ryder Cups and having some of the top-ranked players in the world, momentum could be on their side heading to Chicago.
"I am confident we will have a strong team, especially with a number of players finishing among the top 10 on the leaderboard at the British Open and at the U.S. PGA," European captain Jose Maria Olazabal told ESPN.
Even with many of his players unfamiliar with the site – Medinah Country Club – Olazabal is full of confidence.
"I am not worried about anything," he said. "I know how good my players are."
Furyk says the U.S. team must stay focused and feed off the home crowd.
"I think what this team is going to have to do is put Celtic Manor (2010) behind them," Furyk said. "It's a new event. So whether or not you're holding the trophy, we're going to be on home soil and we need to get the crowd excited early on. When you get that going it's easier to keep the momentum."
Furyk's lone major championship came at the 2003 U.S. Open at Olympia Fields Country Club in suburban Chicago.
"I think Chicago is a great sports town," he said, "and I think it will be interesting to see how those great sports fans react."
It will be interesting to see how the players react as well. It has been thus far.
– BY GARRETT JOHNSTON