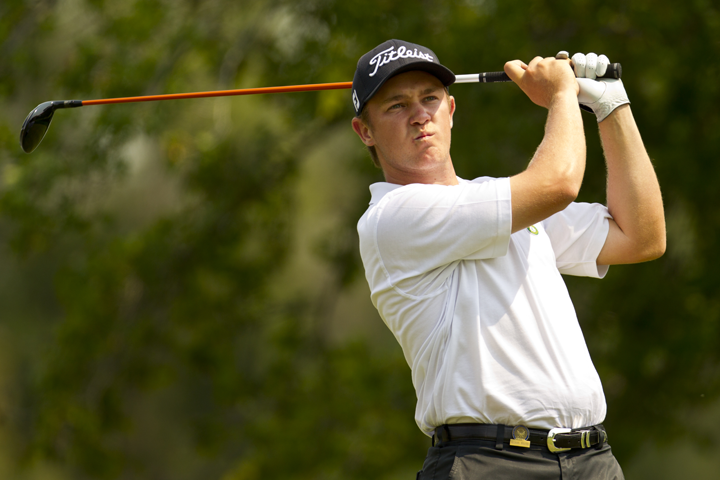 Justin Thomas, 19, of Goshen, Ky., defeated medalist Bobby Wyatt, 1 up, in a matchup of University of Alabama teammates on Thursday to become one of eight players to advance to the quarterfinal round at the 2012 U.S. Amateur Championship at the par-71, 7,409-yard Cherry Hills Country Club in Colorado.
Michael Weaver, 21, of Fresno who will be a redshirt junior at the University of California at Berkeley, and Steven Fox, 21, of Hendersonville, Tenn., have each registered three match-play victories after surviving Tuesday's 17-for-14 playoff to make the 64-player bracket. In the third round, Weaver sank a birdie on the 19th hole to advance over Albin Choi of Canada, while Fox won the last two holes for a 2-up victory over Zack Munroe of Charlotte, N.C.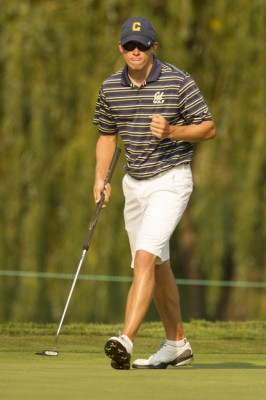 Brandon Hagy of Westlake Village, a rising junior at the University of California at Berkeley playing in his first USGA championship, defeated Patrick Newcomb of Benton, Ky., 3 and 2.
Cheng-Tsung Pan, 20, of Chinese Taipei, reached the quarterfinals of a USGA championship for the first time since the 2007 U.S.  Amateur at The Olympic Club as a 15-year-old. Pan, who tied for second in stroke play behind Wyatt, and has played in five of the last six U.S. Amateurs, saw a three-hole lead evaporate against Andrew Presley, 20, of Fort Worth, Texas. Pan birdied the par-4 16th by reaching the green from a fairway bunker and converting a 35-foot putt.
Chris Williams, 20, of Moscow, Idaho, broke open a tight third-round match with France's Edouard Espana, 20, by winning the opening three holes on the inward nine with a par and two birdies for a 3-and-2 triumph. Williams, the world's top-ranked amateur and a member of the 2011 USA Walker Cup Team, was also an easy 5-and-3 winner over Adam Stephenson of Greenville, N.C. in the second round.
Oliver Goss, the youngest player remaining in the field at age 18, parred 16 and 17 to defeat 27-year-old Bobby Leopold, 2 and 1, in the third round. Goss, who recently captured the Western Australian Amateur, will be a freshman at the University of Tennessee in the fall. Portugal's Ricardo Gouveia, 21, made five birdies in a stretch of seven holes for a 5-and-3 victory over Devon Purser to join the group of eight U.S. Amateur quarterfinalists.
– Courtesy Brian DePasquale, USGA
Quarterfinal Pairings
Upper Bracket 
8:30 a.m. – Justin Thomas, Goshen, Ky. (139) vs. Oliver Goss, Australia (138)
8:45 a.m. – Ricardo Gouveia, Portugal (140) vs. Michael Weaver, Fresno, Calif. (143)
Lower Bracket 
9:00 a.m. – Steven Fox, Hendersonville, Tenn. (143) vs. Chris Williams, Moscow, Idaho (138)
9:15 a.m. – Cheng-Tsung Pan, Chinese Taipei (134) vs. Brandon Hagy, Westlake Village, Calif. (137)