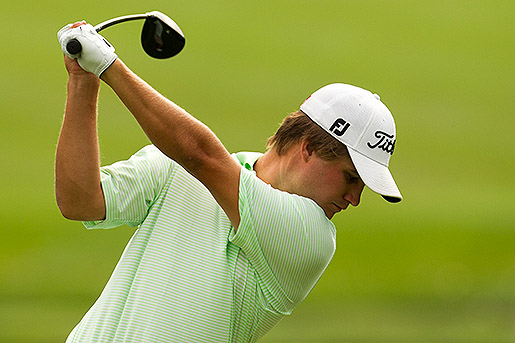 Bobby Wyatt, 20, of Mobile, Ala., fired a 7-under-par 64 at the par- 71 Cherry Hills Country Club Monday to lead after the first day of stroke-play qualifying at the 2012 U.S. Amateur Championship in Colorado.
Six players – Zac Blair of Ogden, Utah; Brandon Hagy of Westlake Village, Calif.; Max Homa of Valencia, Calif.; Justin Thomas of Goshen, Ky.; Sebastian Vasquez of Mexico; and 2011 USA Walker Cup Team member Chris Williams of Moscow, Idaho – all shot 5-under-par 65 at the par-70, 7,378-yard CommonGround Golf Course, the companion course for stroke play, to keep up with Wyatt's torrid pace.
LEADERBOARD: Click here for complete live scoring
All but Blair played in the morning wave of 156 players. Blair, Hagy, Thomas and Williams all played bogey-free rounds.
The 2012 U.S. Amateur Championship, with a field of 312 players, consists of 36 holes of stroke play followed by six rounds of match play, with the championship scheduled to conclude with a 36-hole final on Sunday at 8:30 a.m. MDT.
The U.S. Amateur is one of 13 national championships conducted annually by the United States Golf Association, 10 of which are strictly for amateurs.
Wyatt, who is No. 7 in the World Amateur Golf Ranking (http://www.randa.org/wagr.aspx) and was an All-America selection in his sophomore year at Alabama in 2012, made five birdies in his first seven holes and finished the day with eight birdies against just one bogey on the 7,409-yard Cherry Hills Country Club layout.
"I hit it pretty well," Wyatt said. "I was just trying to play for position and hit it in smart places on the green. Fortunately, I left myself some simple putts, not necessarily close, but simple and I was able to roll them in."
Wyatt, who had one of the early starting times at 7:20 a.m., played in optimal scoring conditions at Cherry Hills. Winds picked up in the afternoon at both courses, causing scores to be slightly higher.
"Early, there was no wind and the greens weren't too firm for the shorter irons I had in and I could get it a little closer," Wyatt said. "The conditions were definitely a contributor to why I was able to score so well."
His longest putt for birdie was a 45-footer on the 17th hole and he finished with a flourish by canning an 18-footer for birdie on the difficult par-4 18th hole.
Thomas, Wyatt's teammate at Alabama said: "It doesn't surprise me at all. Bobby is an unbelievable player and he is playing really well. I didn't expect anything less from him."
Wyatt, who won the Sunnehanna Amateur in Pennsylvania and was the runner-up at the Southeastern Conference Championship and the NCAA Regional in Athens, Ga., earlier this season, also credited his advance work for the day's best round.
"I feel really good about my preparation for this week," he said. "I was putting well. I birdied four of the first five and had a bogey in there. But, I felt good about the way things were going."
Bryson Dechambeau of Clovis, Calif., shot the second-best score of the day at Cherry Hills C.C., a 4-under-par 67.
– Courtesy Pete Kowalski, USGA