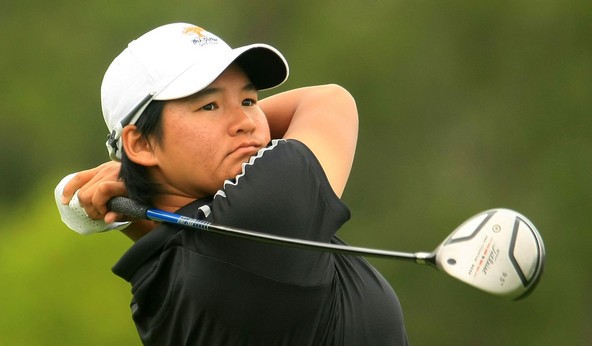 Yani Tseng of Taiwan finished the second round eagle-birdie to take a one-stroke lead over Austin Ernst in the Yokohama Tire LPGA Classic on the Senator Course at Capitol Hill in Prattville, Ala.
Tseng, the former world No. 1 who has slumped since claiming the last of her 15 LPGA Tour victories in the 2012 Kia Classic, collected six birdies to go with her eagle in a bogey-free 8-under-par 64.
"Just very happy my game's really coming back," said Tseng, who held the 36-hole lead for the first time since the 2012 Kraft Nabisco Championship, in which she finished third.
"I'm really happy to playing golf on the course and just I want to win. But it doesn't matter, it will come. It doesn't matter if it's this week or next week or next year, just try to be patient as much as I can and stay positive."
Tseng came back from a lightning delay for her go-ahead closing birdie, and the third round was halted again later by darkness and will continue Saturday morning.
The 23-year-old Ernst, whose only LPGA Tour victory came last year in the Portland Classic, collected eight birdies and an eagle on the eighth hole in a round of 65.
Lexi Thompson, playing alongside Ernst, birdied four of five holes through No. 8 on her way to a bogey-free 67 and was one shot back in third.
"We both had a string of birdies there on the front nine," said Ernst, who won the 2011 NCAA individual title while playing for LSU. "She was hitting it well. Yesterday … I said something to her after we finished, I don't think either one of us missed a green yesterday, so we're like let's just putt better tomorrow and we'll shoot a low number.
"She shot like five or six (-under) and I shot I think seven.  So definitely when you see putts going in with other people, too, I think it just kind of gives you a little bit more confidence that you can just take it deep."
Sydnee Michaels of Temecula and UCLA was another stroke behind at 2-under for the round after 14 holes in a tie for fourth with Julieta Granada, who was 3-under after 16 holes.
Third-ranked Stacy Lewis shot 68 and was four strokes behind in a tie for sixth with first-round leader Britanny Lang, who totaled 73, Ryann O'Toole of San Clemente and UCLA, who was 1-under through 17 holes, Tiffany Joh of San Diego and UCLA, who was 1-under through 12, and Sakura Yokomine of Japan, who was 5-under for the round while playing the final hole.