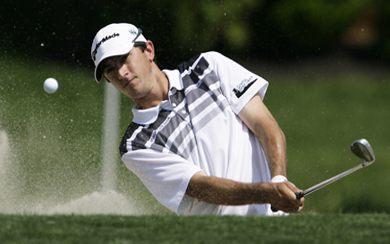 By TOM LAMARRE
Peter Tomasulo wasn't thinking about winning the Ford Wayne Gretzky Classic when he teed off in the final round, he only wanted to finish strong and earn a high finish.
Instead, Tomasulo shot 10-under par 61 to come from eight shots behind and claim the  second victory of his Nationwide Tour career by one stroke over Keegan Bradley at the Georgian Bay Club in Clarksburg, Ontario, Canada.
"To be honest, I thought he (54-hole leader Kevin Chappell) was uncatchable because of the way he played the first three rounds," said Tomasulo, a native of Long Beach who played at Cal.
"I thought we might be able to get something going and think about second place. I wasn't expecting to shoot 10-under."
Tomasulo, playing two holes ahead of the third-round leaders, carded seven birdies on the back nine in the final round, holing birdie putts of three, two and six feet on the last three holes.
He finished at 67-66-67-61–261, 24-under par, and collected $144,017.
"I felt like I played great all week and I was close to a really good round," said Tomasulo, whose previous victory came in the 2005 Alberta Classic. "I just tried to stay patient.
"All of a sudden I started making putts and hitting it close. I just got on a roll early and kept it going."
Bradley, who played college golf at St. John's University in New York, was seeking his first victory on golf's triple-A circuit and finished alone in second place at 66-61-70-65–262.
Chappell, from Clovis and UCLA, took a five-stroke lead into the final round, but finished third at 61-63-68-71–263.
"There wasn't much that was good," said Chappell, who won the Fresh Express Classic at TPC Stonebrae in Hayward earlier in the year. "It was just sloppy all day. I never got into a rhythm.
"I was really searching on the back side to find it. I hit some good shots down the stretch and had a chance to catch Pete, but I just couldn't do it. The putter let me down this weekend. It's disappointing."
James Hahn of Alameda and Cal tied for fourth at 63-69-69-65–266, Daniel Summerhays of BYU and Farmington, Utah, tied for 10th at 66-69-65-69–269,
and Chris Nallen of the University of Arizona and Queens, N.Y., shot 66-68-68-68–270 to tie for 14th with Brendan Steele of Idyllwild and UC Riverside, who finished at 68-68- 65-69–270.
Zack Miller of San Rafael and Stanford shot 62-73-69-67–271 and tied for 17th with
Travis Bertoni of San Luis Obispo and Cal Poly SLO, who totaled 66-69-68-68–271.
Jin Park of Fullerton and Arizona State tied for 21st at 69-68-68-67–272, Brian Smock of Coronado and Fresno State tied for 27th at 69-67-69-68–273, and Aaron Goldberg of Encinitas and San Diego State shot 67-67-69-71–274 to tie for 36th with Brian Vranesh of Northridge and College of the Canyons, who wound up at 69-67-68-70–274.
Jason Gore of Valencia and Pepperdine tied for 42nd at 69-68-71-67–275, while Jeff Brehaut of Los Altos and University of the Pacific totaled 72-65-71-68–276 to tie for 47th with J.J. Killeen of San Diego and TCU, who finished at 69-68-68-71–276.
Tomasulo birdied two of his first three holes in the final round and added another on the seventh hole before surging on the back nine.
"I kept my chin up and just plugged along, and then all of a sudden good things happen pretty quick," said Tomasulo, who was captain of Cal's 2004 NCAA champions.
Almost before he knew it, he was holding another trophy.