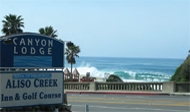 If you reside in Orange County or anywhere near enough that Laguna Beach is a place you visit often, it's easy to take it for granted. But if you take the time to step back and take a good look, you will quickly realize that we have one of the most beautiful spots in the world right here in our backyard. In fact, it's easily comparable to St. Tropez, Cannes and the rest of the French Riviera.
And hidden in the canyon of Laguna Beach there's a little gem of a golf course that you've probably passed a zillion times as you've made the drive up or down the seven-mile stretch of Pacific Coast Highway that runs through the coastal village. It's called Aliso Creek Inn & Golf Course (and if that doesn't ring a bell then the name Ben Browns might) and it's neatly nestled into a canyon on the east side of PCH with the nine-hole, par 32 layout (five par 4s, four par 3s) weaving its way through one of the most natural settings you can imagine.
It's a course that's rich in history and legendary in Laguna Beach, and its origins date back to the late 1940s when William Bryant purchased 83 acres in Aliso Canyon and started construction of a golf course. In September of 1950, the course opened to the public for the first time. And it's been hidden in that little canyon ever since.
In 1956s, Ben Brown purchased what was then known as the Laguna Beach Country Club and had grand plans of building a destination resort. Those plans were a bit ambitious for the day, and Brown ended up building the more understated Laguna Beach Country Club & Village – a 64-unit apartment complex that was later converted into the 62 hotel suites that you will find there today. Ben Brown's Restaurant was added in 1967 and he passed away in 1970, with his wife taking over what was then known as Ben Brown's Motel & Golf Course. It would later change again to Aliso Creek Inn & Golf Course in 1978.
The big changes to the property came in 2003 when the Brown family sold to Aliso Creek Properties, the company that owns and operates the resort today.
The course itself has a classic feel to it that makes the layout inviting and entertaining. What makes it unique in Orange County is its location, as it meanders its way through Aliso Canyon toward the beach. The course is surrounded by lush canyon walls that frame the course on both sides, with the creek from which the course gets its name running through the center and dividing the fairways. The creek also presents players with a natural challenge and it doesn't go away. It's there throughout your round and it can come into play often – if you hit poor shots.
The course opens up with a 300-yard par four, then there's a 201-yard par three, a 308-yard par four, a 195-yard par three, a 318-yard par four, a 120-yard par three, a 298-yard par four, a 207yard par three and it concludes with a 274-yard par four. That's a total of 2,221 yards (from the championship tees), so this is not your neighborhood pitch and putt.
The course will definitely test you, but you'll enjoy every minute of it. And keep your eyes open for wildlife because there's plenty of it, including a family of deer that call the canyon home.
And it's reasonably priced to boot. The nine-hole Monday to Thursday rate is just $27 with the price going up to $32 on Fridays and $36 on the weekends and holidays. They also offer Twilight, Senior and Junior rates, as well as replay rates for those wanting to test themselves for 18 holes.
Carts can be rented for $8 with pull carts ($3) also available for rent. ditto for clubs.
But there's more to Aliso Creek Inn & Golf Course than the golf. The Inn also features 62 suites in studio, one- and two-bedroom layouts, with all layouts set up with with full kitchens with refrigerators, ovens and ranges, microwaves, etc – home away from home.
The resort also features a pool, sundeck and Jacuzzi, exercise room, business center, self-serve laundry and the Canyon Lodge
– a special event venue that can accommodate up to 300 guests. For dining, there's Ben Brown's 10th Hole that features light breakfast fare, a daily patio grill and full bar service.
The facility is also a place that can provide everything you need for a wedding, including the ceremony lawn that is set amongst a backdrop of the green fairways and majestic canyon walls. Aliso Creek Inn & Golf Course has professional event planners on staff to help you – from top to bottom.
For those not familiar with the area, Laguna Beach is located smack dab between San diego and Los Angles (about an hour drive from each) and roughly 25 minutes from Orange County's John Wayne Airport. The Inn is
2.5 miles south of main beach in Laguna … on the left side if you're headed south, on the right side of PCH if headed north.
It's hidden, but it's worth finding. CGN
Aliso Creek Inn
www.alisocreekinn.com

Golf Shop: (949) 499-1919 Room Reservations: (949) 499-2271 Group Sales & Catering: (949) 715-1407