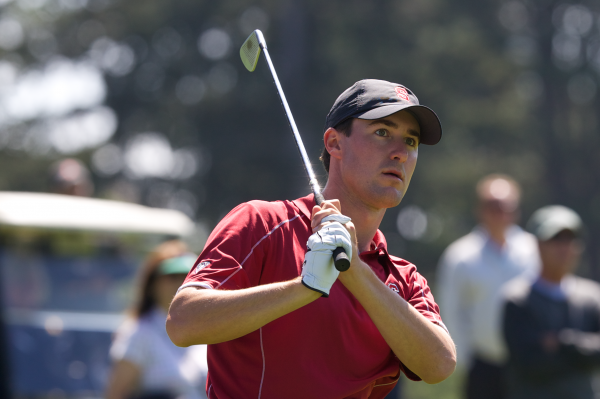 Cameron Wilson of Stanford holed a seven-foot birdie putt on the third playoff hole to beat Ollie Schniederjans of Georgia Tech and win the NCAA individual golf championship at Prairie Dunes Country Club in Hutchinson, Kan.
The top-ranked Cardinal finished first in the stroke-play portion of the tournament and led eight teams into match play, which will decide the national team championship.
Wilson, a senior from Rowayton, Conn., finished with a score of 71-63-70–204, 6-under-par, and had a chance to win in regulation when he took a one-stroke lead with a birdie on the 17th hole. However, he missed the final green and failed to get up-and-down for par.
Both players made pars on the first two extra holes before Schniederjans missed an 18-foot birdie putt on the third playoff hole and Wilson sank the winner.
"It's an unbelievable feeling right now, kind of surreal," said Wilson, who has played much of his career in the shadow of teammate Patrick Rodgers, but claimed the third title of his Stanford career. "I'm so glad I made that last putt. It's really amazing.
"I want to mention my team and how well the guys all played. There's a lot of golf left and we just need to keep it going."
Wilson became the third Stanford player to win the NCAA title, joining Sandy Tatum (1942) and Tiger Woods (1996). He also is the third left-hander to win the championship, joining Phil Mickelson of Arizona State (1989-90-92) and Scott Langley of Illinois (2010).
Schniederjans wound up at 71-65-68–204, while David Boote of Stanford totaled 73-67-65–205 to tie for third with James Ross of Houston, who shot 70-69-66–205, and Robby Shelton of Alabama, who came in at 72-65-68–205.
Top-ranked Rodgers, who was trying to break Woods' Stanford record of 11 career victories, took the lead with birdies on the seventh and eight holes, but recorded four bogeys on the back nine to wind up in a tie for 15th at 67-68-73–208.
Lorens Chan of UCLA tied for ninth at 70-70-67–207, Joel Statler of Cal tied for 19th at 69-73-67–209 and Rico Hoey led USC in a tie fir 55th at 68-77-69–214.
Stanford led the team scoring at 281-267-279–827, 1-under-par, while defending national champion Alabama totaled 274-278-284–836 and tied for second with LSU, which wound up at 279-278-279–836.
Oklahoma State was fourth at 277-279-284–840, followed by Georgia Tech at 277-282-282–841 and UCLA at 279-284-281–844.
SMU shot 275-285-285—845 and tied for seventh with Illinois, which came in at 285-280-280–845.
Cal tied for 11th at 279-289-282–850 and USC finished 30th at 296-298-295–889.