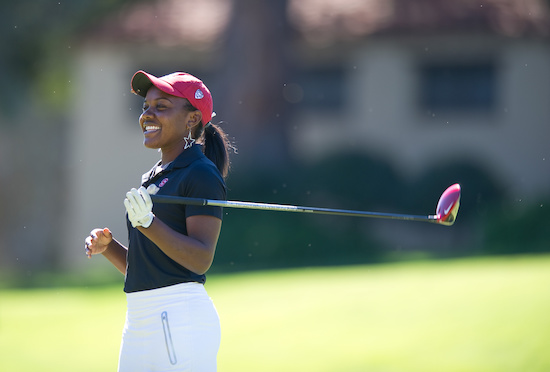 Mariah Stackhouse, a sophomore at Stanford, is one of eight college players selected for the United States team that will play in the 38th Curtis Cup matches on June 6-8 at St. Louis Country Club.
Stackhouse, from Riverdale, Ga., will be the first black player to compete in the Curtis Cup.
"Especially within the black community, it's cool because I have a lot of support and encouragement, because you want to see people like you in every arena of life, sports included, playing well," said Stackhouse, who recently captured the UC Irvine Invitational to earn a spot in the Kia Classic on the LPGA Tour next month.
Also selected to the team were freshman Alison Lee of UCLA and Valencia, freshman Ashlan Ramsey of Clemson, junior Erynne Lee of UCLA, sophomore Kyung Kung of USC, junior Ally McDonald of Mississippi State, sophomore Annie Park of USC and sophomore Emma Talley of Alabama.
Ellen Port of St. Louis, a six-time United States Golf Association champion, will captain the U.S. team. Port played on the 1994 and 1996 U.S. Curtis Cup teams.
Great Britain and Ireland beat the Americans 10.5-9.5 in the 2012 Curtis Cup at Nairn Golf Club in Scotland, winning for the first time since 1996, but the U.S. leads the series, 27-7-3.