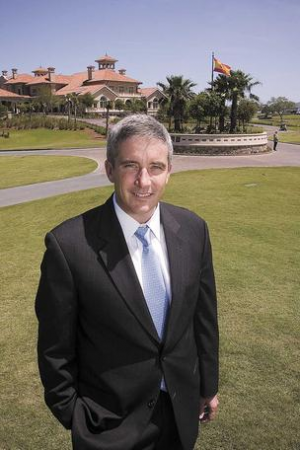 Jay Monahan will become deputy commissioner of the PGA Tour on April 1, which seems to indicate that he will replace Tim Finchem, whenever he steps down as commissioner.
The 43-year-old Monahan, has served as the organization's chief marketing officer and executive vice president since 2013.
"Jay has been a key member of the Tour's senior staff since June of 2008, and has done an excellent job," Finchem said in statement.
"Even though the PGA Tour continues to grow and prosper, this step is being taken to further strengthen our organizational structure, enhance our management coordination, and ultimately continue to deliver on three key pieces of our core business: driving benefits to our players, growing the charity support in the communities where we play and doing our part in golf to help grow and protect this great game."
Monahan will report directly to and work closely with Finchem, whose contract expires in June 2016.
Previously, Monahan served from 2010-13 as the PGA Tour's senior vice president for business development, and from 2008-10 was executive director of The Players Championship.
Monahan played on the golf team at Trinity College in Hartford, Conn., where he received a bachelor's degree in 1993 before adding a master's degree from the University of Massachusetts in 1995.
While working as executive director for IMG Worldwide, he helped create the Deutsche Bank Championship, an event that is part of the FedEx Cup playoffs, serving as its first tournament director.
Finchem, who turns 67 next month, took over as commissioner from Deane Beaman on June 1, 1994, and has said he probably will not stay beyond 2016.