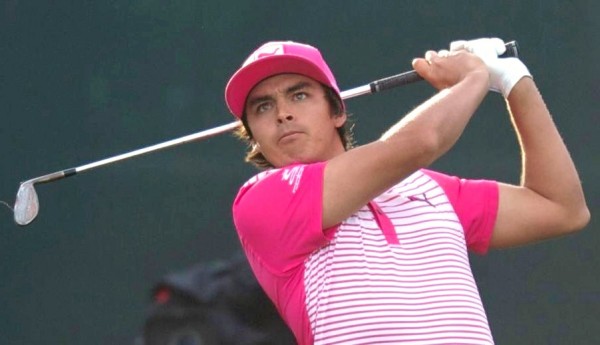 A year ago, Rickie Fowler was considered one of the PGA Tour's top underachievers, all flash and with only one victory to his name.
When he tees it up this week in the Shriners Hospitals for Children Open at TPC Summerlin in Las Vegas, he will do so as the No. 5 player in the World Golf Rankings after collecting three trophies in his Sunday orange outfits last season.
"Well, the main goal was to win," said Fowler, whose only previous victory came in the 2012 Wells Fargo Championship. "We got a few of those. So that was a success there. Playing well through the playoffs, getting to East Lake for the Tour Championship. Really the only (goal) that I didn't get was winning a major, so I guess we'll keep that one on list for next year.
"It's been great to get the wins this year, getting the win at the Players, basically the best field that we play against all year and a great win. Getting the win on a links course at the Scottish Open. And to win the way I did, making birdies coming in, definitely made it that much better.
"Just all building or kind of a process into winning a major."
Fowler, from Murrieta in Southern California, outplayed Sergio Garcia of Spain down the stretch to win the Players Championship at TPC Sawgrass in May. He won the Barclays Scottish Open the week before the Open Championship at St. Andrews, and he claimed his first victory in the FedEx Cup playoffs by capturing the Deutsche Bank Championship.
Certainly Jordan Spieth deserved to be Player of the Year with five victories including the Masters, the U.S. Open and the Tour Championship, with PGA champion Jason Day of Australia right behind.
They both overtook Rory McIroy of Northern Ireland, even though he won three times, in the World Golf Rankings.
However, Folwer at the very least threw his name into the discussion.
"It was kind of Jordan, Rory and myself that everyone was talking about," said Day, who won five times, including twice during the playoffs. "Now with Rickie having a three-win season … he kind of inserted himself in that conversation, as well."
Fowler has had some success in the Shriners, tying for seventh in his first event as a pro in 2009 and tying for 22nd the following year, shooting 7-under-par 64 in the second round each time.
However, because he had success there isn't the only reason he will be at TPC Summerlin again.
"(I don't) want to be way back on (FedEx Cup) points (at the start of the new year)," Fowler told Golfweek. "It's one of the reasons why I thought about getting to Vegas.
"It's also a pretty nice trip, particularly in October. I've enjoyed playing (Las Vegas) when I have. I enjoy spending time there, Butch (Harmon, his instructor) is there. It can be a very productive week for me."
Continuing to win, claiming his first major title and making the United States team for the Ryder Cup after representing the United States in the Presidents Cup earlier this month are some of Fowler's goals for this season.
However, he added another with golf returning to the Olympics this year for the first time since 1904. If Fowler keeps his top-10 spot in the World Golf Rankings, he should be in Rio de Janeiro with the American team in August.
"Any time you get to represent our country, whether it's the Ryder Cup, the Presidents Cup, back to the Walker Cup and different team events that I've played, it's always a lot of fun," said Fowler, who posted a disappointing 1-3 record in the U.S. victory in South Korea.
"To be able to represent the U.S. and be there for opening ceremonies, closing ceremonies, it definitely would be something that I would like to experience. If I continue to play the way I've been playing, then I'll be there. Can't really say a dream come true just because golf hasn't been in the Olympics for so long, but I've always enjoyed watching the Olympics and thinking about how cool it would be to walk in opening ceremonies, closing ceremonies and to be there to be around the best athletes in the world.
"And then on top of that, get to go try to win a gold medal for the U.S., it would be a great experience. So I'm looking forward to having that opportunity."
Only a year ago, you probably couldn't have gotten odds on that in Las Vegas.
–Story courtesy of The Sports Xchange, TSX Golf Editor Tom LaMarre