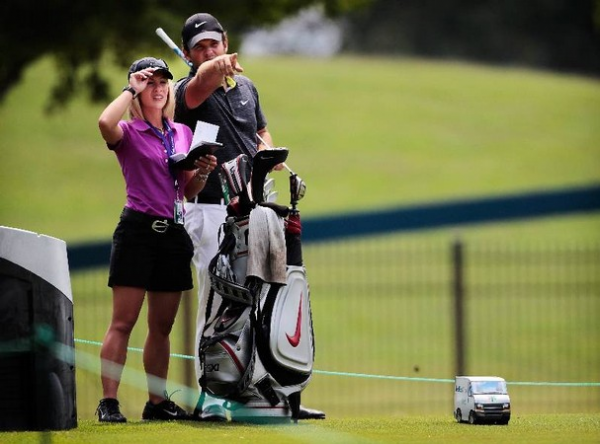 Justine Reed didn't have to lug her husband's 45-pound golf bag around the hilly Plantation Course at Kapalua in the first round of the Hyundai Tournament of Champions.
And she hated it.
"Being on the outside was a little more difficult than I thought it would be," said Reed, whose husband Patrick earned his spot in the winners-only event by capturing the Wyndham Championship last year when he beat Jordan Spieth in a playoff.
Justine isn't the first wife to caddie for her husband on the PGA Tour, but she's been an object of fascination to fans and the media because at 5-foot-1, she seems only slightly taller than the golf bag she carries around.
However, she has been sidelined indefinitely after 39 consecutive PGA Tour events on the job because she is pregnant with the couple's first child.
"We just found it's a little girl," Patrick Reed said. "I can't wait. I'm so excited. Daddy's little girl running around the golf course."
The baby is due on Memorial Day and for most of the season Justine will be outside the ropes, with her 24-year-old brother Kessler Karain taking over caddie duties for the next eight months.
"She's thinking of coming back right before the PGA (Championship)," Reed said. "She wants to get back at it, and I want her out here."
Until then, Justine will be outside the ropes, carrying only her purse and the baby.