Award-winning golf course architect Agustin (Augie) Pizá draws new or beginning golfers to his multipurpose golf courses because they are beautiful, but more importantly, they are fun!
Art had Pablo Picasso, a Spanish artist who co-founded the Cubist movement and is considered one of the most important artists of the 20th century. His pioneering art approach from Impressionism to Cubism developed an entire new movement, now known as modern art.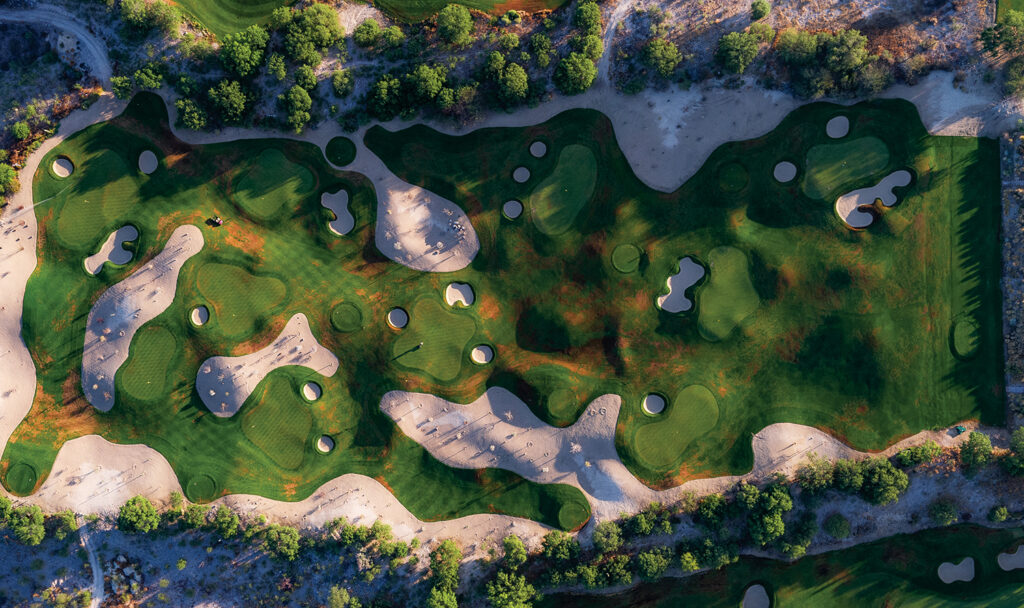 Golf has Augie Pizá, a Mexican golf course architect who has received many international accolades for his golf course concepts including a Forbes Magazine recognition as one of the top one hundred creative minds from Mexico. His ability to push past conventional or standard golf course layouts is leading an evolution in golf course design, one that is founded on less resources, less time, more golfers and more fun. Pizá refers to his design concept as Multipurpose.
Pizá was formally educated at the Edinburgh University in Scotland where he earned his Master's in Golf Course Architecture. He also has a Bachelor of Architecture in ITESM and is a proud member of both the European Institute of Golf Course Architects (EIGCA) as well as at the American Society of Golf Course Architects (ASGCA).
"I believe my traditional education and experience provides me the confidence to push past creative boundaries as I know what will or cannot work," said Augie Pizá, founder of Pizá Golf. "My Multipurpose Golf concept is doing out of the box thinking or designs but with a structured strategy."
The Pizá Multipurpose Golf concept is to design and develop golf courses on a smaller footprint for sustainability and timing purposes. They are much quicker to play. These smaller parcels improve people's fitness, and social skills as well as introduce non-golfers to the game.
Pizá considers Multipurpose Golf as a way of maximizing the land and attracting a broad range of visitors. In most cases, the driving range is simply overlooked in the design process. This is an opportunity to create something interesting, different, something aesthetically beautiful but extremely fun to play. A notable example of this is at the Puerta Cortés Resort where Pizá and his team renovated an overlooked driving range into a successful golf facility and academy.
The Puerta Cortés renovated driving range now features a 10-hole pitch-and-putt (with holes varying between 30 and 130 yards) and a new range. The innovative design is fee based and a wide variety of people are enjoying it which has also produced extra income for the client. This small footprint provided a nice return on their investment but more importantly brought new people to the game. As Pizá likes to state, "Fewer resources can sometimes mean more fun," and no where is this demonstrated more than at the five-star Chablé Resort & Spa near Mérida in Mexico.
Pizá transformed a small footprint, less than five-acres, into a Multipurpose Golf Course which invites guests to connect with the natural elements, including the surrounding Mayan Forest, to promote a sense of wellness.
The concept of blending the experience of well-being with a Multipurpose Golf Course, coined, and registered by Pizá as Wellness GolfTM, captured the Global Future Award, and was highlighted at the USGA Innovative Symposium in Japan and at MIPIM In Cannes, France.
The Pizá layout encourages players to expand beyond the mental and physical aspects of the game and connect on a spiritual, emotional, and environmental level. People can play barefoot to fully experience nature and grounding.
The Wellness Golf Multipurpose Golf Course features nine tee boxes that span up to 200-yards, all which can be played in a variety or multiple ways. Golfers can choose a playing preference, novice or challenging. Golfers can play any format and will be finished in under 90-minutes.
Pizá does not limited his Multipurpose Golf concept to commercial properties but offers the design to his private clients as a golf lounge, called The Pit. The award-winning golf complex centers around a large green that features multiple pins and surrounded by a variety of bunkers and short grass areas, perfect for the kids to roll around in or make sandcastles. Its name is a nod to the fire pit incorporated into the design. The Pit can also be enjoyed at night, whether playing golf or not as it is equipped with a disco ball, an elite sound system, and mood lighting.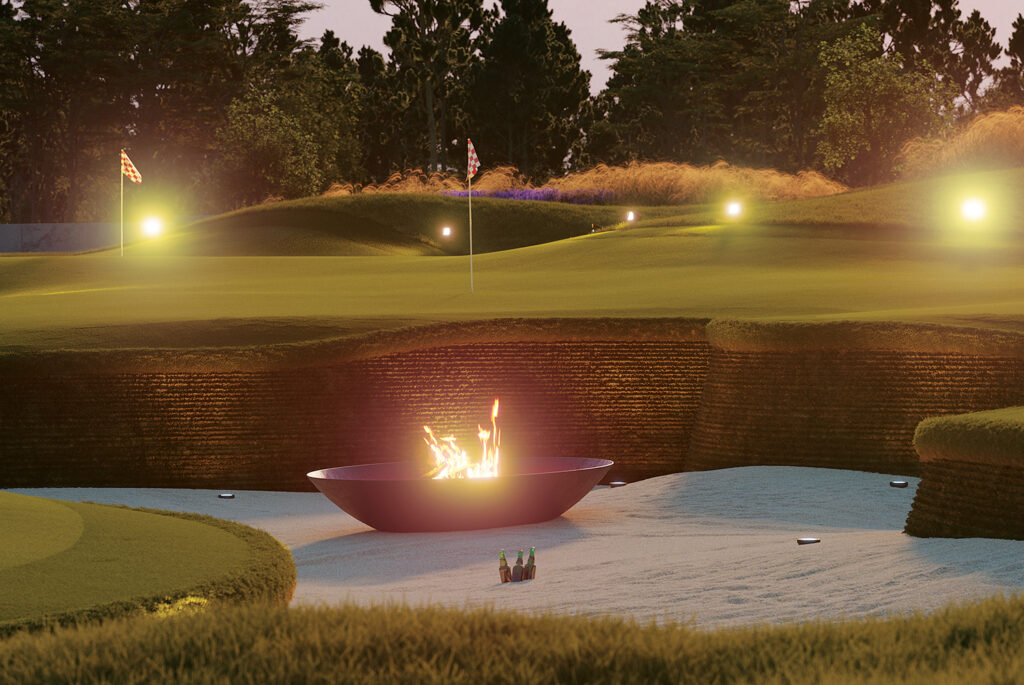 "I want more people playing golf. I want them to have fun. Creating these Multipurpose Golf Courses on small parcels of land is a terrific way of achieving this," said Pizá.
Pizá most recently was included in Golf Inc.'s Nine Most Innovative People in Golf. According to Golf Inc., "If he were an auto manufacturer, Pizá would be recognized for "concept cars" – vehicles that showcase imagination and hint of future possibilities. He would be the Elon Musk before the Tesla rolled off the assembly line."
Recently, Pizá joined forces with PGA TOUR Champion, and Golf Channel Analyst – Brandel Chamblee. The newly formed partnership will expand the Pizá Golf Branded Collection and their signature Pizá Chamblee golf designs will feature Multipurpose designs and will be available on select projects. The duo is working on projects in both the United States and in Mexico.
For more information on Pizá Golf, please visit the company website: www.pizagolf.com.