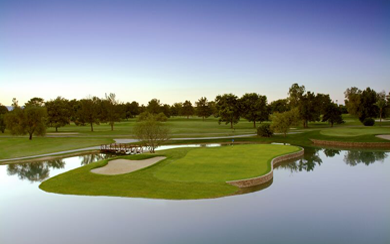 300. That's the magic number that has golfer's flocking to Phoenix, Arizona, every year.  With over 300 days of sun and more than 300 golf courses to choose from, Phoenix is the golfer's paradise in the nation.
Phoenix boasts public and private courses galore, but the real treat to the region is that they have an abundance of resort facilities where "stay and play" is their motto. In other words, they offer one-stop shopping if you're looking to play top-notch golf and unwind at the same time.
And, if you don't mind the heat, the deals one can find in the summer months in Phoenix just might be the best in the country – especially if you take into the fact that the majority of golf courses in the area are ranked among the top public courses around … and you can steal them for as little as $15.
Such A Deal
JW Marriott Desert Ridge Resort & Spa provides luxury, unparalleled service, endless recreation and exquisite dining. This desert mountain luxury hotel near Phoenix has Arizona's largest ballroom, a pampering spa, outstanding restaurants and two great golf courses at Wildfire Golf Club.
Upon arrival, you're greeted with an expansive grand lobby, splashing fountains, stunning floor-to-ceiling windows, sparkling waterways and majestic palm-lined pathways. Resort suites and hotel rooms include views, signature bedding and balcony or patio.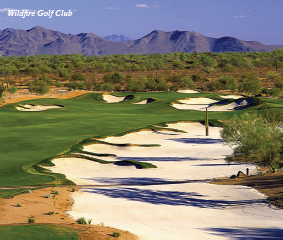 Wildfire Golf Club features two picturesque 18-hole layouts designed by two of golf's greatest legends – Arnold Palmer and Nick Faldo. The Palmer Signature Course offers scenic and expansive fairways allowing the ball to remain in play even on slightly errant shots. The Faldo Championship Course also features generous fairways and large, bent grass greens. Surrounding both courses are the majestic McDowell Mountains and the century-old saguaro cacti, providing a spectacular backdrop should your game be slightly lacking that day.
Another JW Marriott tops the list – this time it's the Camelback Inn. This landmark resort, set on 125 acres of lush desert landscape, gives guests an authentic Southwestern experience. Nestled at the base of Mummy Mountain and overlooking the famous Camelback Mountain, this is a place where luxury comes naturally.
Camelback Inn was opened in 1936 by entrepreneur Jack Stewart, and Marriott Hotel Corporation acquired the property in 1967 and expanded the resort from 118 to 453 guest rooms.  Many other amenities were added throughout the years, as well as extensive meeting and convention facilities.
From May 2007 with the re-opening in September 2008, the resort underwent a $50 million revitalization coined as "The Legend Grows." The renovation included the demolition and re-design of the arrival courtyard, main lobby and lobby garden, restaurants, meeting space and guest rooms.
Camelback Golf Club, one of Arizona's original gems, features 36 holes of championship golf located in beautiful Scottsdale, Arizona.
The Padre Course, from the mind of world-renowned golf course architect Arthur Hills, is a course that promises an enjoyable and unforgettable golf adventure. Featuring towering trees, subtle landforms and impressive bunkering to test your game, this 6,903-yard, par 72 design is known for its strategic layout and challenging water holes. Its 18th hole was voted the best water hole in the state by Arizona Golf Magazine.
The Indian Bend Course is a traditional American links-style course that was created in a breathtaking setting with magnificent mountain backdrops, lush palm and eucalyptus-lined fairways and scenic water holes. The 7,014-yard, par 72 course is a dynamic layout that will surely to test your skills while offering a friendly golf experience.
Another fantastic resort is the Arizona Biltmore, which was constructed in grand form by brothers Albert, Charles and Warren McArthur in 1929. Frank Lloyd Wright served as the consulting architect, and the resort remains one of the only existing hotels in the world to benefit from his influence.
Throughout its colorful history, this acclaimed landmark has been graced by U.S. presidents, celebrities and world travelers, and this Grand Dame of Arizona radiates an undeniable mystique of refinement and splendor. So while you may just be the average duffer, it just might be time to make yourself part of her story.
The adjacent Arizona Biltmore Country Club boasts two 18-hole PGA golf courses: The Links and The Adobe. Expansive views of Squaw Peak, lush greens and trickling ponds surround you as you embark on an exciting round of golf at either championship course.
Built in 1928 and restored in 2004, The Adobe offers wide fairways and classic cross-bunkers for that extra challenge. The Links features rolling fairways, desert ravines and five pristine lakes that call for a high level of sportsmanship, bold shots and demanding accuracy.
Last but certainly not least is the Wigwam Golf Resort & Spa. Now in its 80th year, the Wigwam Golf Resort & Spa is an intimate retreat that blends casual elegance with the charm of authentic Arizona. A one-of-a-kind resort destination with a spirit all its own, the Wigwam features 331 guest casitas, including 72 suites crafted from traditional territorial adobe architecture surrounded by lush landscaped walkways, fragrant citrus tree-lined enclaves and floral and rose gardens.
Golf at The Wigwam is a truly classic experience. This Arizona treasure was established in the 1930s, a time when
golf courses
did not get built through dense housing developments, and certainly not with tight, target fairways. This jewel of the desert is among the Southwest's last remaining
golf resorts
built for a pure
golf experience
. Canals, streams and lakes cascade through the journey.
The Wigwam's three 18-hole championship golf courses offer a diversity that rivals any other
Arizona resort
. Here, the golf enthusiast has their pick of not just one or two courses, but three 18-hole courses – that's 54 holes of championship golf including two courses designed by the legendary Robert Trent Jones, Sr. And, in true Wigwam style, each course –
The Gold, The Blue and The Red
– offers a unique challenge that adds spice and variety to one's stay at this
timeless and relaxing retreat.
Need to squeeze in 18 holes before your flight? Check out Las Sendas Golf Course designed by Robert Trent Jones, Jr. This mature and demanding desert layout winds through the Usery Mountains in Mesa, AZ, and is just 20 minutes due east of Sky Harbor Airport. Renowned for its true and fast greens, at 1800 feet above the Phoenix-Scottsdale valley Las Sendas offers spectacular views of the valley and surrounding mountains as well as a real test for all skill levels.
So, while you may not be able to hit all 300 courses, these four resorts should definitely be on your hit list when you're planning your next or first trip to the Valley of the Sun.
Oh, yeah, don't forget the sunscreen!
By Larry Feldman
Travel Editor