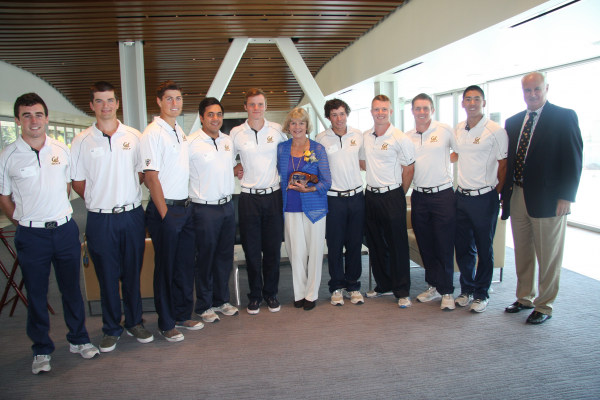 BERKELEY – The self-funded Cal men's golf program received another boost today with the presentation of a $10,000 grant by the Northern California PGA Foundation in honor of Jim Langley, a Cal alumnus who was the PGA head professional at Cypress Point Club on the Monterey Peninsula for 34 years and who passed away last summer. Today's presentation brought together two of Mr. Langley's loves – Cal and golf.
Langley's wife, Louette "Lou" Langley was on hand to present the check to head coach Steve Desimone, who expressed his appreciation for the grant and the program's relationship with the NCPGA Foundation.
"To say today was a special day is the understatement of the year," Desimone said. "It was a day of celebration of the life of Jim Langley and our golf program. It is a wonderful donation that the NCPGA Foundation made on Jim's behalf and we are so grateful for it."
"Our hearts have always been with Cal," Langley said. "This is where we met, where we had our first date. This was everything to us. We're Cal through and through. Today was an incredible experience I'll never forget."
The Langleys met at Cal when he was part of the 1959 NCAA championship men's basketball team and she was a cheerleader. Mr. Langley's impact was far reaching. Over the years, Jim did what came naturally to him — he gave to others and he gave back to golf. Young people were especially dear to his heart and he was involved in countless organizations to help, guide and inspire them.
The ceremony at the California Memorial Stadium University Club was preceded by a luncheon attended by Desimone; Walter Chun, associate head coach; 11 of the 14 members the Cal men's golf team, members of the Cal Golf Committee, and a few University staff.
Representing the NCPGA Foundation were  Langley; Len Dumas, President; John Hughes, Secretary; Frank LaRosa, Tracy Stansberry and John Abendroth, Board Members; Chris Thomas, Executive Director; and Nancy Maul, Managing Director.
In his remarks, Dumas said that "The Northern California PGA Foundation is excited and grateful to be able to make this contribution to the Cal men's golf program on behalf of Jim Langley, the Langley family, the Board of Directors and volunteers of the NCPGA Foundation."
"The purpose of today was to celebrate Jim Langley and his relationship to Cal and the men's golf team," Dumas added. "What a thrill it was today to have Lou Langley here and make a contribution to Cal."
"Through the NCPGA Foundation, we are able to enrich people's lives and communities by providing resources to local golf programs that teach life's positive values," Thomas said as he explained the mission of the Foundation.
"Contributing to the Cal men's golf program is part of our efforts to support a healthy and growing golf industry, while providing an avenue through which young people can learn life skills during their college years," Maul said.
The NCPGA Foundation has committed to supporting the Cal men's golf program for three years and hopes to continue the commitment through the help of the community and alumni through its many fundraising activities. These include "The Langley – A Tribute to Legends" dinner and Pro-Am Tournament, which this year will honor LPGA Tour veterans and World Golf Hall of Famers Nancy Lopez and Patty Sheehan on August 10 & 11 at the Inn at Spanish Bay and the Pebble Beach Golf Links. There is also the Charity Golf Challenge where participants are encouraged to play as many holes as they can in one day, sponsored by friends and family, to raise funds for their favorite cause. Finally supporters can purchase tickets for a chance to win a cooler filled with a variety of wines in the Wine Vault Raffle. More information can be found at 
www.NCPGAfoundation.org
.