19 Recipients Recognized at NCPGA Awards Ceremony & President's Dinner
VACAVILLE, Calif. (December 12, 2016) – The Northern California PGA announced the 19 recipients of its 2016 Annual Section Awards this month. Section awards are given to PGA Professionals and industry leaders who have excelled in the game and business of golf.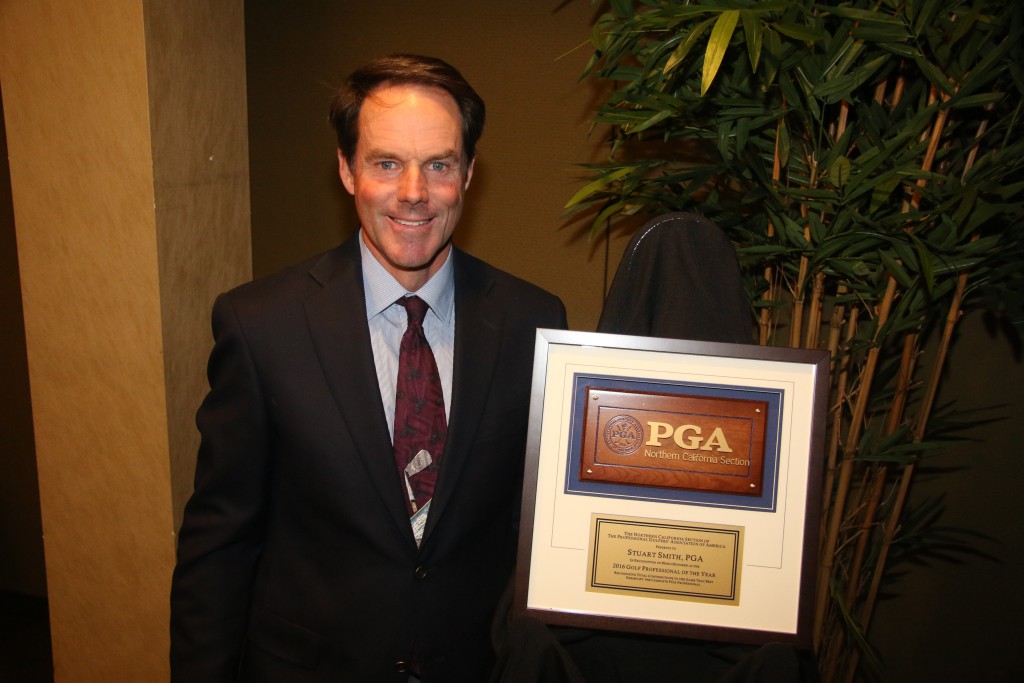 PGA Director of Golf Stuart Smith of Somersett Golf & Country Club in Reno, Nev. has garnered the 2016 NCPGA Golf Professional of the Year Award. The most prestigious honor the Section can bestow upon a PGA Professional, the award recognizes the Professional's total contribution to the game, community, and colleagues. Smith is being recognized for his leadership, determination, business acumen, professionalism, and service.
"There is no doubt that I love this game. Everything in my life has evolved or revolved around the game of golf and I'm just so lucky," Smith said in his acceptance speech. "I don't think any of us realize the power that a PGA Professional can have over a new golfer or junior golfer. One of the things I remember most as a youth are the times a PGA Professional would be at the facility [and] would invite me to play with them."
Smith has previously been recognized by the NCPGA as the 2004 NCPGA Player of the Year and 2010 NCPGA Junior Golf Leader.
The Reno Tahoe Area is Rich with Outstanding Golf Industry Professionals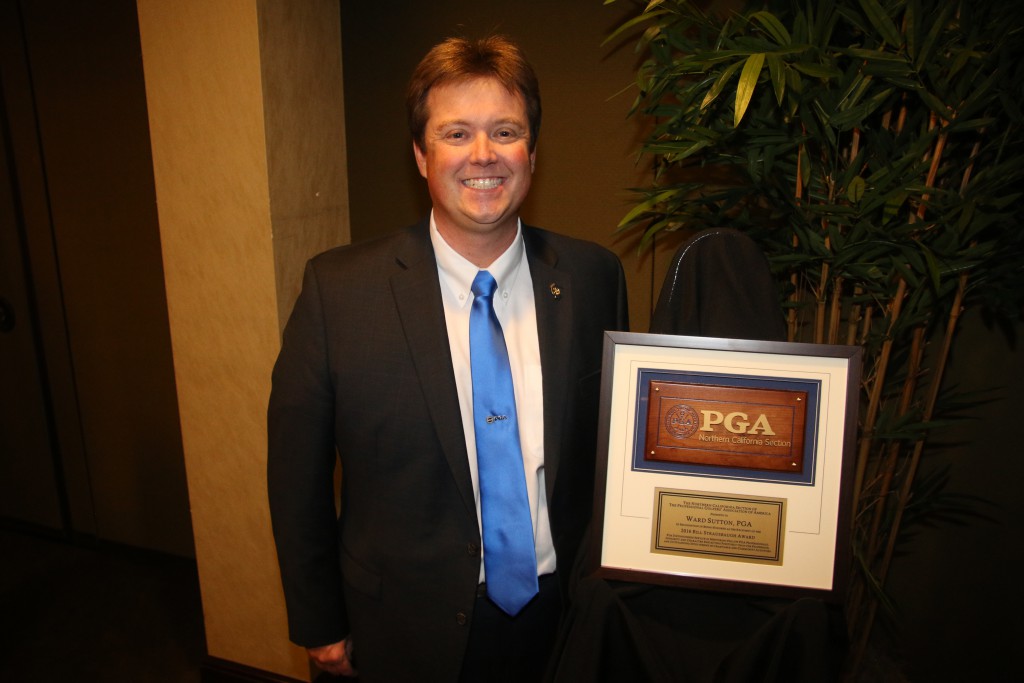 PGA General Manager Ward Sutton of Hidden Valley Country Club was also recognized this week for earning the 2016 Bill Strausbaugh Award due to his outstanding integrity, commitment to mentoring fellow PGA Members, and for his significant impact on the careers of Professionals in the Section. Sutton's influence extends far beyond Reno, and he has previously garnered numerous awards for his efforts including the 2014 NCPGA Horton Smith Award and the 2005 SCPGA Assistant Golf Professional of the Year.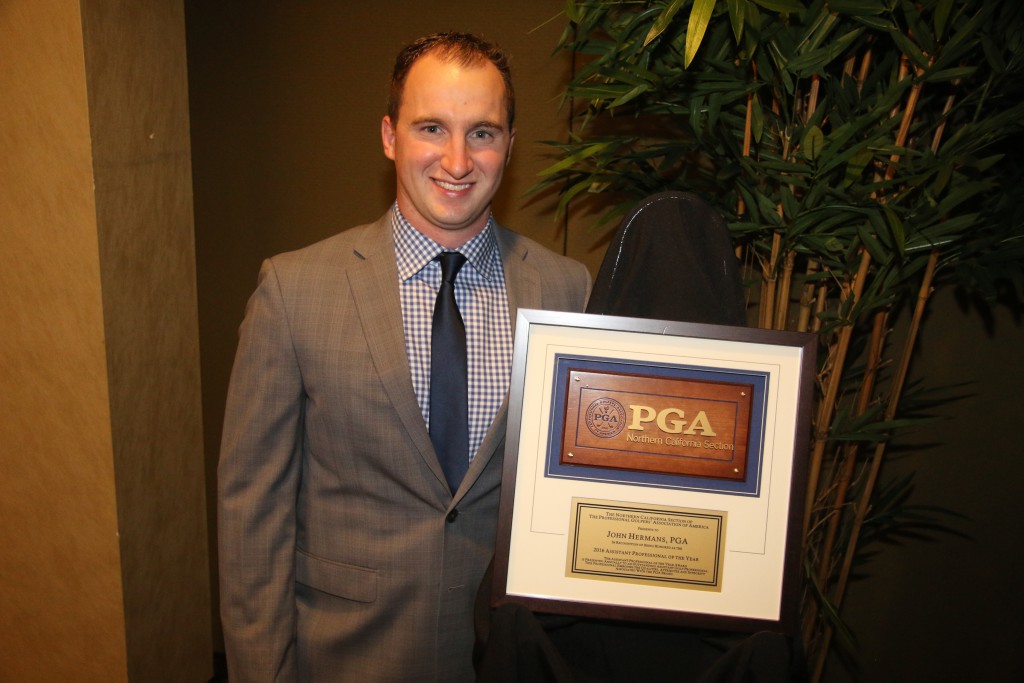 John Hermans, PGA Assistant Professional at Montreux Golf Course, was presented with the title of 2016 NCPGA Assistant Apprentice of the Year for his overall performance, leadership, service to the Section, and promotion of the game of golf. Hermans has recently completed the PGA Certified Professional Program, and is highly respected by his peers. "He possesses everything that the Assistant Golf Professional of the Year should, and then some," shared Zach Jonas, PGA Director of Golf at Montreux, "John is able to lead our team of roughly 25 teammates on a daily basis while constantly maintaining strong relationships with the members."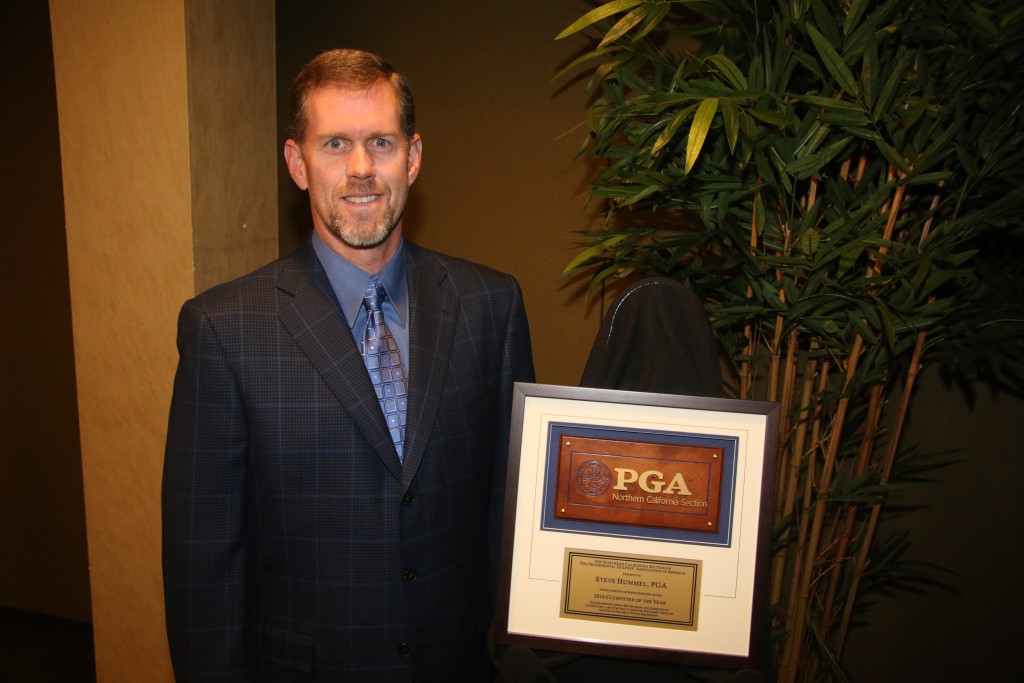 PGA Teaching Professional Steve Hummel of Wolf Run Golf Club was named 2016 NCPGA Club Fitter of the Year for his expertise in fitting golfers with proper equipment. Club fitters directly help golf players and enthusiasts to improve their playing ability and enjoyment of the game. "I see fitting and teaching as being completely intertwined," Hummel states, "Many of my fittings come from my lessons just as many of my lessons come from fittings."
Northern California Golf Professionals Teach and Inspire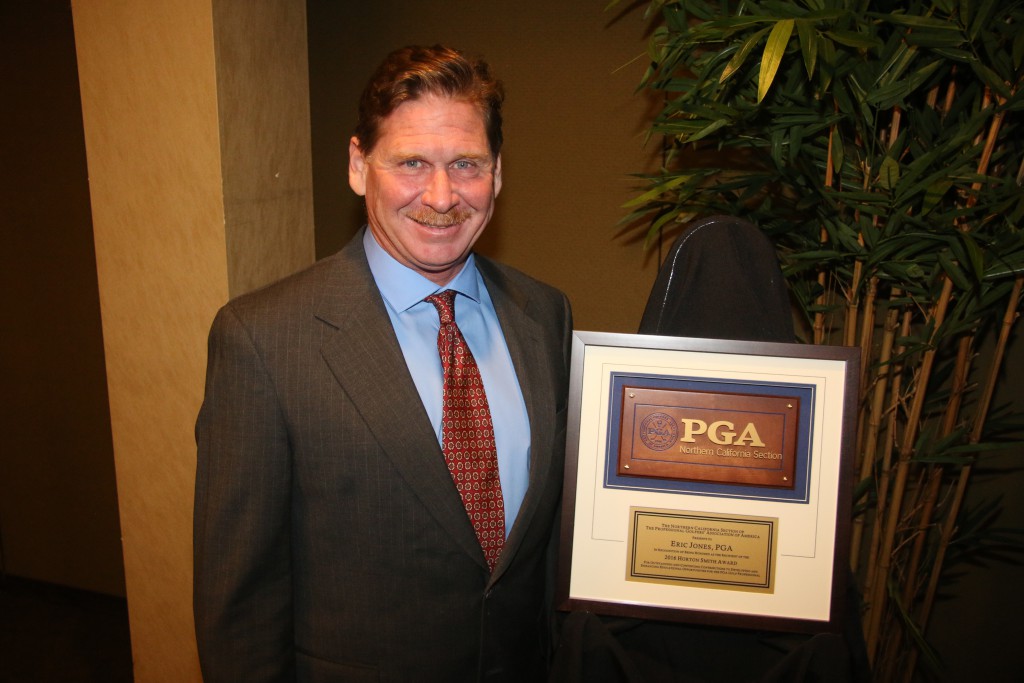 Eric Jones, PGA Director of Instruction at Eric Jones Golf Academy in Pleasanton, Calif., has garnered the 2016 NCPGA Horton Smith Award. Jones is being honored for his outstanding service and contributions in developing and improving educational opportunities for PGA Professionals. "Eric is committed in making a difference in the way we as golf professionals share the game of golf," shared John Snopkowski, PGA, fellow teacher and a colleague of Jones. "I have witnessed his uncanny ability to take teaching concepts and turn them into a language for all to understand. His influence has extended past his students to my own students—the hallmark of an innovator and teacher of teachers."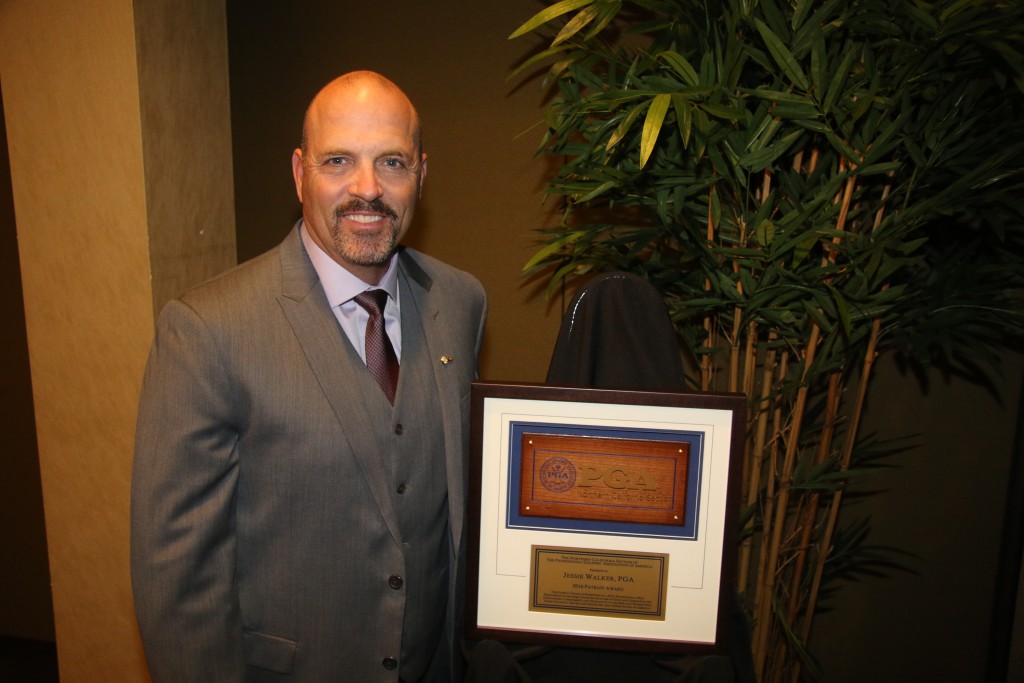 PGA General Manager Jessie Walker of Cypress Lakes Golf Course in Vacaville, Calif. was recognized with the 2016 NCPGA Patriot Award. The Patriot Award is presented to PGA Professionals who personify patriotism and demonstrate unwavering commitment and dedication to those who have valiantly served and protected the United States of America. Walker is credited with bringing the PGA HOPE (Helping Our Patriots Everywhere) program to Northern California, which offers free golf clinics to veterans and helps teach fundamentals and therapeutic aspects of the game.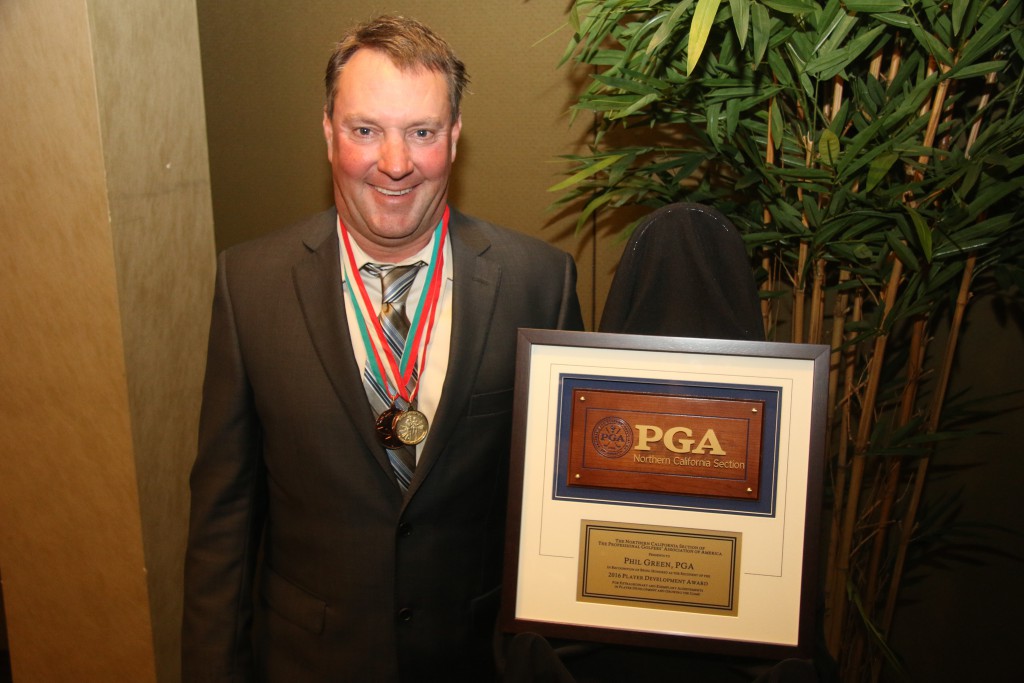 Phil Green, PGA Owner and Operator of Home on the Range Golf Practice Center in Newcastle, Calif., has garnered the 2016 NCPGA Player Development Award for his extraordinary and exemplary contributions to player development and promotion of the game. Green runs numerous programs in the area, including Golf Fore Recess and summer camps for junior players, Get Golf Ready for adults, heads a Special Olympics golf team, and is credited with starting the Placer Nevada Junior Golf Tour which encourages adults and children to play alongside one another.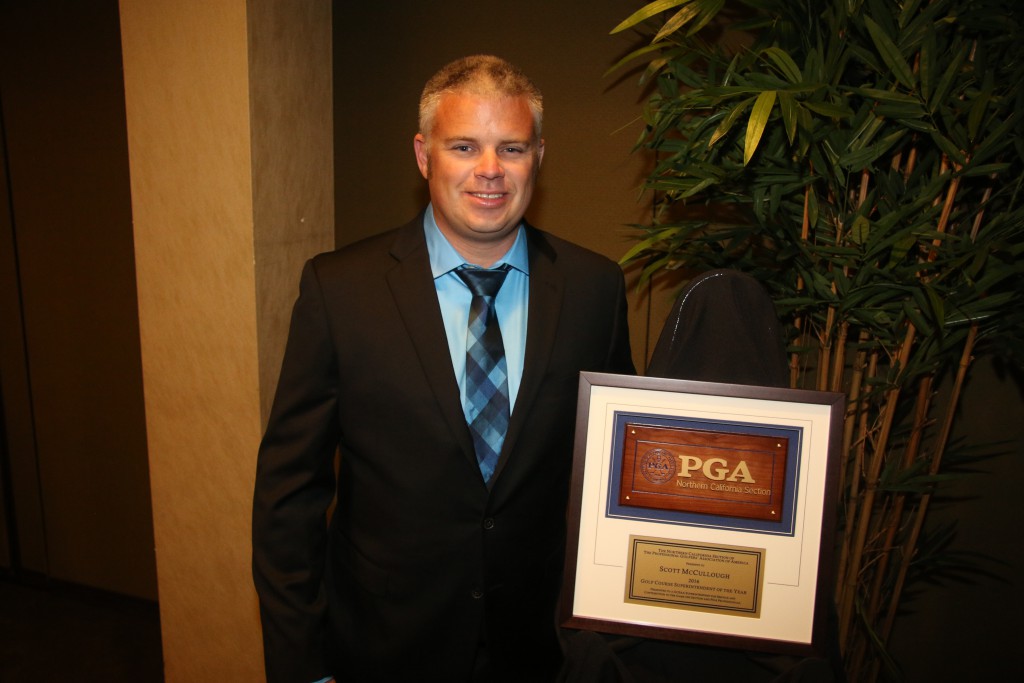 Scott McCullough of The Ridge Golf Course in Auburn, Calif. was named the 2016 NCPGA Golf Course Superintendent of the Year for his service and expertise in maintaining, operating, and managing golf courses, and for his leadership contributions within the NCPGA Section. McCullough was also recognized this year by the Sierra Nevada Chapter of the Golf Course Superintendents Association of America (SNGCSAA), who awarded him the Grass Roots Award for his teaching efforts on Mechanics and Irrigation.
San Francisco & Monterey Bay Area Golf Industry Experts: Ambassadors of the Game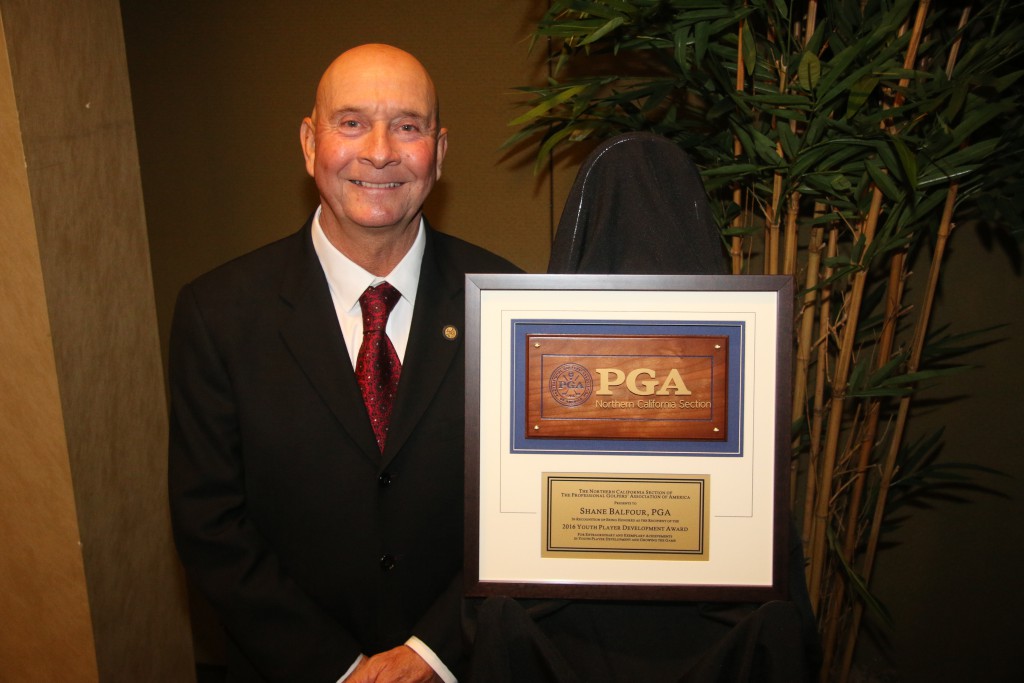 PGA Golf Administrator and Executive Director of the Junior Golf Association of Northern California (JGANC) in Danville, Calif., Shane Balfour, has garnered the 2016 NCPGA Youth Player Development Award. This award is presented to PGA Professionals who provide opportunities for juniors to learn and play the game of golf through coaching and education. "Serving as a role model for my students is key," said Balfour, "Purposeful goals, whether they are short-term or long-term, are what guide my work with youth programs in the Association and also out in the community."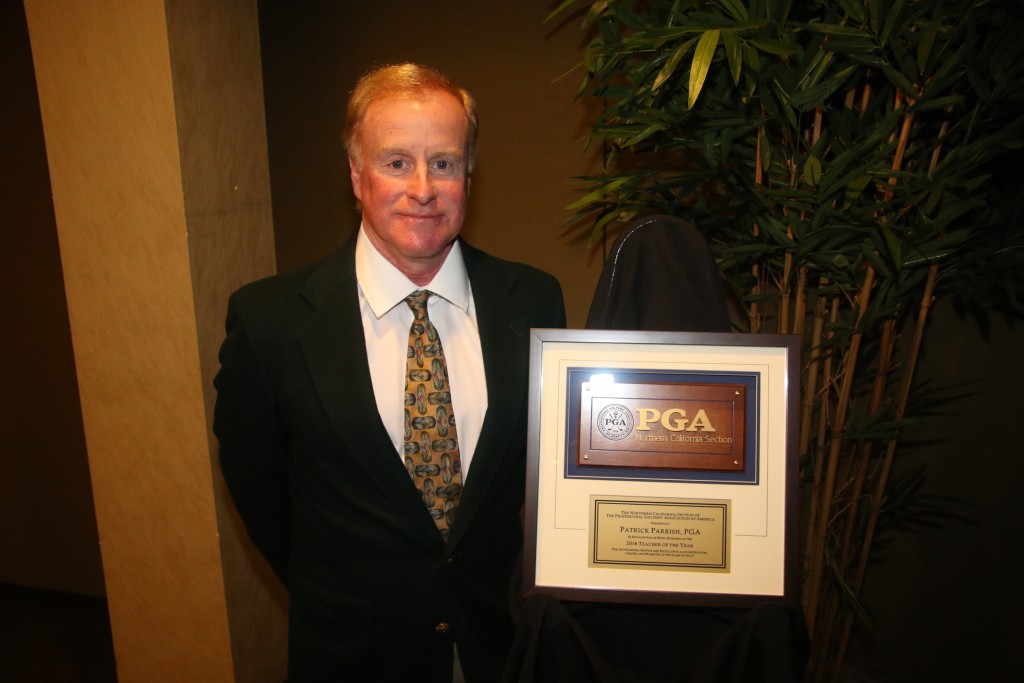 Patrick Parrish, PGA Director of Instruction at Nicklaus Club – Monterey, was presented with the 2016 NCPGA Teacher of the Year Award for his excellence in all facets of instructing the game of golf in conjunction with his overall performance as a PGA Professional. Parrish co-founded Live View Golf Camera, which allows students to monitor their progress in real time so they can practice independently and with precision, creating rapid progress in their skill development.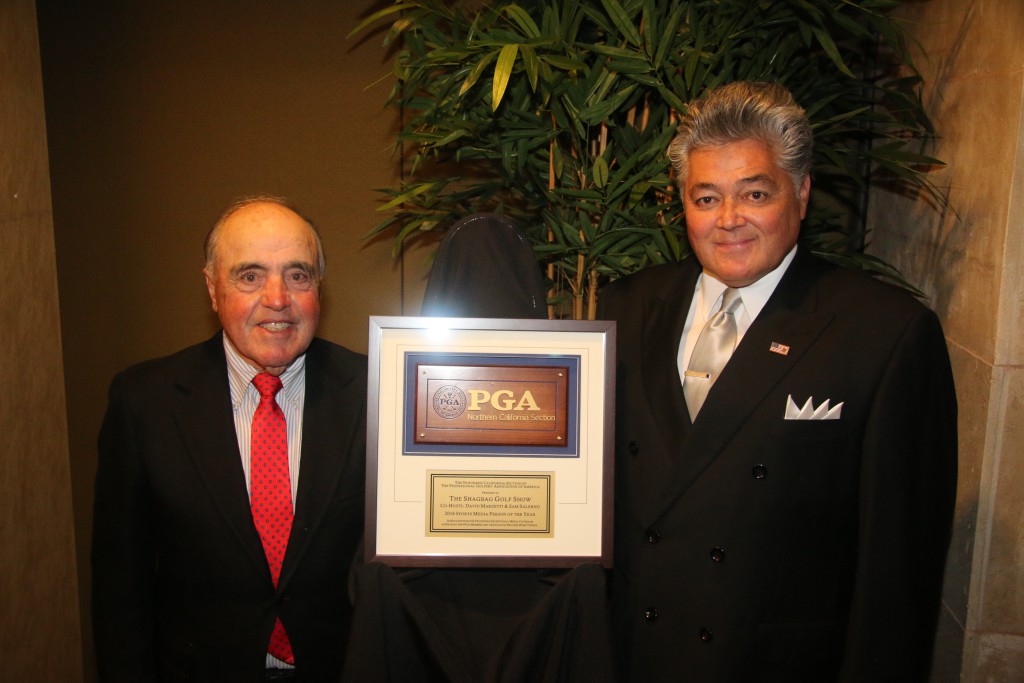 Co-hosts David Marzetti and Sam Salerno of The Shagbag Golf Show have garnered the 2016 NCPGA Sports Media Person of the Year Award for their support and coverage of local Golf Professionals and initiatives. Their weekly show regularly features local NCPGA Professionals and educates listeners on the game and local golf events happening in the region. The show is broadcast live via remote from the historic Del Monte Golf Course and has been on the air for a record 14 years and counting. This is the second time the duo have been designated the NCPGA Media Sports Person of the Year, the first being in 2008.
Sales and Merchandising Awards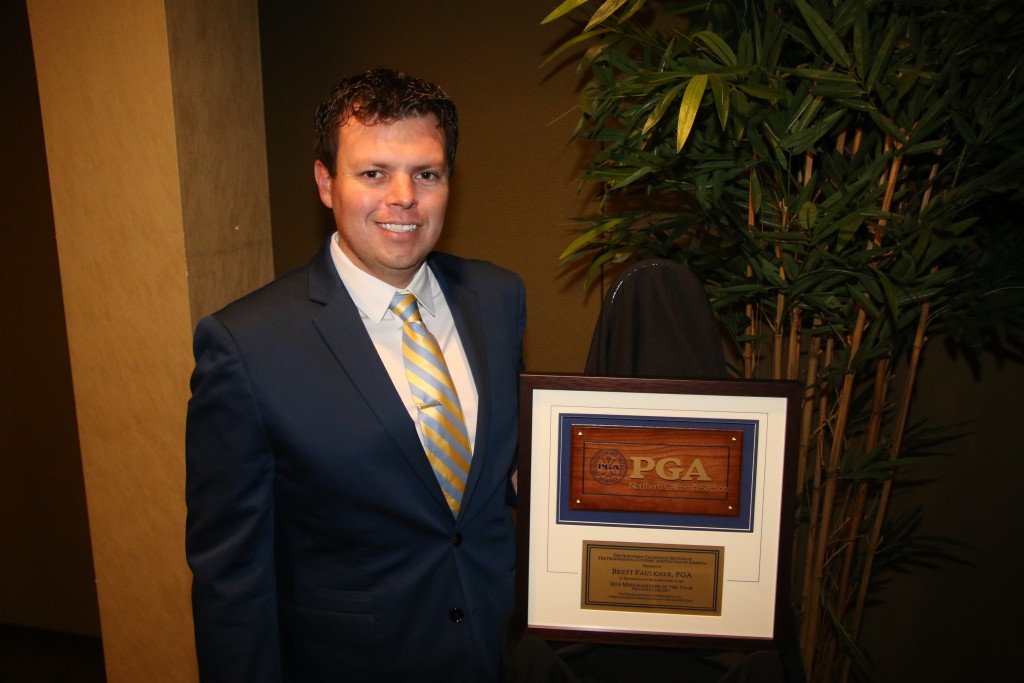 The NCPGA Merchandiser of the Year awards span three categories: Private, Public, and Resort. Brett Faulkner, PGA Head Professional of Castlewood Country Club in Pleasanton, Calif. is the 2016 NCPGA Private Merchandiser of the Year.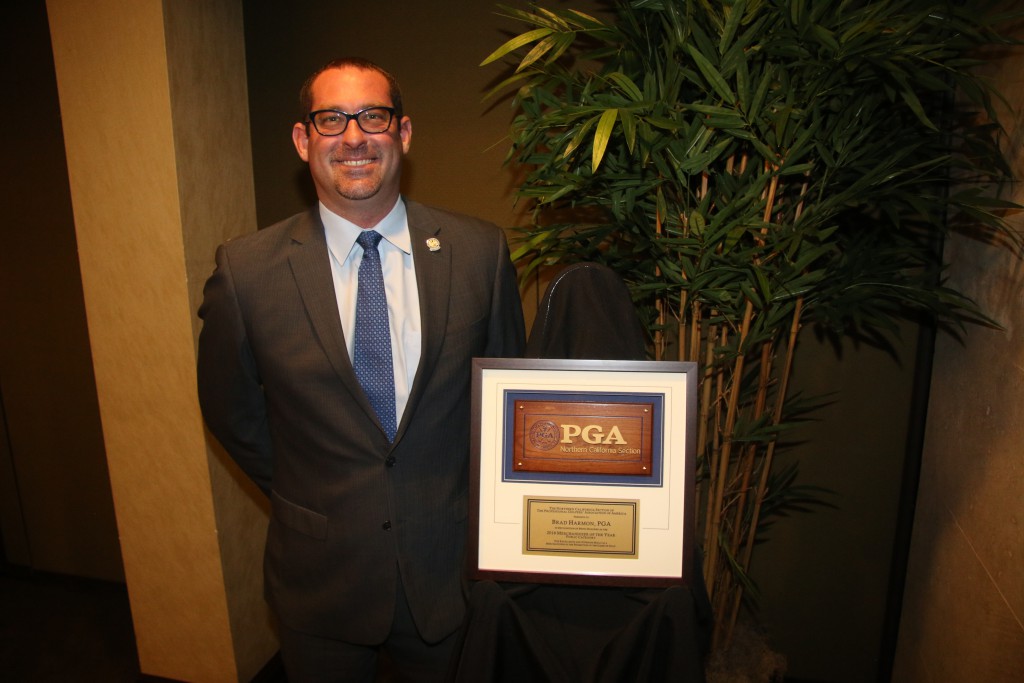 Brad Harmon, PGA Director of Golf at the Presidio Golf Club in San Francisco is the 2016 NCPGA Public Merchandiser of the Year. Brandon Bowling, PGA Head Professional at Plumas Pines Golf Resort has acquired the title of 2016 NCPGA Resort Merchandiser of the Year. The three winners and their merchandising teams have excelled in golf shop operations. Golf Shops are an excellent way for the general public to get individualized attention and expertise from trained staff that is familiar with the array of golf products because they use them every day.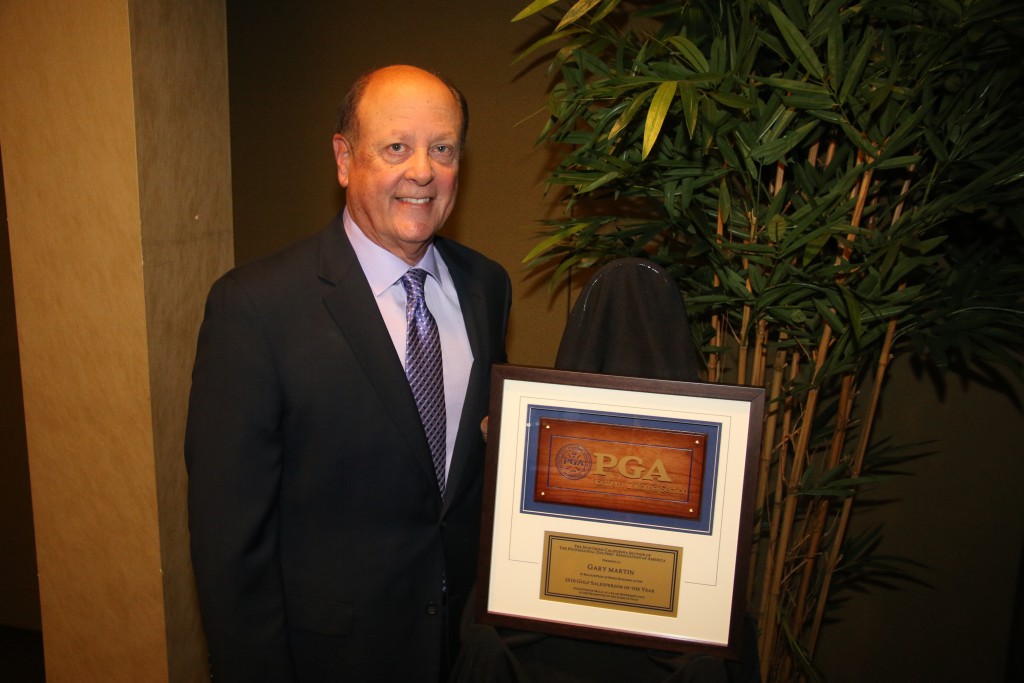 Gary Martin of Los Altos, Calif. was named 2016 NCPGA Sales Representative of the Year. Martin was recognized for his service to PGA Professionals, their merchandising team members, and the Section. He represents manufacturers such as Under Armour, Gear for Sports, Bushnell, CMC Golf, Haas-Jordan, CRU Golf, and Camelbak, and covers all of Northern California and Reno/Tahoe.
Players of the Year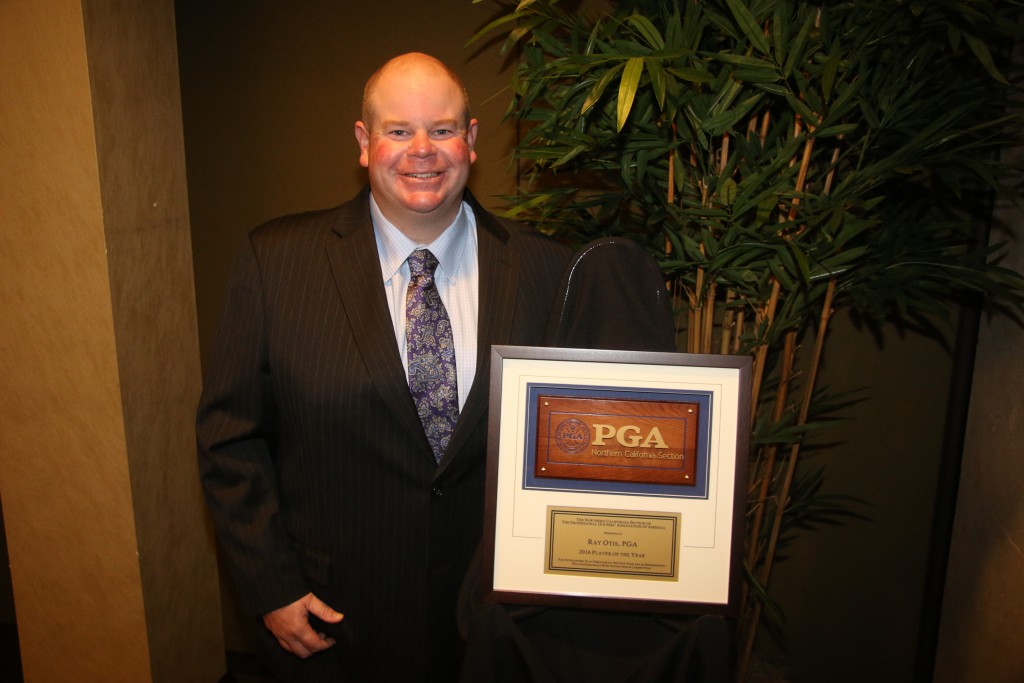 PGA Head Professional Ray Otis of CordeValle Golf Club in San Martin, Calif. earned top honors as Player of the Year (Regular Division) proudly presented by Yamaha Golf Cars.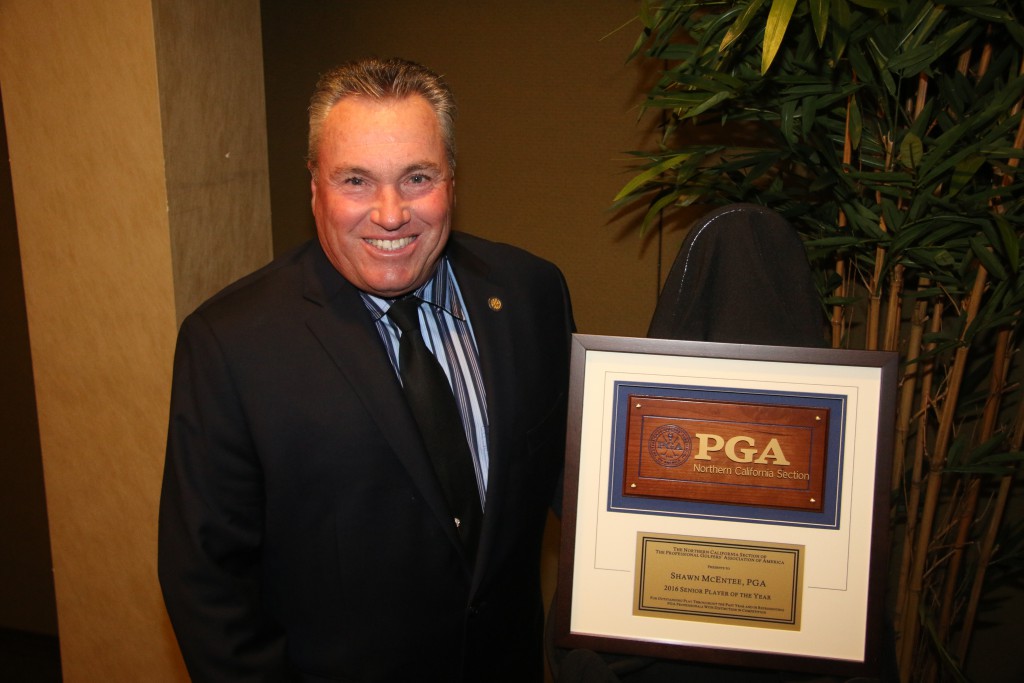 PGA Teaching Professional Shawn McEntee of Chardonnay Golf Club in Napa, Calif. garnered the Senior Player of the Year Award (50-64 years) honors for the fourth consecutive year, and PGA Life Member Glen Stubblefield of Valley Springs, Calif. was named Super Senior Player of the Year (65+ years) for the second year in a row.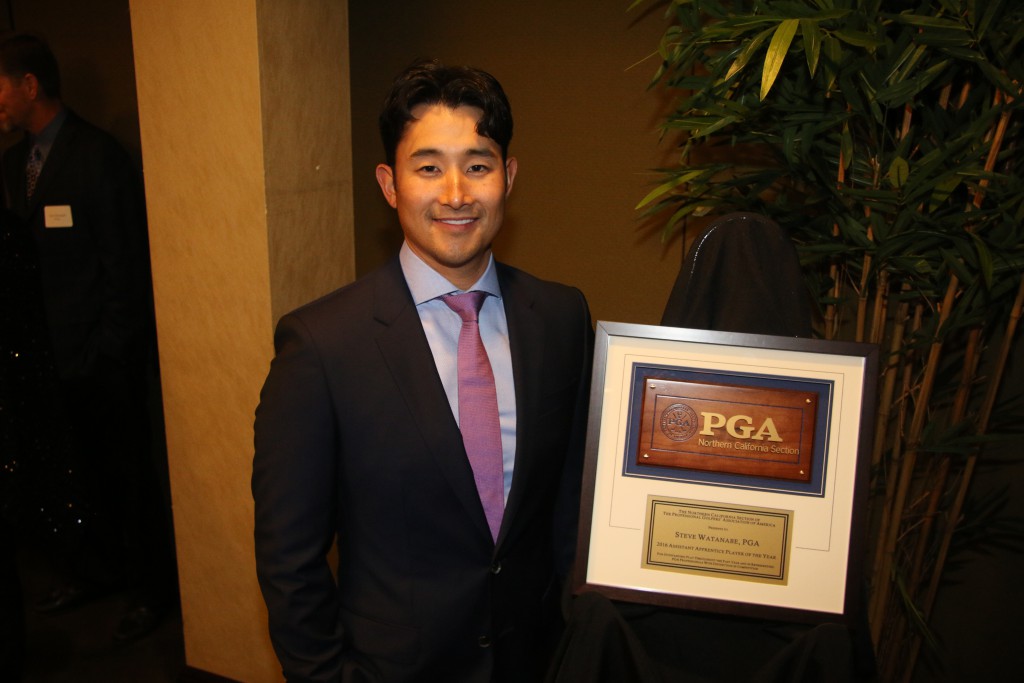 PGA Teaching Professional Steve Watanabe Jr. of The Bridges Golf Club in San Ramon, Calif. attained the Assistant Apprentice Player of the Year award presented by Global Tour Golf.
Awards Ceremony
The NCPGA held its Special Awards and President's Dinner on Sunday, December 4, 2016 at Lake Merced Golf Club in Daly City, Calif. The event, a highlight for the year, was presented by 18Birdies, Capital Insurance Group (CIG), Cobra Puma Golf, Discover and E-Z-Go Textron, and was supported by Hole-in-One U.S.A., Infinity Communications/Kenwood, the Northern California Golf Representatives Association (NCGRA), and PGA National Resort and Spa.
About the Northern California Section of the PGA of America (NCPGA)
Organized in 1920 to promote interest in the game of golf, the birth of this association was heralded as an important step to the advancement of the game in this district. The Northern California Section is one of the forty-one designated Sections of the PGA of America, the world's largest working sports organization. With over 1,100 dedicated PGA Professionals and apprentices at over 500 golf facilities in Northern California and Northwestern Nevada, the association continues to have a positive impact on the game of golf and communities both regionally and nationally. For more information, please visit www.ncpgalinks.com or call us at (707) 449-4742.