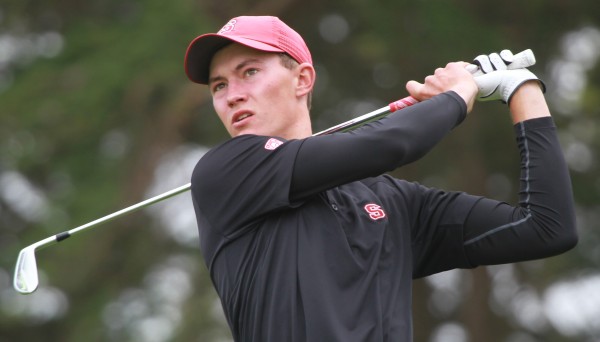 Top-seeded Maverick McNealy of Portola Valley rolled to two more victories and joined Matt Cohn of San Francisco in the final of the 112th Northern California Amateur Match Play Championship at Spyglass Hill Golf Course in Pebble Beach.
McNealy, a junior All-American at Stanford, beat Shintaro Ban of San Jose, 4 and 3, in the semifinals after routing Matthew Ashley, also of San Jose, 7 and 6, in the morning quarterfinals.
Ban held a 1-up lead after six holes over McNealy, who took command by winning four of the next five holes and closed out the match by claiming six of the last nine overall.
"I played pretty well coming in," said McNealy, No. 2 in the World Amateur Golf Rankings, said of the semifinals. "Close matches might not as seem as fun, but that's how you get better. I was definitely tested in the middle of the round, and I felt I responded solidly there."
In the morning, McNealy took charge early against Ashley by winning three of the first four holes and also took four of the last seven to wrap things up on the 13th.
Cohn, who reached the semifinals last year before losing, claimed five of the first seven holes and held off Scott Mitchell of Santa Rosa, 4 and 2, in his semifinal match.
Also in the quarterfinals, Ban defeated Walter Huddy of Studio City, 1 up, Cohn needed 19 holes to turn back Jon Peterson of Granite Bay and Mitchell downed Brandon Lee of Sonoma, 4 and 3.
Conn and McNealy will play for the title on Friday.
For complete results, please visit www.ghintpp.com/ncga/TPPOnlineScoring/ResultsMatch.aspx?archive=match&id=1625.