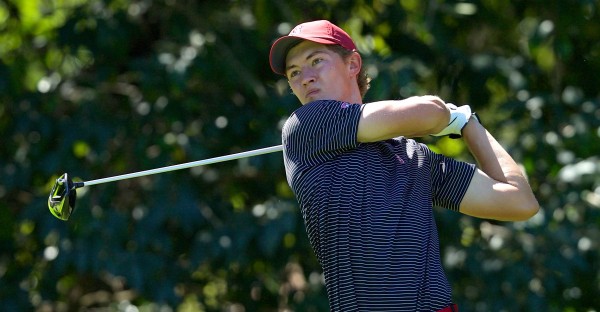 Maverick McNealy of Portola Valley rolled past Nick Moore of Seaside, 6 and 5, in the round of 16 of the Northern California Golf Association Match Play Championship at Skyglass Hill Golf Course in Pebble Beach.
McNealy, a junior All-American at Stanford who was the stroke-play medalist, also beat Derek Ackerman of Half Moon Bay in the round of 32 earlier in the day, 4 and 3.
"I felt like I played solid golf throughout both rounds," said McNealy, who is No. 2 in the World Amateur Golf Rankings. "In the afternoon, I putted really well and in the morning I hit the ball really well. Derek and Nick were really fun to play with."
Jon Peterson of Granite Bay upset Matthew Seramin San Geronimo, the second-seeded defending champion, 2 and 1, in the afternoon, when Scott Mitchell of Santa Rosa knocked off third-seeded Justin Suh of San Jose, 3 and 2.
In the morning, No. 29-seeded Ryan Knop of Pleasanton eliminated fourth-seeded Steven Chung of Sacramento, 6-4, but Knop lost in the afternoon to Walker Huddy of Studio City, 6 and 4.
In Thursday's quarterfinals, McNealy will face Matthew Ashley of San Jose, while Huddy will take on Shintaro Ban of San Jose, Peterson will meet Matt Cohn of San Francisco, and Mitchell will tangle with Brandon Lee of Sonoma.
For complete results, please visit www.ghintpp.com/ncga/TPPOnlineScoring/ResultsMatch.aspx?archive=match&id=1625.