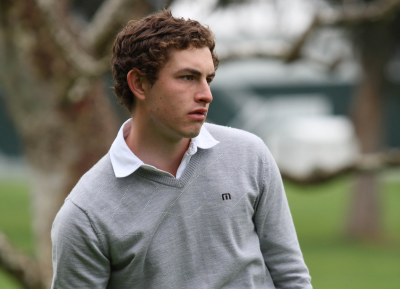 The 66th Annual championship at Pasatiempo attracts top college teams and players
Patrick Cantlay, the 2012 Masters low amateur title winner, will compete in the 66th annual Western Intercollegiate Golf Tournament April 14-15 at the Alister MacKenzie-designed Pasatiempo Golf Club in Santa Cruz, Calif. A UCLA sophomore, Cantlay is the No. 1 player in the World Amateur Golf Rankings administered by the R&A and the USGA.
The Western Intercollegiate, one of the nation's most revered men's collegiate championships, continues to attract high-profile teams and players. According to John Kennaday, San José State University men's golf coach, seven of the top 20 teams nationally and 18 of GolfStat's top 100 players are expected to compete in this 54-hole championship. Texas (No. 1), California (No. 3), UCLA (No. 5), USC (No. 7), Oregon (No. 9), San Diego State (No. 12) and Stanford (No. 13) are in Golfstat's top-20 team rankings. In addition to host San Jose State, New Mexico State, UC Irvine, Denver, Hawaii, Hawaii at Hilo, and Kansas round out the 14-team field. UCLA is the reigning champion.
In addition to Cantlay, the 2012 Western Intercollegiate will attract Texas freshman Jordan Spieth, Golfstat's No. 1 nationally ranked men's college player (April 3 rankings) and the No. 3 player in the WAGR. He will be joined by Texas teammate senior Dylan Frittelli, ranked No. 2 by Golfstat, and Oregon senior and 2010 Western Intercollegiate Champion Eugene Wong, ranked No. 5.
Now in its 66th year, the Western Intercollegiate is one of the longest-running collegiate tournaments in the country. It is contested at the Pasatiempo Golf Club, a venue that's ranked among the best by GolfWeek, Golf Digest, and Golf Magazine. Spectators are free to join the gallery at Pasatiempo on April 14-15.
The Western Intercollegiate is made possible through its platinum sponsors Frys.com Open, Jerry Hamilton of Cooper-Challen Realty, Brandenburg Family Foundation, and Don & Sally Lucas.
To learn more about the championship, the college-am, and sponsorship opportunities, visit www.westernintercollegiate.net.