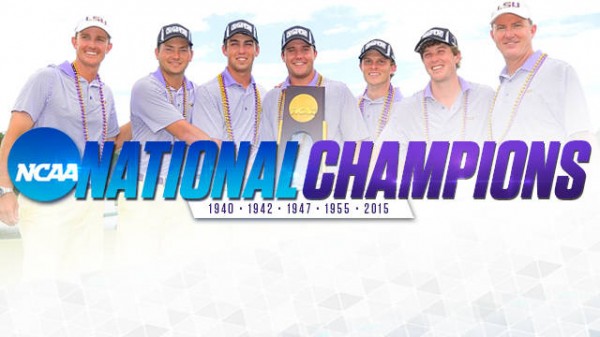 LSU defeated USC, 4-1, in the match play final to capture the NCAA Championship at Concession Golf Club in Bradenton, Fla.
Senior All-American Ben Taylor claimed the winning point for the Tigers, sinking a seven-foot par putt on the 18th hole to claim a 1-up victory over Bobby Gojuangco.
Taylor also gave LSU the deciding point in a semifinal victory over Georgia.
"I'm just so proud of these guys," LSU Coach Chuck Winstead said. "It's hard to get into a position to even have a chance to win this tournament, and then when you show up out here today and you still have the resolve to play the way we did, I'm very proud of the guys on this team.
"There are a lot of people at LSU that care about men's golf, and really the athletic department, so having graduated from LSU and being a Tiger, it's very special. The supporters at LSU and the administration have very much supported us these 10 years. We didn't do this by ourselves, so I think it means quite a lot. They've invested."
LSU earned its fifth NCAA men's golf title, but the first since 1955, also having claimed the crown in 1940, 1942 and 1947.
Brandon Pierce gave the Tigers a 1-0 lead by beating Rico Hoey, 2 and 1, and Zach Wright put the next point on the board for LSU with a 3-and-2 victory over Sean Crocker.
After Taylor's point determined the outcome, Eric Richard beat Jonah Texeira, 1 up, to make it 4-0 before Eric Sugimto provided USC with its only point by downing Stewart Jolly, 1 up..
Taylor and Wright finished with 3-0 records in match play for the Tigers, while Pierce went 2-0-1. Sugimoto was 2-0-1 for the Trojans.
Seventh-seeded LSU beat third-seeded Georgia in the semifinals, 3-1-1, while fifth-seeded USC knocked off top-seeded Illinois, also by 3-1-1.
In the quarterfinals, LSU defeated second-seeded Vanderbilt, 3-1-1, and USC took care of fourth-seeded Texas, 3-0-2.