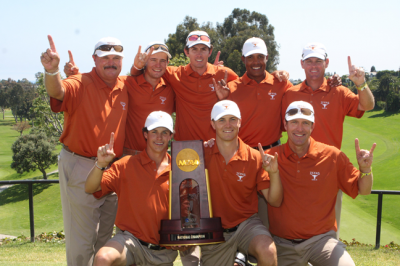 The 2012 NCAA Men's Golf Championships went down to the wire Sunday at Riviera Country Club with Dylan Fritelli sinking a long putt for birdie on the final hole of the final match to give the Texas Longhorns a 3-2 victory over Alabama and their first title since 1972.
Alabama jumped out to a quick 2-0 lead with Hunter Hamrick taking out Julio Vegas 6 & 5 and Bobby Wyatt finishing 1 up on Toni Hakula for the Crimson Tide.
The Longhorns, however, were able to maintain their composure and fight their way back into the tournament. Jordan Spieth defeated Justin Thomas 3 & 2 and Cody Gribble beat Scott Strohmeyer 2 & 1, with neither player trailing at any point in their matches.
Alabama's Cory Whitsett managed to square his match with Dylan Fritelli heading into the 18th hole, but posted a bogey on the par-4. Dylan Fritelli, needing a two-putt to secure the victory for Texas, sank his first shot from the green, a long birdie.