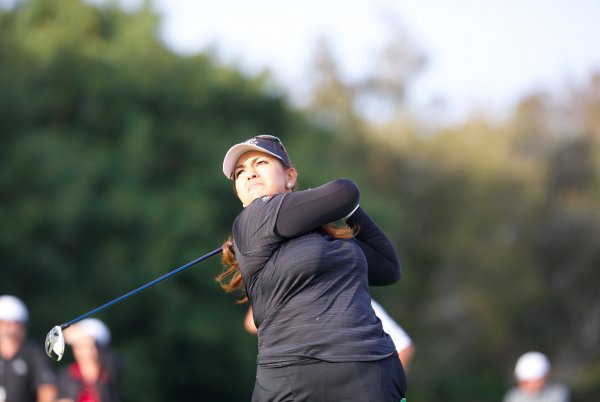 For Salas, last year's final round 79 at the KNC is this year's motivation
When Lizette Salas arrived at the first tee in the final round of the Kraft Nabisco Championship (KNC), in the final pairing with eventual winner Inbee Park, she seemed fine.
"I didn't notice any nerves," said her caddie Greg Puga," she seemed ready to go."
She proceeded to hook her drive into the deep rough and then it all started going south.
"Looking back, I should have just hit 9-iron back to the fairway instead of hitting seven and making double bogey," said a somber Salas.
Unlike her misfortune in the 2012 US Open when she started miserably and then cried on the next tee, there would be no crying this time, not with her family and cheering gallery behind her. Salas shot 79 in that final round, tying for 25th, and a far cry from what she was anticipating earlier on a pristine Sunday in April.
"I guess it wasn't in God's plans for me to leap into Poppy's Pond," a tradition for the KNC champion.
Yet, just two weeks later in her next event she shot 62 in the final round to finish second at the Lotte Championship, a remarkable turn of events. Later that summer she would again challenge in a major, finishing sixth at the Ricoh Women's British. It doesn't take long either for her to get over bad outings, nor does it take one a long time to feel her confidence in conversation and get absorbed in her bubbly personality. After finishing second this past weekend by a shot to Anna Nordquist at the Kia Classic in lovely Carlsbad, Calif. at the magnificent Park Hyatt Aviara Resort, her sights are fixed, not so much on retribution but more of redemption at Mission Hills Country Club in the ladies first major of 2014.
"That was just so not me," said the 4-time All-American at USC referring to that Sunday.
For many young golfers, a loss like that, an embarrassing day in the spotlight of the final pairing can be a career ender or certainly a confidence buster. As noted, that is not the case with this cheerful, 24 year-old from Azusa, Calif. by way of Mexico. Lizette turned professional in the summer of 2011 then qualified for the 2012 LPGA season through Q-school. Although she has come close, five top-10's in 2013 and an almost this past weekend, she knows her time is coming. After her third round at the Kia, I caught up with Lizette to rehash that Sunday and more.
"After that 79 that Sunday, I just used that as motivation to practice more the way I do. Shake if off and get back out there," she said confidently. "That Sunday at Kraft was very painful but it motivated me to get back to doing what I love."
It also caused her to change putters, returning to the standard length rather than the belly. She also changed caddies.
"Jerry who caddies for me now has caddied for some of the big names in golf, Meg Mallon, Dottie Pepper and even Christie Kerr, he is just a great addition to my team. We get along great and I just love his work ethic. He is also really good with smart alec comments too," a chuckling Salas said.
And after her early starts in Asia this year where she didn't play that well, she is now back in what she calls her comfort zone as demonstrated that last two weeks.  Salas is no longer just a name but someone her peers as well as pundits consider a favorite this week in the desert of Rancho Mirage. Prior to last year's KNC where she was a relative unknown, Lizette also switched equipment from Callaway to TaylorMade, a move that doesn't always pan out immediately, i.e. Rory McILroy.
"I switched in August of 2012 to TaylorMade and I might have picked up 10 or 15 yards," she said. "More so though I just feel more comfortable in my attitude and mental state. My dad is the most optimistic person, he and my coach. So great people surround me. I feel my potential is to be a great champion. My sixth at the British and the experience of being on the Solheim Cup team and contributing some clutch putts has had a big impact on my game. Who knows maybe this year I get to jump in the pond."
At 24, with a brilliant smile and positive attitude, Salas has the game to get to the next level and it very well may come soon. As every player who has played in the KNC knows all too well, the rough is thick and unforgiving so the emphasis on keeping it on the short grass is imperative.
"Like my coach tells me over and over, fairway sand greens, fairways and greens. If I can continue to do just that, it will work itself out."
If you are strolling the fairways and notice about 100 or so people on purple t-shirts, that will be the loyal followers and family of Lizette Salas.
"I feel blessed to have the support from my friends and family and my community, especially the Latin community.  For them to come out here and cheer me on in English and Spanish, to get the best of both worlds."
Salas birdied two of the last three holes on Sunday at Aviara to miss a playoff by a shot. So how does she feel going into this week at the Kraft Nabisco?
"I feel really confident compared to three weeks ago where I was mental‑wise.  These next three days just go back to work and kind of put this in the back of your head, but know that you can pull off putts going down the stretch."
One thing is for certain after spending a little time with Lizette, it's not cockiness. It's confidence. You don't earn four-time All-American status without talent. But it takes more than that to win out on the LPGA tour, something this young lady is tickling. Only one question remains for me. I just don't know if there will be enough room for all the people that will joining her in her leap into Poppy's Pond if it is in God's plan for 2014.