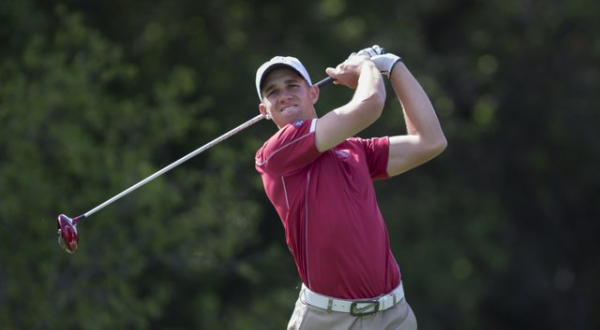 Patrick Rodgers continued his chase of Tiger Woods in the Stanford record book when he captured The Goodwin by six strokes over Rico Hoey of USC while leading the Cardinal to the team title on the Stanford Golf Course.
Rodgers, a junior who has announced that he will leave school and turn pro after the NCAA Championships next month, claimed his ninth victory at Stanford, two away from Woods' school record.
"Tiger did it in two years, which was pretty impressive," said Rodgers, who is No. 1 in the World Amateur Golf Rankings. "I'm trying to win every time I tee it up, and with four events left, hopefully I'll be able to chase that record.
"It feels great being at the home course this week and staying in my dorm and my comfortable bed and having a lot of familiar faces around here. … It was nice to have a great week, play solid and feel comfortable."
Rodgers, from Avon, Ind., posted a score of 63-69-64–196, 14-under-par, while Hoey, a freshman from Rancho Cucamonga, wound up at 66-69-67–202, and Cameron Wilson of Stanford was third at 69-70-65–204.
Maverick McNealy of Stanford shot 66-69-70–205 and tied for fourth with Paul Dunne of Alabama-Birmingham, who totaled 70-69-66–205, and Jack Perry of Northwestern, who finished at 69-68-68–205.
Anton Arboleda of UCLA finished at 72-67-68–207 and tied for seventh with Anthony Paolucci of USC, who carded a score of 70-68-69–207, and Jonathan Sanders of Washington, who came in at 72-69-66–207.
Stanford recorded a score of 268-281-266–815, 25-under-par, to win by 20 strokes over USC, which finished at 278-285-272–835, and UCLA, which totaled 277-278-280–835.
"The guys are fortunate because they get to play our course a lot and they're comfortable here," said Coach Conrad Ray, whose Cardinal claimed its third victory this season and eighth top-10 finish in as many events. "That showed today. They birdied the holes they normally do and managed the golf course well today.
"All week we had a couple of stretches throughout the course that I thought were key stretches. The first six holes at Stanford are probably the toughest in the entire course. Our guys got through those first six holes in good fashion all week."
Washington was fourth at 286-273-280–839, and Oregon shot 273-285-285–843 to tie for fifth with Alabama-Birmingham, which came in at 279-288-276–843.
St. Mary's was seventh at 271-296-285–852, followed by Northwestern at 286-289-280–855, Fresno State at 289-286-284–859 and UC Davis at 287-295-279–861 to round out the top 10.
Loyola Marymount tied for 13th at 286-297-283–866, and San Diego State was 16th at 281-299-297–877, followed by San Francisco at 293-291-296–880 and San Jose State at 289-313-289–891.
The tournament was renamed this season on honor of former Stanford Coach Wally Goodwin, who led the Cardinal to the 1994 NCAA Championship and coached Woods, Casey Martin and Notah Begay, among others.