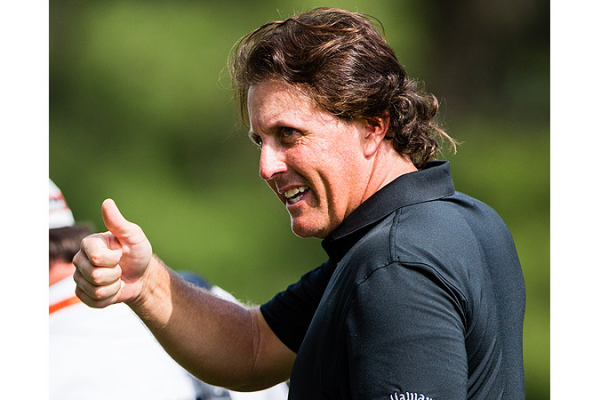 Phil Mickelson was heading to Augusta for the Masters through Texas, but he lost his way.
Mickelson withdrew from the Valero Texas Open after 10 holes of the third round on Saturday because of what he thought was a pulled oblique muscle, and he flew home to San Diego to have it checked out.
Soon after Mickelson walked of the course at TPC San Antonio, a doctor said on The Golf Channel that if the injury is simply a pulled muscle, a few days of rest and medication should allow Mickelson to play this week as planned in the Shell Houston Open.
"I pulled a muscle on my downswing trying to hit it hard," Mickelson said a statement. "It just killed and it wouldn't subside for 10 or 12 seconds. I'm going back to San Diego (for) a couple of days and have a doctor look at it, but there's really not much you can do for a pulled muscle.
"I hope I'll be OK to play the Shell in Houston, but I just don't know."
Whenever he does play again, Mickelson will again be looking for his first top-10 finish of the season, as he was 1-over-par for the day, 4-over for the tournament and in danger of missing the secondary cut when he was injured.
The Golf Club of Houston is a place he might find his game because he has performed well there, and both he and caddie Bones Mackay said he was playing better than the numbers indicated in San Antonio.
"I like the course and I like playing in Houston," said Mickelson, whose best result in the 2013-14 season was 14th in the WGC-HSBC Champions last November, and his highest finish since the new year began was a tie for 16th in the WGC-Cadillac Championship. "I love the conditions. It's one of the best-conditioned golf courses that we play.
"It's not really a course like Augusta, though. Augusta you hit drivers. (In Houston) you hit 3-woods off the tee. Augusta has Bermuda (grass), has a lot of chipping areas around the green. (In Houston) you have either sand or water around the greens.
"It's not as though it's a great preparation for Augusta. It's just that any place that doesn't have rough I love and it's one of the best-conditioned courses. The greens are just immaculate year in and year out."
Mickelson, who almost always plays the week before a major championship, was not happy several years ago when the BellSouth Classic at TPC Sugarloaf in Duluth, Ga., lost its sponsor and dropped off the PGA Tour schedule.
Not only did Mickelson win that tournament, which was played the week before the Masters in 2000, 2005 and 2006, he said the course was perfect preparation for the Masters.
However, he was in an early-season funk in 2011, similar to this year, when he came to Houston and won the tournament.
"It feels really good for me to have played well and gained some momentum heading into next week," Mickelson said at the time, although the following week he tied for 27th in the Masters. "I needed to have a week where I kind of put it together.
"I've been saying all year, 'I'm playing well, but I'm not getting the scores out of it, and I'm just kind of having a lapse of focus.' It was a great week in that regard, and great for getting momentum heading in next week."
That's what he needs this week on the Tournament Course at the Golf Club of Houston, formerly known as Redstone Golf Club.
But even the other pros know that Mickelson's performance this week in Texas might not have any bearing on what happens once he drives down Magnolia Lane.
"Phil's the type of player that it doesn't really matter necessarily how he starts a season," Jordan Spieth said last week after playing alongside Mickelson at TPC San Antonio.
"One week he may be off, the next week he can win by five shots."
That's a bit like what happened in 2010, when Mickelson had only one top-10 finish in his first seven tournaments of the year before showing up at the Masters and claiming his third Green Jacket by posting three 5-under-par 67s to beat Lee Westwood by three strokes.
Mickelson made a scouting trip to Augusta National with his friend Keegan Bradley a few weeks ago and said he was "energized" by simply walking onto the grounds.
There was talk about Mickelson going for the "Texas Slam" last week in the Texas Open, which he was playing for the first time since his rookie season, 1992.
In addition to winning at Houston in 2011, he captured the Byron Nelson Championship near Dallas in 1996 and the Crown Plaza Invitational at Fort Worth in 2000 and 2008.
However, he never got close in San Antonio after opening with a 5-over-par 77. He had to pull out a remarkable birdie save from the side of a creek at the 18th hole to make the cut on the number with a 70 on Friday.
"I had been playing real well at home, so to come out and play like this is disappointing," Mickelson said. "Just didn't feel quite sharp. …
"My game is starting to feel better, even though my results this year haven't shown it. But I feel close, and so I'm not overly concerned."
And the thing is, even if he makes it back to Texas for the Shell Houston Open, to paraphrase the great Ray Charles, he'll have Georgia on his mind.
–Story courtesy of The Sports Xchange, TSX Golf Editor Tom LaMarre