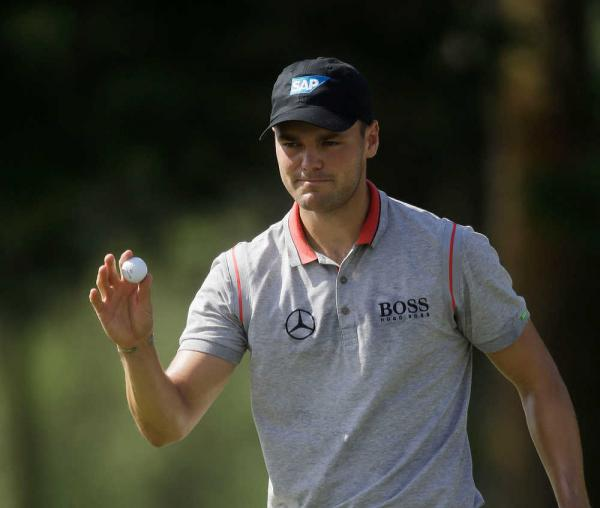 Martin Kaymer of Germany made clutch par putts on the last two holes to close out a 1-under-par 71 and held on to win the Players Championship by one stroke over Jim Furyk on the Stadium Course at TPC Sawgrass in Ponte Vedra Beach, Fla.
Kaymer had a three-stroke lead before a 90-minute weather delay, but made a double-bogey 6 on the 15th hole when play resumed, before holing a 29-foot snake of a putt on the island green at No. 17 and a knee-knocking four-footer on the final hole.
"It's always very difficult when you have to stop playing for a while and then come back out," said Kaymer, the 2010 PGA champion who won for the first time since the 2012 Nedbank Golf Challenge in South Africa. "When you are going good, you want to keep on playing.
"That obviously was the reason for (his late stumble). I was a little cold and made a couple of poor decisions (on No. 15). But that was a big putt at No. 17."
Furyk, who lives right down the road from TPC Sawgrass and is a club member, came back after the delay and holed a three-foot putt for par to cap a 66 before watching Kaymer finish on television in the clubhouse.
Before the delay, Furyk missed a 14-foot birdie putt at No. 18 that as it turned out would have gotten him into a playoff, and he still has not won since the 2010 Tour Championship–his 16th victory on the PGA Tour.
Sergio Garcia of Spain, the 2008 Players champion, holed an eight-foot birdie putt on the final hole to close out a 70 that left him alone in third, two strokes back.
Jordan Spieth, the 20-year old who was the 2013 PGA Tour Rookie of the Year, took the lead from Kaymer with birdies on two of his first four holes, but made five bogeys after going the first 58 holes of the tournament without one.
Spieth shot 74 to finish three shots back in a tie for fourth with U.S. Open champion Justin Rose of England, who was in the hunt until he made bogeys on the first three holes of the back nine on his way to a 69.
Adam Scott of Australia, who could have taken the No. 1 spot from Tiger Woods in the World Golf Rankings by finishing no worse than a two-way tie for 16th, finished with a 73 and tied for 38th.