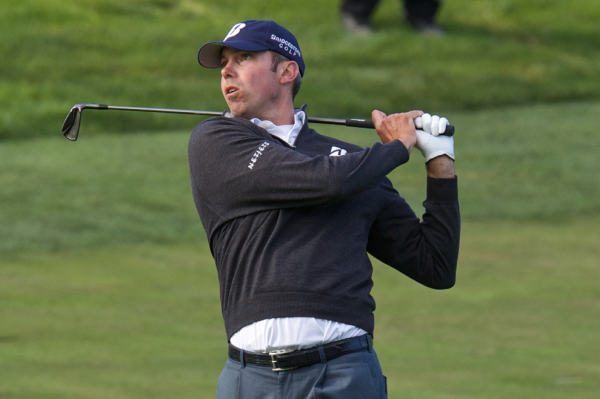 When they post the names of the top players on the leaderboard in the final round of the HP Byron Nelson Championship on Sunday, chances are Matt Kuchar will be on the list.
Kuchar has finished in the top 10 eight times this season and on 54 occasions since 2008, the most on the PGA Tour in both spans.
"I had Jim Furyk tell me … after I snuck into another top 10, he said, 'You know, another 10 more years like this and you'll be the Steve Stricker of the PGA Tour,'" Kuchar said a while back.
"That would have been the guy, a few years ago, that I would have said, 'I'd like to play a game like he does.' I'm not going to overpower courses, but Stricker seems every week to be up there, whether he's leading the tournament or seems to just always be in contention."
With Stricker playing an abbreviated schedule these days at the age of 47 to spend more time at home in Wisconsin with his family and foundation, Kuchar is becoming that guy.
Their careers are remarkably similar.
Stricker owns 12 wins on the PGA Tour but no major titles, and the knock on him despite his consistency is that he does not win enough.
The same with Kuchar, 35, who was seven victories, zero majors.
However, the quality of Kuchar's victories is impressive, including the 2012 Players Championship (the so-called Fifth Major), the 2013 WGC-Accenture Match Play Championship and the 2010 Barclays to open the FedEx Cup playoffs.
Among his regular tour event victories are some highly regarded tournaments, the 2002 Honda Classic, the 2013 Memorial Tournament and the RBC Heritage a few weeks ago.
He also captured the 2009 Turning Stone Resort Championship during the Fall Series to turn his career around after several down years.
However, Kuchar remains without a major title, even though he has six top-10 finishes in the Grand Slam events in the past five years, including three in a row in the Masters after tying for fifth at Augusta National last month.
"(Being in the chase on Sunday in a major) is an exciting place to be," said Kuchar, who finished 28th or better in all four majors last year. "But it's a tough one. I don't know how many opportunities you get at winning the Masters. And I've had (three) thus far.
"I don't know how many more I'll get. It's one of those things you get in the situation and you hope to take advantage, but it's a lot better in this position (contending and not winning) than playing early on Sunday, that's for sure."
Kuchar, answering some of his critics who claim he has not won enough, has six victories since 2009. He claimed two titles in one season for the only time in his career in 2013.
Although he says it doesn't bother him, he is aware of what the perception is, and he is thinking the same way.
"I'd like to have (another) year with multiple wins and definitely like to win a major championship or win major championships," said Kuchar, has already started his buildup for the U.S. Open next month at Pinehurst No. 2, where he missed the cut in 1999 and 2005, although he is a different player now.
"It's definitely a next goal and a next kind of step, I think, for me. Certainly (it is) what I'd like to achieve in golf. We try to put our stamp in history, and with major championships, it is putting your name down in history. It would be a great thing to be a part of."
Kuchar was in the hunt in the final round for four consecutive weeks recently until finally winning for the first time this year last month at Harbour Town.
Despite being unable to close the deal on those first three Sundays, he refused to let it get him down.
"I didn't go, 'Man, this is four weeks in a row I might not win a tournament,'" said Kuchar, who lost in a playoff to Matt Jones, a first-time PGA Tour winner, at the Shell Houston Open a week before the Masters. "That's not part of the deal. …
"I thought Houston I was in control, I thought that was a tournament I was going to win, but that didn't work out. I played some really good golf at Augusta, and I thought, 'This is where it's supposed to work out.'
"It's awfully sweet to have a chance. I kept wanting, after things didn't work out in San Antonio, just give me another chance. Give me another chance. And it was amazing to have four straight weeks of chances on four completely different golf courses. I take a lot of pride in playing good week in and week out."
And Kuchar usually does, so most Sundays, fans know exactly where to find him.
–Story courtesy of The Sports Xchange, TSX Golf Editor Tom LaMarre