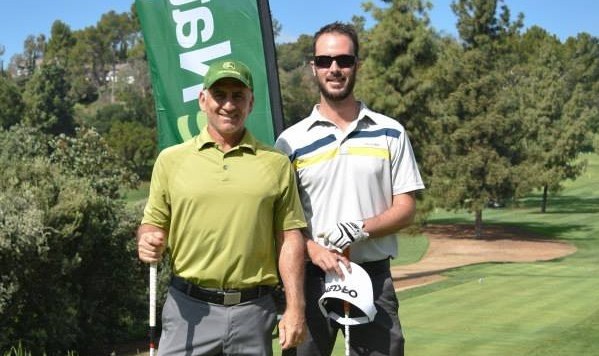 PGA pro Blair Harkins and Phil Califano of Rolling Hills Country Club posted a best-ball score of 9-under-par 61 to win the Southern California PGA's National Car Rental Pro-Scratch Championship by three strokes at Annandale Golf Club in Pasadena.
Harkins and Califano recorded 11 birdies, including three on the first four holes and seven more while recording a 29 on the back nine.
Pro Steve Holmes and Jason Pridmore of Westlake Village Golf Club carded a 64 to tie for second with pro Jerry Wisz and Tim McQuiggan of Alhambra Golf Course.
Pro Ted Parker and Les Farmer of California Country Club in the City of Industry shot 65 to tie for fourth with pro Daniel Hornig and Eddie Rowland of Heritage Cross, pro Alan Sorensen and Blake McPherson of Buena Vista Golf Course in Taft, and pro Jamie Puterbaugh and Eric Chomyn of Park Hyatt Aviara Golf Club in Carlsbad.
Pro Scot Heyn and Keith Kinsel of Oakmont Country Club in Glendale recorded a 66 to tie for eighth with pro James Schacht and Ryan Gale of Mesa Verde in Costa Mesa, pro Kenny Pigman and Blake Humbles of Goose Creek Golf Club in Mira Loma, pro Michael Block and Chris Heintz of Arroyo Trabuco Golf Club in Mission Viejo, pro Robert Pang and Taylor Wood of Big Canyon Country Club in Newport Beach, and pro Paul Holtby and Mark Sear of Tom Barber Golf Center in Moorpark.