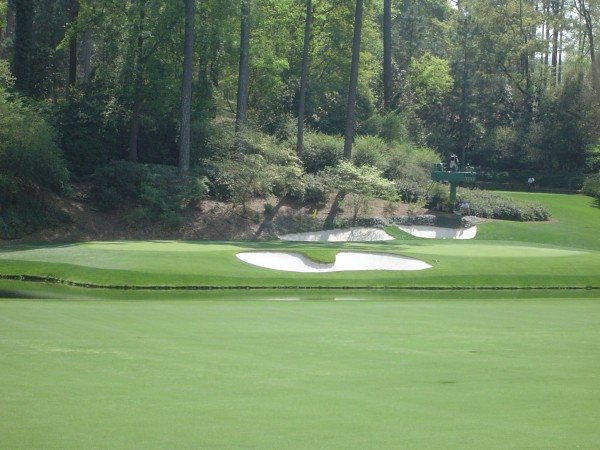 By Wil Barnes
It's finally Masters week where each spring many of us have spent the early season watching tournaments, researching and have chosen our favorites to win the year's first men's major, and our favorites we look forward to seeing in these moments of golf history. This year Gentle Ben Crenshaw at age 63 is calling it quits, his final Masters, which he won twice. Longtime local Augusta caddie Carl Jackson will again be on his bag that will make their 38th trip together through the Georgia pines. Ben won't threaten for victory by a long shot but it will be an emotional moment when he finally says goodbye. And then there is the illustrious crew of contenders that deserves a closer look and some reasons why the golf gods might just throw in some of their influence. There are dreams to be realized as always at what Augusta locals call simply, "the National." And we all love it! I'm just shocked that our editor let me start this article with that lovely little tidbit instead of what the monster story is and has been for years.
The great Tiger Woods decided last week that he will again play the Masters, an event he so dearly would love to win again making it five green jackets, only one behind Jack Nicklaus. His decision was in question, whether he would risk further embarrassment especially on the world's grandest stage, penciling in a number like 83, surpassing his previous worst, the 82 he fired at the menial TPC Scottsdale just two months ago. I thought there was no way the 4-time winner of the Masters would jeopardize his storied reputation if he had just a hint of doubt. Apparently he has decided it's worth the risk. If you have spent time around Tiger Woods, you know one thing, he is one egotistical, stubborn SOB, one of the attributes that led him to greatness, so he's not letting anyone tell him he has to play. Is he capable of the most amazing golf story this side of 59 year-old Tom Watson at The Open in 2009, by winning the 2015 Masters? No! And that my friends, is the first time I have emphatically said Tiger Woods cannot get it done since we met in Los Alamitos, CA at the Navy golf course, some 25 years ago. No one has made me look like a fool more than one Eldrick "Tiger" Woods. Tiger last won at Augusta on 2005 not long before his dad Earl would pass away. If you had told this writer in 2006 that Tiger Woods would not win another green jacket as of 2015, I would have politely asked you to leave the room. By now you must have noticed this article had to begin talking about the 104th ranked player in the WGR, Tiger Woods, who many fans, writers, whomever, have had enough of him. Sorry to disappoint you but he is still the story until otherwise advised. The only way he wouldn't be the story is if he didn't tee it up and even then he'd still be A story all week. But there are so many story lines heading into one of the greatest weeks in golf that I'm glad he decided to join the fracas.
Golf's supposed savior Rory McIlroy, has so much going for him, against him that the pressure he faces is of epic. He is chasing the last leg of the career Grand Slam, an accomplishment that has a limited class of four currently, Sarazen, Player, Nickaus and Woods. The Ulsterman wants this soooooo bad hankering back to when he was already feeling how sweet that jacket felt like in 2011 before shooting himself in the foot, hip, thigh and head with a closing 80 on Sunday. Winning this April he would match the two greatest players of all time, Jack Nicklaus and Woods, by winning all four majors by age 26. Then look further, and there is no doubt that the greats look into the distance. Note this. If Rory is to win at Augusta, his sights are set for Chambers Bay outside of Tacoma, WA and the US Open, a British links style course, where the "Rory Slam," similar to the Tiger Slam of 2001 when Woods held all four major trophies on his kitchen table could be fulfilled. That photo is pretty sweet! The gaming odds favor McIlroy and rightly so, but there are a herd of stallions, namely the defending champion Bubba Watson who I don't think wants to place that lime coat on anyone else come that Sunday evening chasing. All that said, greatness is developed, cured, flat out demonstrated and Rory getting the Kelly blazer is that moment of greatness. Rory, I hope I didn't apply another coat of pressure to your wall mural, but I'm not the painter.
Arguably going into the Masters, the hottest player on the planet is the amazing 21-year old Justin Spieth who won the Valspar Championship in March, has won three times since the fall and just missed out this past weekend in losing in a playoff to JB Holmes at the Shell Houston Open. Let's not forget that in his first Masters last year, he finished second to Bubba Watson who has won two of three. Tiger won when he was 21 and his career skyrocketed. The kid from Dallas recognizes that if you are to be included in the greats conversation you have start winning early. He's ahead of his years on maturity and that may just be in the right moment, right now.
Bubba Watson has been a model of winning and enjoying all of it; the way golf should be since winning his first jacket in 2012. Winning two is huge. Just ask anyone of the greats, ie: Greg Norman who don't have one. Bubba has figured out how to win at Augusta National, which is even more dangerous when you consider he has never had a golf lesson or instructor. That is figuring it out. In a recent interview in New York he stated he really isn't looking forward to placing that jacket on anyone else. He'll be back to his diet of success, eating burritos every day during the week, which has produced two victories in three years. A Rory / Bubba final pairing on Sunday would be star power that golf dearly needs again. And if Tiger is lurking again, well, ….. Who am I kidding?
Three-time Masters Phil Mickelson held the 36-hole lead at the Shell Houston Open only to fade to a tie for 17th by Sunday. He showed moments of his old self and then showed why he hasn't had a top ten in over a year on Tour. Then you have to remember it took Phil a long time to figure out how to win at the National where now he's considered a favorite every year. Phil says that as soon as he drives down Magnolia Lane "everything changes. When I drive down Magnolia Lane I feel rejuvenated," Well, this year a lot better change if he is to contend at all but I wouldn't be surprised if he finds some magic in a bottle. "My last year and a half has been terrible," said the 3-time winner on Tuesday. "I'm pleased with making birdies again. Not sure if my game is coming around in time for this week, but if I can get my short game sharp I'll put up some good numbers. "
Dustin Johnson was supposedly asked to stay away from the Masters in 2013 when he was rumored to have failed a drug test that was for cocaine, a little known insight no more. He's back! He shows no signs of despair, kind of like "ok I was off having a good time for a while but now I've got my stuff back together." A marriage to Wayne Gretzky's daughter Paulina and arrival of their first child is a life changer or two. His victory at Trumps' Doral in March was a giant step in the right direction. Let's not forget he contended at the AT&T Pebble Beach finishing fourth and then lost in a playoff to James Hahn at the Northern Trust at Riviera CC. That's good digits. Beware of the player that can conquer storied Riviera like how Bubba won there a year ago and then went onto victory at Augusta. Both courses exact a patience and discipline necessary to win and history doesn't lie. His best finish was a T-13 in 2012. "With my play this year I have definitely gained confidence," he said Tuesday. "I feel really comfortable where I am in life right now on and off the golf course. I feel I'm on the verge of greatness."
By the way, Dustin hits it a mile, kind of like Houston Open winner JB Holmes who so far this year has won, finished T-2 losing in a playoff earlier this year at the Farmers Insurance Open and blew a five shot lead at Doral losing to fellow ball crusher Dustin Johnson. For someone who had his cranium carved open just a couple of years ago, he doesn't exactly feel much pressure these days when it comes to golf. He's scary long and if he putts like he did Sunday in Houston, KFC is going to be giving out free something. Yum!
Adam Scott in 2013 did what no Aussie had ever done in winning the green jacket and arrives at Augusta dangling the big carrot putter as he is allowed, even though he has been using a conventional one for his last five events. He looks fit as ever, confident and his experience of winning here is enviable by most. Rickie Fowler, who had a sensational 2014 finishing in the Top 5 in majors, comes in with little or no mojo in 2015. Sorry Rick. His star power continues to rise but he has shown few signs of getting it all together for four rounds. Fowler didn't start out hot last year either until he got to Augusta. "Last year I didn't exactly play well early in the year but I had a pretty good year," he said with a smile at Torrey Pines in February. In 2013 I was walking late on Friday with Rick's dad Rod and his coach from Oklahoma State when he was one shot back of Jason Day. He rinsed his shot on the par 3, 16th on way to a triple and his weekend was essentially over. Like Phil says, "you have to avoid the big number, any day."
Jason Day who won at the Farmers Insurance Open has had his moments at Augusta namely in 2013 when it looked like he would be the first Aussie to don the green jacket only to finish bogey – bogey and was left out of the playoff. He plays his best on tough golf courses and can really roll the potato. Being close isn't good enough for Day. "I would really love to slip on a green jacket," he said Tuesday. "I want to win it even more now."
Two years ago Henrik Stenson accomplished the ultimate double winning the Fedex Cup and the Race to Dubai trophies and rather hefty checks. He's a WGC winner and a Players Champion. He can flat out play, ranked #3 in the world. And no one seems to be talking about him. Well know this, Stenson has the lowest scoring average and the most strokes gained on the 2015 PGA Tour. No Swede has ever won at Augusta, but Stockholm could be rocking real late Sunday night
And then there are two guys who suffer the Rodney Dangerfield syndrome of "no respect," Jimmy Walker and Patrick Reed. We understand why people have a little attitude against the somewhat outspoken and cocky Patrick Reed, yet he has won four times in two years and has been posted on leaderboards in almost every event he enters. He graduated from Augusta State so he has links to the National and one thing is for sure, he wants it. Walker "Texas Ranger" has won five times in 18 months, more than anyone and yet he isn't one of the favorites, maybe because his first Masters was only last year. He has length, is a great putter and at 37 plenty of experience and now confidence. Walker isn't flashy and doesn't care to be. He wins.
Sergio Garcia still without a major victory, which is surprising. Is it his time? It's his 17th time in this event, which is amazing. Needless to say, he is due. Wouldn't it be great to see Brandt Snedeker draped in a green jacket come Sunday evening after he came so close in 2010 and displayed that sadness in an emotional press conference. Can "el Pato," (the Duck) at age 46 find the magic one more time? Is there an unknown, a Mike Weir or Trevor Immeiman in this year's mix? And don't you think that the lovable Matt Kuchar should be giving a victory speech on the putting green on Sunday evening? Steve Stricker hasn't played since December but when you are regarded as the best putter on Tour, you can get around Augusta and win. What will the young San Diego State, U.S. Amateur champion Gunn Yang put on a show? He's got the name.
It's one giant fishbowl. And after all this diatribe there is that lingering dream of Tiger Woods being a factor again, at Augusta, a place he conquered in record fashion as a 21 year-old African American (cabli-nation if you buy that) Tiger could not fail! He won everything. He won his last major on a broken leg in 2008. But it was 2009 when for the first time he failed. Tiger never lost before. When he failed his wife, his children, his family and his adoring public, it was the first time that doubt crept into his head. When Y.E.Yang beat him on the last two holes at Medinah in Minnesota that fall, his red shirted shoulders slouched when Yang hit is shot to two feet on 18 and held a one shot lead. Tiger had admitted defeat months after his indiscretions, and then again, and in a short period of time Tiger lost on the course after holding the lead after 54 holes for the first time. Where Tiger appears now is lost, but maybe the memories of the Masters and having his kids Sam and Charlie with him, both caddying for him in the Par 3 contest on Wednesday will inspire greatness. He sounded very confident on Tuesday. "I have been busting my ass," he said. "It was sun up to sun down sessions, every aspect of the game. I'm here to compete."
As much as I say it will be really hard to get that green jacket off of Bubba's back, there are just too many players capable of doing just that. No one sounded more confident on Tuesday than Jordan Spieth. "I led for 62 holes last year and then I didn't commit to a couple of nine irons on 9 and 12 and that cost me the tournament," Jordan said. "I learned a lot last year." Everyone wants to win this week and the person who wants it more is your winner. And that would be Rory McIlroy. A size 42 regular please! ….. did I mention that Louie Oostheizen has a great shot at winning this week?