Many PGA and LPGA Tour stars produce acclaimed wines
Many PGA Tour players enjoy fine wines but some big names have launched their own vineyards to produce wines or partnered with vineyards to launch private-label vintages. And while you might think that these wines might not be up to par, some have received impressive accolades and awards.
Greg Norman
Launched in 1996, Greg Norman Estates is a proven success in the wine industry with a collection of wines from Australia, California and Argentina. Accolades for the collection include thirteen 90+ points from Wine Spectator and Wine Enthusiast, three Wine Spectator "Top 100 Wines in the World" and the 1998 Reserve Shiraz received #8 Wine in the World recognition. The Norman label now offers a range of reds (including Cabernet Merlot and Pinot Noir), whites (Chardonnays) and sparkling wines.
Jack Nicklaus
Jack Nicklaus Wines, a line of handcrafted, limited-production wines from California's Napa Valley, is a partnership between Terlato Wines and Jack Nicklaus and his family. The Cabernet Sauvignon, according to the label's website, is "a brilliant garnet color in the glass with aromas of blackberry, red plum and notes of cedar" and "is full bodied and rich with intense, layered mocha and red current flavors with undertones of sweet spice."
David Frost
Unlike many athletes or celebrities who lend their name to a brand, David Frost and his family have been in the wine business in South Africa for more than 60 years. Frost's father's vineyard was the first place he hit balls and the pocket money he made from picking grapes funded his first set of clubs and an on-going supply of balls.
Frost bought his own 300 acre vineyard in 1994 in the Paarl wine region, and, with the help of Napa winemaker Jason Fisher, produced his first 3,000 cases of Cabernet Sauvignon in 1997. With a focus on quality, the wine drew quick appreciation, including a rating of 90 plus in Wine Spectator review.
Fermented in stainless steel tanks and matured in small French oak barrels sourced from selected coopers, the David Frost Wine Estate range now comprises an exceptional range of fine Cabernet Sauvignon, Merlot, Par Excellence (traditional red blend) and Shiraz.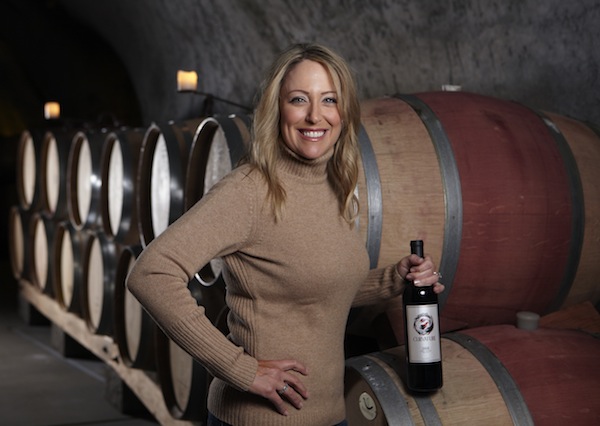 Cristie Kerr
Launched in 2006 by Cristie Kerr, Suzanne Bryan and Sally Johnson, Curvature Wines stated mission is to "create the finest Napa Valley Cabernet's in the world." The 2007 vintage has been awarded on numerous occasions, and, in 2009, an award winning Chardonnay was added to the Curvature family of offerings. Kerr and her Curvature partners donate all net proceeds from sales to breast cancer research and other women's health initiatives.
Annika Sorenstam
Through her travels in golf, Annika has had the opportunity to travel the world and experience some of the finest wines the world has to offer. Her dream of having her own wine label became a reality with Annika Vineyards through a partnership with Wente Vineyards in Livermore Valley, Calif.
Together they created the 2009 59 Red (comprised of 64 percent Syrah, 30 percent Cabernet Sauvignon and 3 percent each Petite Sirah and Barbera); the 2008 Annika Chardonnay (which exhibits classic aromas of apple and pear along with honey and graham) and the 2006 Annika Syrah – all of which have sold out. Sorenstam is currently seeking a new partner in Napa to continue the label.
Arnold Palmer
Arnold Palmer Wines label is produced in collaboration with Luna Vineyards in California, with the first vintage appearing in 2005. Arnold Palmer Wines can be found in high-end restaurants, resorts and wine shops around the country and the collection includes Cabernet Sauvignon and a vibrant Chardonnay.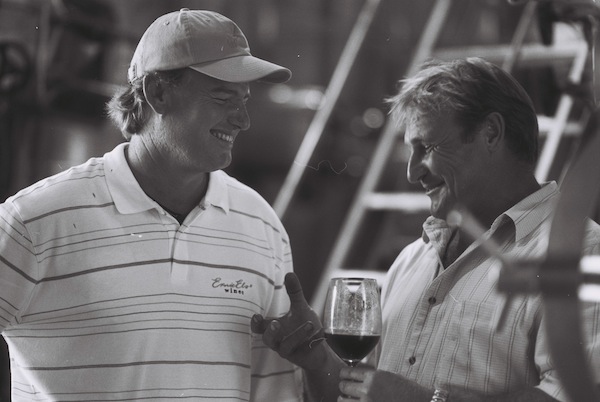 Ernie Els
The concept of Ernie Els Wines was born in 1999, and, with the help of award-winning winemaker Louis Strydom, they produced the maiden 2000 vintage of Ernie Els – a "classic" Bordeaux blend. The intention from the outset, according to the label's website, was "to focus on delivering a quality product that could hold its own in the company of the world's finest wines."

Luke Donald
The creation of Luke Donald Collection wines has its origins in a longstanding friendship between Donald and fine wine professional Bill Terlato of the family-owned Terlato Wine Group. The Terlato-Donald friendship resulted in a new Napa Valley wine partnership, with the first release in April 2008, of a Claret-style red wine blend. A Carneros Chardonnay released in spring 2009.
The grapes used in crafting Luke Donald Claret are 100% Napa Valley fruit, sourced primarily from renowned vineyards in the Rutherford and Stags Leap District appellations, known for consistently delivering wines of exceptional quality year after year.
Gary Player
Established in 1998, Quoin Rock Winery of South Africa was selected by Player's Black Knight Wine for the production of their wine. Grapes are grown on the slopes of the Simonsberg, in Stellenbosch, and in the cool climate region of Cape Agulhas. Viticulture at Quoin Rock is based on "a minimal interference philosophy," according to the label's website, "which allows the natural potential of the environment to express the unique characteristics of site and vintage."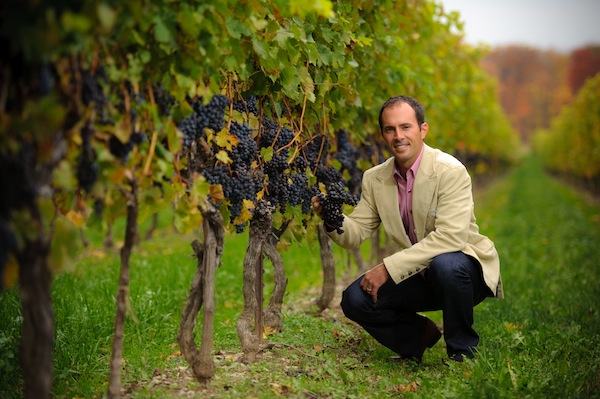 Mike Weir
Masters champion and Canadian native Mike Weir launched Mike Weir Estate Winery in 2005 to showcase Niagara Region wines and to raise money for the Mike Weir Foundation, a charity that "assists the many causes that support children in physical, emotional or financial need." The first vintage was a 2007 Cabernet Merlot and subsequent wines have included Pinot Noirs, Chardonnays and Sauvignon Blancs.