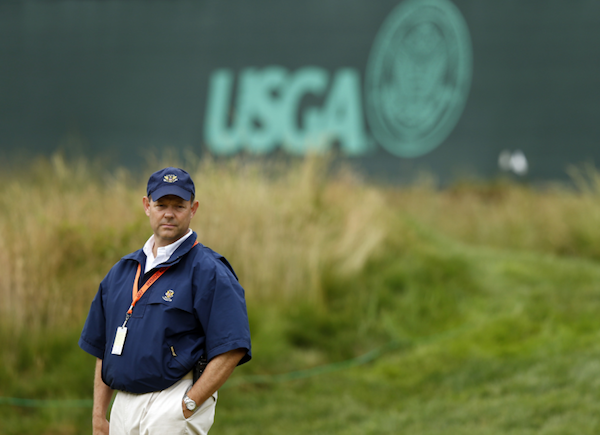 USGA chief Davis directs set up of Pinehurst No. 2 for men's and women's U.S. Open
When Mike Davis took over from David Fay as executive director of the United States Golf Association in 2011, Davis made it clear that he didn't want to give up his other job with the USGA, setting up courses for he U.S. Open.
That's why almost everything you see at the U.S. Open and the U.S. Women's Open on consecutive weeks in June at Pinehurst No. 2 will be Davis' concept of what a major championship course should be.
"I tried to argue the point that not only is it something I very much like, it's something I've gotten decent at," Davis said of keeping his U.S. Open gig. "So why look for a change?"
The USGA obviously agreed, so the U.S. Open belongs to Mike Davis.
This is the man who came up with the idea of graduated rough at U.S. Open sites, shorter for shots that barely trickle off the fairway and thicker the farther they land from the mowed areas.
And everyone knows about U.S. Open rough, thick and gnarly, which makes the best players in the world pay a penalty, or two or three, for hitting their ball in there.
However, on the fabled Donald Ross No. 2 course at Pinehurst, there won't really be any rough and that sounds like blasphemy for the golf purists, a group in which Davis obviously counts himself.
This time, he's making an exception.
"For the first time in the history of the U.S. Open, which goes back to 1895, we're going to be playing a U.S. Open with no rough to speak of, at least the way most of us think of rough as grass," Davis said.
"It is going to be very unique; it's going to be great for television."
In reworking Pinehurst No. 2 to the way Ross intended it to be when it opened in 1907, architects Bill Coore and Ben Crenshaw made the fairways wider to meet sandy wastelands, where a ball that runs through the fairway can find any type of lie.
Those are the North Carolina sandhills, after all.
Davis does not seem concerned that the modern pros will tear up the No. 2 course, because Ross' infamous turtleback greens will be lightning fast and rock hard, sending many a shot careening into its diabolical collection areas.
This could play into the hands of short-game wizard Phil Mickelson, who will be going for the Career Grand Slam at Pinehurst, having added the Open Championship at Muirfield last July to his three Masters titles and a 2005 PGA Championship victory at Baltusrol.
Some pundits believe that Lefty or one of his peers will win this U.S. Open at 10-under-par, or lower, because of the lack of rough.
"If 10-under is the winning score at Pinehurst and the golf course played properly, in other words it was a difficult test and a fair test, then that's really what we're looking for, trying to identify the best player that week," Davis said.
"We want to have it hard, that is kind of the trademark of the U.S. Open, but I'm committed to the fact that we don't want to try to trick up Pinehurst No. 2 just to have a higher score winning."
Or as Sandy Tatum, a former USGA president, said famously during what sportswriter Dick Schaap called "The Massacre at Winged Foot" in 1974: "We're not trying to embarrass the best players in the world. We're trying to identify them."
The USGA overreacted to Johnny Miller shooting 63 to win the year before at Oakmont and the course bordered on being unplayable at Winged Foot, where Hale Irwin won at 7-over-par.
Davis probably has nothing to worry about because Pinehurst No. 2 provided great theater in the last two U.S. Opens played there.
In 1999, the late Payne Stewart holed a 15-foot putt for par on the 72nd hole to beat Mickelson, playing alongside him, and there is a statue of Stewart celebrating his victory with a fist-pump behind the 18th green of the No. 2 course.
Six years later, Michael Campbell of New Zealand held on for a two-stroke victory over a charging Tiger Woods, who won't be at Pinehurst this time because he is recovering from back surgery that also caused him to miss the Masters.
Chances are, Davis won't have many problems until the following week, when the women show up.
The best golfers on the LPGA Tour are excited to be playing at Pinehurst No. 2, it's just that they are not thrilled to be playing the U.S. Women's Open a week after on what's left over of the course.
They are so concerned that Davis met with them earlier this year and explained that everything is under control.
The women didn't exactly buy it.
"I think what we wanted to hear was more of the truth, and I think what we heard was what we were supposed to hear," said Ryann O'Toole of San Clemente and UCLA.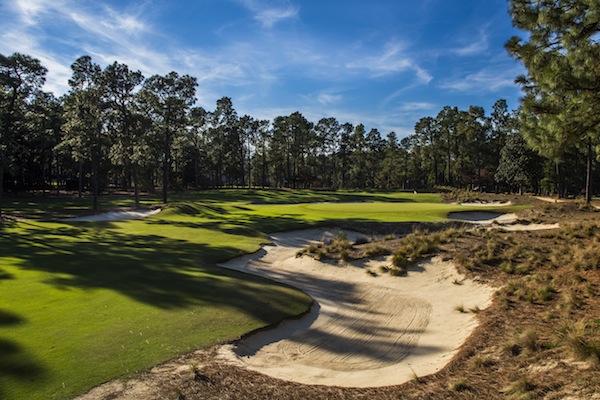 In addition to the course conditions, the women also are concerned about what will happen if the men's tournament is pushed to an 18-hole playoff on Monday, or even Tuesday if there is bad weather.
Davis said that the women could practice on the course before and after the playoff no matter which day it is held. He also said the grasses and greens are easier to set up for major championship golf if the men go first, trying to reassure the gals that the course will hold up.
"Plain and simple, it has everything to do with the agronomics," Davis said. " … It really gets down to the putting greens, that they're going to be the same green speed for both weeks.
"But the first week, if Mother Nature is cooperative, they're going to be slightly firmer."
The women were skeptical going into the meeting, but they listened and they asked questions.
Then they left unconvinced.
"I think they believe what they are telling us is true, but we were all just sitting there (shaking our heads)," said Cristie Kerr, a two-time major champion who won the 2007 U.S. Women's Open at Pine Needles, right down the road from Pinehurst. "They are thinking the course will be in as good a shape the second week as it is the first.
"Mike Davis said if you think anything differently, you don't really know agronomy. And we are like, 'Well, we've only been playing golf for 30 years.' … Mike said, 'We've never really seen a divot determine the outcome of a tournament,' but you might this time."
It's a bold experiment to hold both U.S. Opens on the same course on consecutive weeks, and this much we know in advance — who will get the credit, or the blame.